ASUS P8Z77-V Pro – Overview
ASUS has a lot to live up to with its Ivy Bridge Pro board. Both the ASUS P8P67 Pro and ASUS P8Z68-V Pro have been top class sellers in their respective chipsets meaning that ASUS has to deliver. By just looking at the board, it seems that ASUS is keen to innovate and offer a complete package.
In terms of features, by default ASUS has a setting to give a 'MultiCore Enhancement'. In the real world, this means that by default ASUS will overclock your processor to its maximum turbo mode no matter what the CPU load. For comparison with the 3770K, the CPU should be at 39x during single and dual core mode, 38x when using three cores, and 37x under full load. Using MultiCore Enhancement, you get 39x on all cores no matter what the load. Therefore, in our multithreaded benchmark suite, ASUS has a 200 MHz advantage per core over other products that do not enable this feature by default.
This is obviously on top of the large assortment of features ASUS already provides. The AI Suite software is bolstered by a revised version of Fan Xpert, which can test each fan individually for RPM and allows greater fan configuration. USB 3.0 Boost implements the USB-attached SCSI Protocol on USB 3.0 ports (both Intel [in Windows 8] and ASMedia) to allow greater read-write speeds, especially under high queue depths (if that happens to be your usage scenario). ASUS also plan for the future in giving a Thunderbolt header for use with their Thunderbolt add-in card due for a separate release soon.
I found one issue with the design of the board, relating to CPU coolers. The cooler I use for these reviews is the Intel All-In-One liquid cooler, which uses a standard backplate for multiple sockets. However, with the ASUS Pro, there were placement issues of this backplate due to onboard components: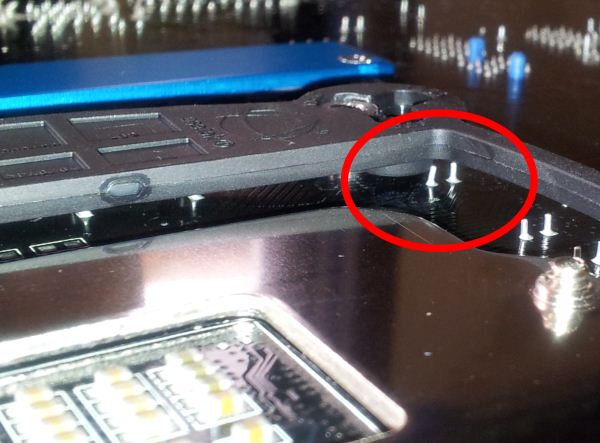 In order to get the backplate on, I had to bend this pin. This is generally not advised, but it is a shame that this was not caught when the board was designed. It seems that perhaps this board should be paired best with a pushpin cooler to avoid this issue, or something a little newer than my solution. On a more positive note, the board comes with a WiFi module and antennae, which bolt in to the IO panel, and uses an Intel network controller. For audio outputs, we have the full spread of analog and digital that Ivy Bridge can provide.
Visual Inspection
The ASUS P8Z77-V Pro sports a blue and black livery synonymous with their channel / non-ROG products. The VRM heatsinks cover a lot of surface area in their jagged fashion, and around the socket itself, we have access to five main fan headers. Two of these are CPU 4-pin headers just north of the top VRM heatsink, one 4-pin below the left hand side VRM heatsink, and two 4-pin headers below the 24-pin ATX power connector, along with a USB 3.0 port. A sixth fan header (4-pin) is found on the south side of the board. All the fan headers are controllable from the BIOS and in the OS, plus the chassis headers offer 3-pin support.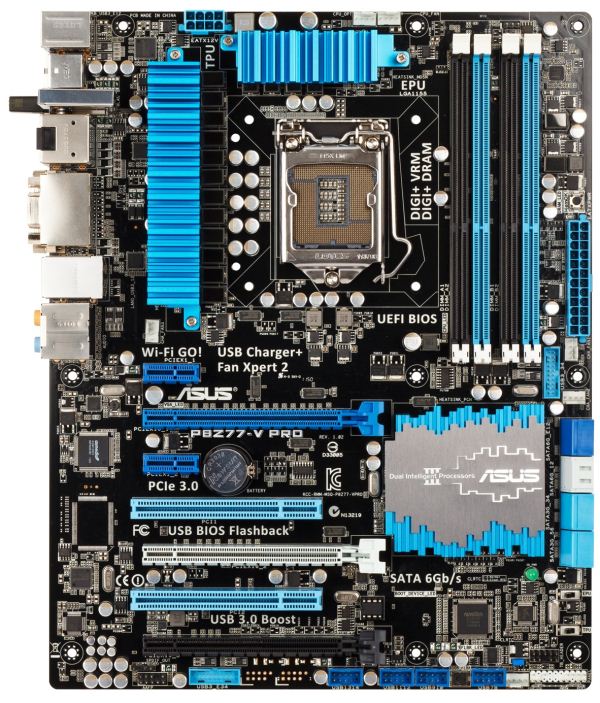 Above the 24-pin ATX power connector, we find the ASUS MemOK! button, which allows memory recovery to default speeds. Along with the ASRock boards, we have eight SATA ports – four SATA 3 Gbps from the PCH and four SATA 6 Gbps – two from the PCH and two more from an ASMedia controller. Below this are the TPU and EPU switches, designed for enhanced CPU performance and energy saving modes respectively.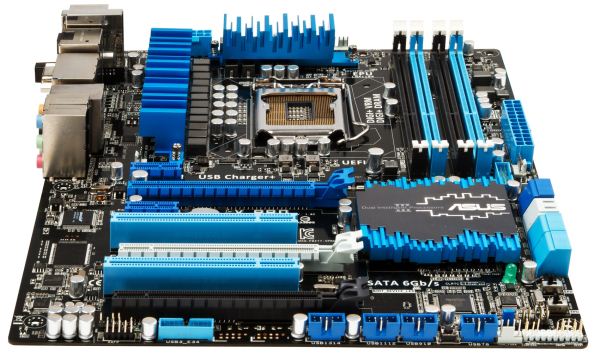 Along the bottom of the board is the standard array of a front panel audio header, another USB 3.0 header, USB 2.0 headers, and a front panel header. It is also worth noting the Thunderbolt header on the bottom right of the board for that add-in card, and the BIOS Flashback button which allows a user to flash a new BIOS without memory, CPU or VGA required. In terms of PCIe layout, despite there being three full-length PCIe connectors on board, we are only limited to using two for multi-GPU setups. In order, we have a PCIe x1, a PCIe 3.0 x16 (x8 in dual GPU), x1, PCI, PCIe 3.0 x8, PCI, and a PCIe 2.0 x4. Thus in dual GPU mode we can also add in a PCIe x1 and PCIe x4 card.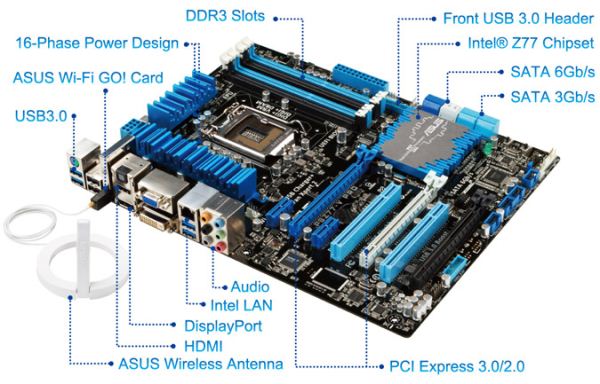 The chipset heatsink is indicative of the large but low philosophy of many motherboard manufacturers, hiding away the chipset controller. What is not on these boards, as you may notice, is a combination power/reset pair of buttons, nor a two-digit debug, some of which we used to see on ASUS Pro boards of old. However, ASUS do have Q-LED, a series of lights on board to show when different stages in the POST process are being initialised - useful for diagnosing POST errors.

On the back panel, we have a combination PS/2 port, two USB 3.0 ports (blue), two USB 2.0 ports (black), an ASUS WiFi GO! Card, optical SPDIF output, HDMI, DisplayPort, D-Sub, DVI-D, gigabit Ethernet, two more USB 3.0 ports in blue, and standard audio headers.
This means that rather than add in a WiFi module on the board, or use up a mini-PCIe slot with wifi, we have a slot in order to add a WiFi module. This can be in 2.4 GHz or 5 GHz mode, and updateable as WiFi standards change. This all comes as part of the package, with magnetic wireless antenna to attach to the case.
Board Features
ASUS P8Z77-V Pro
Price
Link
Size
ATX
CPU Interface
LGA-1155
Chipset
Intel Z77
Power Delivery
12 + 4
Memory Slots
Four DDR3 DIMM slots supporting up to 32 GB
Up to Dual Channel
Video Outputs
DisplayPort, HDMI 1.4a, DVI-D, D-Sub
Onboard LAN
Intel 82579V
Onboard Audio
Realtek ALC892 (with DTS Ultra II PC / DTS Connect support)
Expansion Slots
2 x PCIe x16 Gen3 (x16, x8/8)
1 x PCIe x16 Gen2 (x4)
2 x PCIe x1 Gen2
2 x PCI
Onboard SATA/RAID
2 x SATA 6 Gbps (PCH), Support for RAID 0, 1, 5, 10
2 x SATA 6 Gbps (ASMedia)
4 x SATA 3 Gbps (PCH), Support for RAID 0, 1, 5, 10
USB
Four USB 3.0 at rear (2 PCH, 2 ASMedia)
Two USB 3.0 headers on board (PCH, ASMedia)
Ten USB 2.0 (2 back panel, 8 on board)
Onboard
4 x SATA 6 Gbps
4 x SATA 3 Gbps
2 x USB 3.0 Headers
4 x USB 2.0 Headers
6 x Fan Headers
1 x SPDIF Header
1 x Front Panel Audio Header
Thunderbolt Header
MemOK! Button
TPU/EPU Switches
USB Flashback Button
Power Connectors
1 x 24-pin ATX connector
1 x 8-pin 12V connector
Fan Headers
1 x CPU Fan Header (4-pin)
4 x CHA Fan Headers
1 x OPT Fan Header
IO Panel
1 x PS/2 Combo Port
1 x DisplayPort
1 x HDMI 1.4a
1 x DVI-D
1 x D-Sub
1 x Gigabit Ethernet
4 x USB 3.0
2 x USB 2.0
1 x Optical SPDIF
1 x WLAN Connector
6 x Audio Jacks
Warranty Period
3 Years
Product Page
Link
ASUS is now placing Intel NICs on all their channel motherboards. This is a result of a significant number of their user base requesting them over the Realtek solutions. Also to note are a total of six USB 3.0 on board, two on the back panel and four from internal headers. These USB 3.0 ports can take advantage of the improved UASP USB 3.0 protocol using appropriate hardware and some ASUS software. As always, we expect ASUS fan control of the six headers to be top notch. ASUS also include a TB Header for their add-in Thunderbolt card expected for release soon.