Our first graphics test is Crysis: Warhead, which in spite of its relatively high system requirements is the oldest game in our test suite. Crysis was the first game to really make use of DX10, and set a very high bar for modern games that still hasn't been completely cleared. And while its age means it's not heavily played these days, it's a great reference for how far GPU performance has come since 2008. For an iGPU to even run Crysis at a playable framerate is a significant accomplishment, and even more so if it can do so at better than performance (low) quality settings.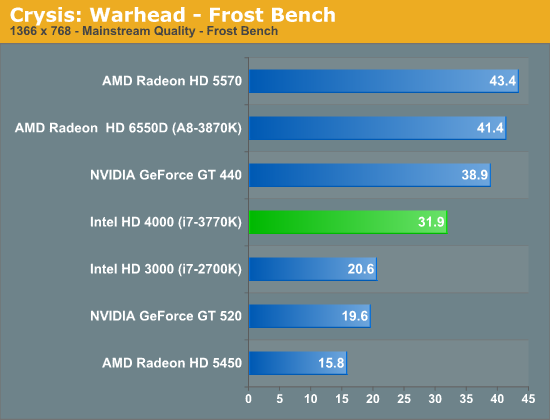 In our highest quality benchmark (Mainstream) settings, Intel's HD Graphics 4000 is 55% faster than the 3000 series graphics in Sandy Bridge. While still tangibly slower than AMD's Llano (Radeon HD 6550D), Ivy Bridge is a significant step forward. Drop the quality down a bit and playability improves significantly: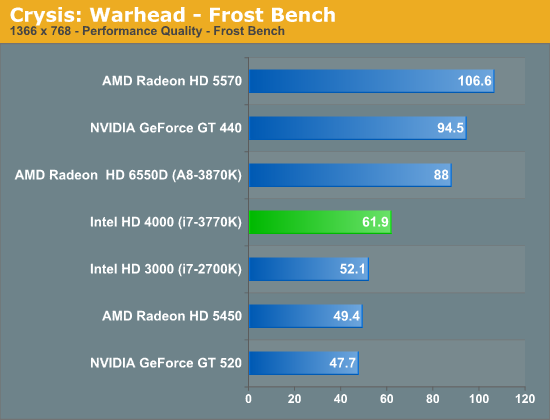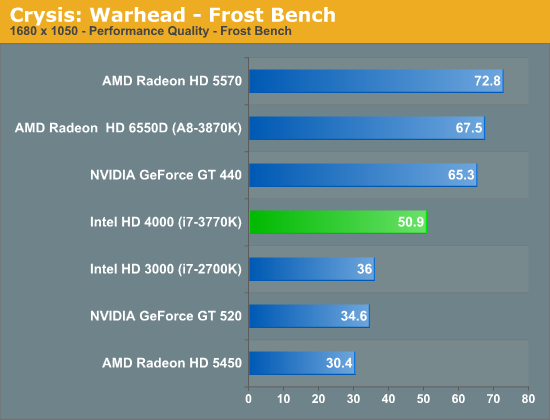 Over 50 fps at 1680 x 1050 from Intel integrated graphics is pretty impressive. Here we're showing a 41% increase in performance compared to Sandy Bridge, with Llano maintaining a 33% advantage over Ivy. I would've liked to have seen an outright doubling of performance, but this is a big enough step forward to be noticeable on systems with no discrete GPU.