GPU Performance - GLBenchmark 2.1
While Intel's Atom core is a newcomer to Android, the PowerVR SGX 540 used in Medfield's SoC has been around the block quite a bit. Most recently, Samsung's Galaxy Nexus used an OMAP 4 that features the same SGX 540 GPU. The GPU clock is a bit higher than we're used to at 400MHz (vs 304MHz for the Galaxy Nexus), but otherwise the design and its performance are both known quantities.
We start with GLBenchmark, one of the better Android GPU tests on the market today. There are two benchmarks, Egypt and Pro, and each is run in two modes: native screen resolution and offscreen (vsync disabled) at 720p. The latter is more useful for apples to apples comparisons as everything is rendering the same number of pixels, whereas performance in the onscreen tests is determined by the screen resolution of the device along with the performance of its GPU.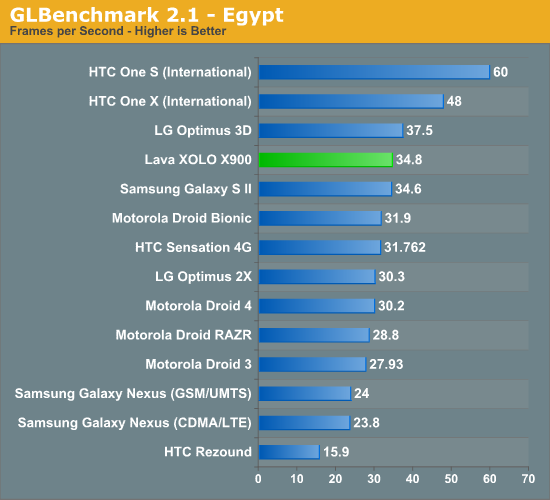 The X900 falls in just behind the Optimus 3D, which shares the same GPU but is running at a lower resolution. All things considered, the X900 does reasonably well here but it's definitely not leading the pack.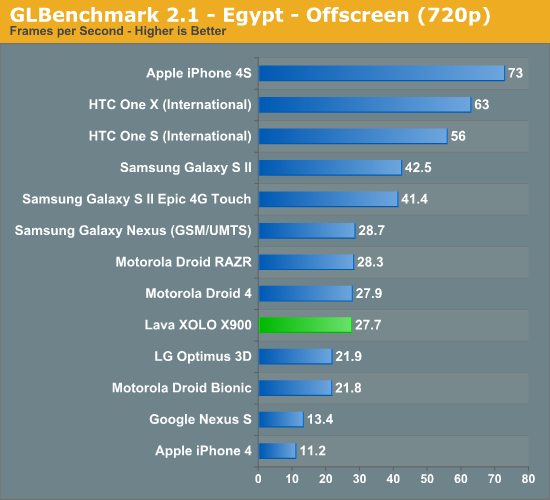 At the same display resolution and without any vsync limits, the X900 falls significantly behind the cream of the crop. Despite the GPU clock advantage, Medfield is no faster than OMAP 4 in the Galaxy Nexus here which is a bit perplexing. We're either bumping into a memory bandwidth limit or some other CPU/driver limitation. Either way, Intel definitely needs a faster GPU. We'll get it but not until early next year with the 544MP2 in the Atom Z2580.
The Pro results actually show us more of what we expected to see: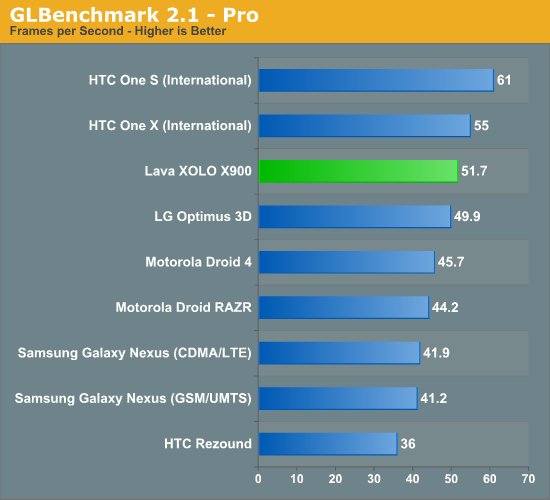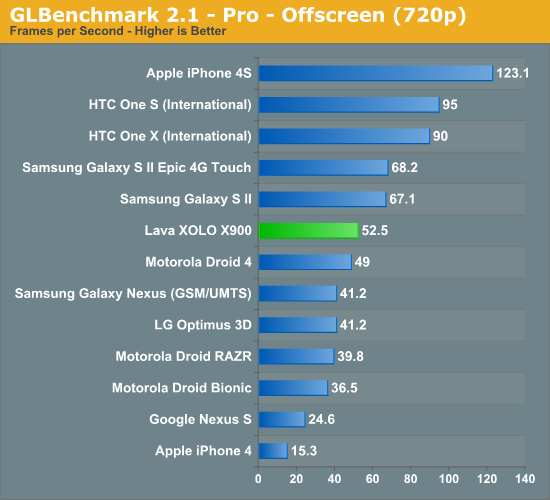 The offscreen tests give the Medfield based X900 a 25% advantage over the Galaxy Nexus, which makes sense. The Droid 4 is closer than that, despite also using the same GPU.
Basemark ES 2.0 V1
Rightware's Basemark ES 2.0 V1 is an aging GPU test that tends to favor Qualcomm's Adreno GPUs above almost all others. The Imagination Technologies based GPUs, such as the SGX 540 used in Medfield (as well as NVIDIA's Tegra GPU) don't fare as well here. Intel's GPU clock advantage does show up a little bit in these tests, making it the fastest PowerVR SGX based offering here: