As AMD's 28nm allocation has improved so has the selection of cards available on the market. We're still in the first phase of the Radeon HD 7000 series rollout, with AMD's partners building semi-custom cards based on AMD's reference PCB, but even without custom PCBs AMD's partners have been able to turn out a number of interesting designs. This is particularly the case for the 7800 series, where prices are high enough for partners to experiment with different coolers and TDPs are low enough to allow more than a handful of approaches.
Last month we saw some of those first designs with PowerColor's PCS+ HD7870 and HIS's IceQ 7870 Turbo, and today we'll be looking at a third: Sapphire's HD 7870 Overclock Edition, their semi-custom factory overclocked 7870. How does Sapphire's dual-fan entry stand up to the competition? Let's find out.
Radeon HD 7870 Partner Card Specification Comparison
Sapphire HD 7870 Overclock Edition
PowerColor PCS+ HD7870
HIS IceQ Turbo 7870
AMD Radeon HD 7870 (Ref)
Stream Processors
1280
1280
1280
1280
Texture Units
80
80
80
80
ROPs
32
32
32
32
Core Clock
1050MHz
1100MHz
1100MHz
1000MHz
Memory Clock
5GHz GDDR5
4.9GHz GDDR5
4.8GHz GDDR5
4.8GHz GDDR5
Memory Bus Width
256-bit
256-bit
256-bit
256-bit
Frame Buffer
2GB
2GB
2GB
2GB
PowerTune Limit
190W
190W
190W
190W
Manufacturing Process
TSMC 28nm
TSMC 28nm
TSMC 28nm
TSMC 28nm
Width
Double Slot
Double Slot
Triple Slot
Double Slot
Length
10"
9.5"
11.25"
9.5"
Warranty
2 Years
2 Years
2 Years
N/A
Price Point
$359
$369
$389
$349
Like the other 7870 cards we have reviewed so far, Sapphire's HD 7870 Overclock Edition is a semi-custom card, meaning Sapphire is using an AMD reference board equipped with their own cooler. On top of the cooler Sapphire adds one further degree of customization here, as this is an Overclock Edition card, meaning it ships with a factory overclock. Sapphire is shipping the card with a modest boost to both core and memory clocks, shipping at 1050MHz core and 5GHz memory, representing a 50MHz (5%) core overclock and a 200MHz (4%) overclock over the stock 7870. This isn't as aggressive as what we've seen PowerColor and HIS do, but then the price premium isn't nearly at high either.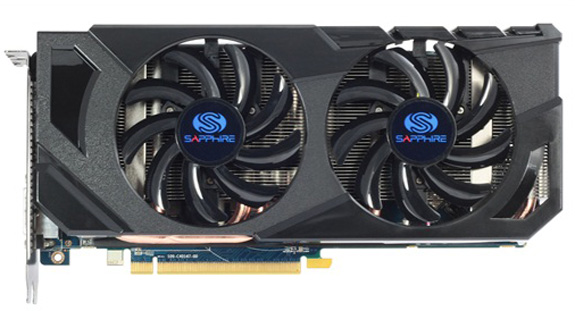 Breaking down the card, Sapphire's cooler of choice is a slightly smaller version of their Dual-X cooler. The Dual-X is your typical double-wide dual-fan open air cooler, with 2 fans providing copious airflow over an aluminum heatsink running virtually the entire length of the card. As with the larger Dual-X cooler we saw on their 7950, the Dual-X on the 7870 is slightly oversized, allowing for slightly larger fans. In exchange the Dual-X on the 7870 is about 10mm taller than the PCB, and 0.5" longer than the 7870 PCB, pushing the card out to 10" long.
Meanwhile contact with the GPU is provided through an aluminum baseplate. Embedded in the baseplate are the card's 4 copper heatpipes, which in turn run to various locations on the heatsink. Elsewhere Sapphire uses a small aluminum plate covering part of the PCB to function as a heatsink for the GDDR5 RAM.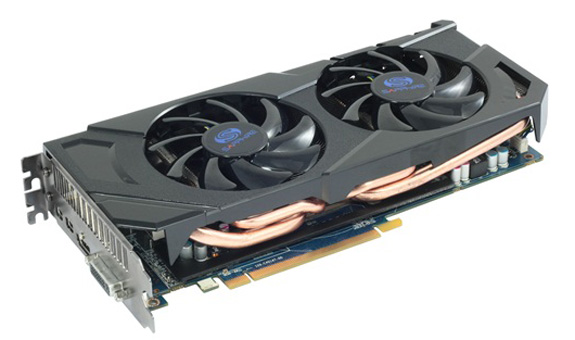 Unfortunately while Sapphire has built a good cooler for the 7870, they've done a subpar job on overall build quality. The cooler itself is fine, but like most other dual-fan coolers it's only secured to the PCB around the GPU, meaning additional support for the PCB is required. In place of a full shroud providing stability there should be a stiffener running along the card, and while Sapphire's aluminum plate provides some support it's not nearly long enough. As a result roughly a third of the card – the tail-end portion of the card farthest from the GPU – doesn't have any kind of support, leaving the PCB free to flex. This oversight isn't likely to result in damage so this isn't a dealbreaker, but at this point we've come to expect better, especially for cards in this price range. It goes without saying that handling the tail-end of the PCB should be avoided.

Wrapping up our look at the design of the card, as this is an AMD reference PCB the rest of the card uses the same 7870 design we've seen before. At the tail-end of the card are 2 6-pin PCIe power sockets, which are a bit harder to reach thanks to the oversized cooler, but not altogether difficult. Meanwhile at the front Sapphire is using AMD's standard port configuration for display connectivity: 2 miniDPs, 1 HDMI port, and 1 DL-DVI port. Unlike some of the other 7870 cards we've seen, Sapphire is not using the optional second DVI port, so a full size vent is present.
Rounding out the package is the usual collection of dongles and materials. Sapphire includes 2 molex-to-6pin PCIe adaptors, an HDMI to DVI dongle, a miniDP to DisplayPort dongle, a DVI to VGA dongle, a CrossFire bridge, and a 1.8m HDMI cable. Along with the dongles Sapphire packs a quick start guide and a driver installation CD. As the driver CD itself is rather barebones Sapphire doesn't include a copy of their TriXX overclocking utility, but at this point it wouldn't do you any good anyhow – Sapphire has yet to update TriXX to support the 7800 series, so it can't properly read the card. For overclocking you'll need to use Overdrive or other 3rd party overclocking utilities.
Finally, let's talk about pricing and warranties. Sapphire is selling the HD 7870 OE for $359, only $10 over AMD's $349 Radeon HD 7870 MSRP. As Sapphire uses the same Dual-X cooler on their stock-clocked 7870 the $10 premium is entirely for the factory overclock, and while a similar 5% overclock should be easily attainable on virtually all 7870 cards, as far as factory overclock pricing is concerned $10 for 5% more is a reasonable deal here. As for the warranty, the HD 7870 OE ships with Sapphire's standard 2 year warranty.
Performance
So how does the HD 7870 perform? Since the biggest differentiating factor among AMD's partners right now is their choice of coolers, let's start there.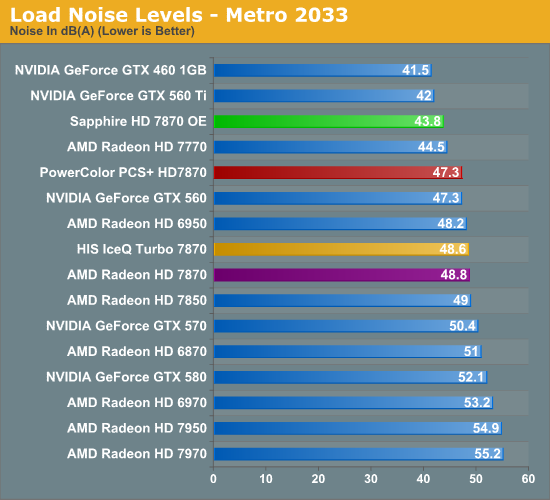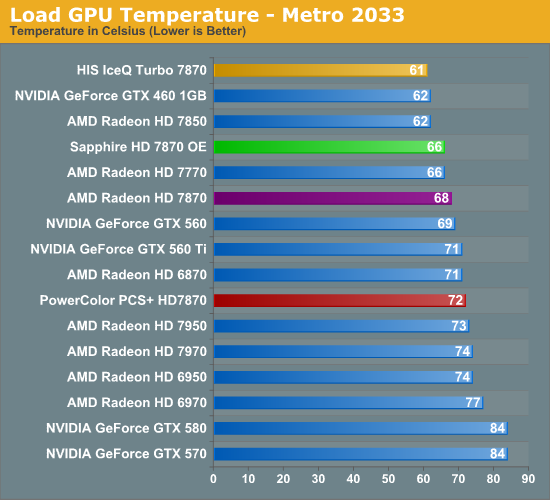 As we've come to expect from the Dual-X and other open air coolers, Sapphire's cooler does very well here. Under Metro it's by far the quietest 7870 we've tested, coming in at only 43.8dB, which makes it quieter than even the reference 7770 and only a few dB over our noise floor. Sapphire doesn't make any temperature tradeoffs here either, hitting a quite cool 66C, 2C cooler than the reference 7870 and its fully enclosed blower design. With that said, the use of an open air cooler is a tradeoff in and of itself, and like other open air cards Sapphire's 7870 needs a case with good airflow to breathe since it ends up recycling hot air.
The HD 7870 OE's gaming performance on the other hand is not particularly exceptional for 7870 cards. The performance of the 7870 scales well with clockspeed so gaming performance benefits from Sapphire's 5% core overclock in most situations, but looking at the big picture 5% isn't a huge difference. In the case of Battlefield 3 it's enough to nudge performance over 60fps, but it isn't going to significantly change your playable settings. Ultimately there's not a lot Sapphire can do here, as the 7870 being the higher tier 7800 series card means that it's already running closer to the limit of the Pitcairn GPU.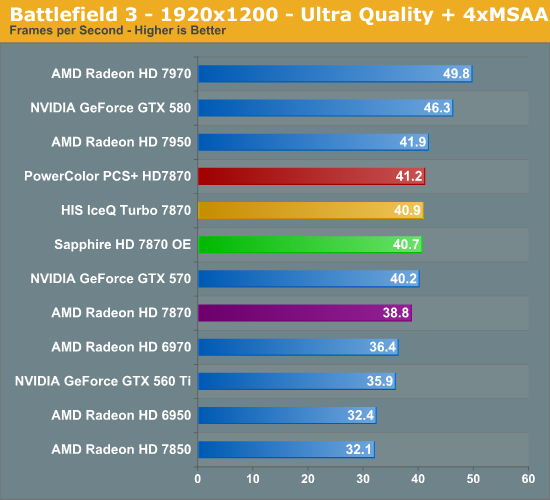 Overclocking can push the card a bit farther of course. In this case we hit 1150MHz core and 5.4GHz memory, which is a bit lower than what we've hit with other 7870s but since all of these cards are using the same PCB it's purely the luck of the draw.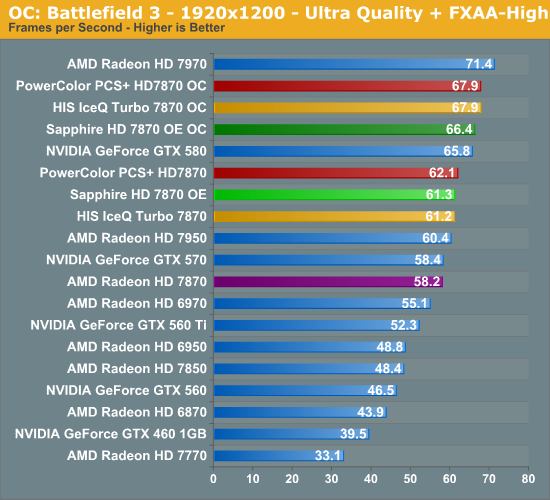 Final Words
At this point we've looked at several different Radeon HD 7870 designs, open air and closed blowers, extreme performance and balanced designs alike. To that end Sapphire's HD 7870 OE fits in well with the balanced group, offering a decent factory overclock alongside a conventional but effective cooler. The subpar build quality of the card keeps it from being a true superstar, but otherwise Sapphire has done a good job here of balancing every aspect of the HD 7870 OE to make the card a solid performer.
The end result of Sapphire's efforts is that of all the 7870 cards we've looked at the HD 7870 OE is easily the quietest and it doesn't make any temperature compromises to get there. Hardcore overclockers will likely want a bit more, but for more traditional gamers with cases that can handle open air coolers this is the semi-custom 7870 to get – the HD 7870 OE offers all of the performance of a 7870 and more, and it does so with as little noise as possible. From a noise/performance perspective the 7870 is the current sweet spot, and Sapphire's HD 7870 OE is sitting right in the middle of it.