Battery Life
The Transformer Pad 300 ships with a 22Wh integrated, non-removable battery compared to the 25Wh unit in the Prime. The 12% decrease in battery capacity obviously reduces battery life compared to the Prime, however I believe the panel further reduces the life on a single charge.
The 300 either uses a less efficient panel, a less powerful backlight, or a combination of both as you need to drive the panel at around 70% of max brightness to hit our standard test luminance of 200 nits. The Prime, on the other hand, is capable of reaching 200 nits at 40%. The net result of these factors is a drop in battery life compared to the Prime, and approximately equivalent battery life to the original Transformer: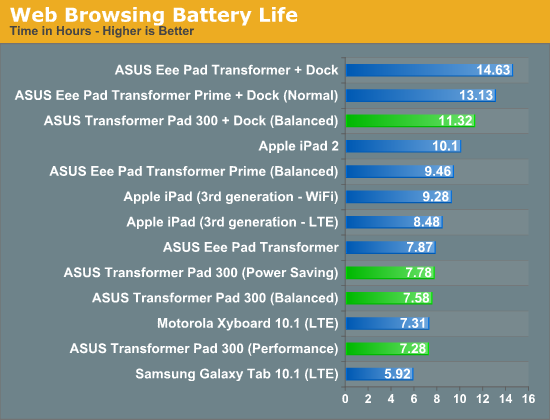 Note that these are older results for the first Transformer (not on ICS) as I haven't yet had the opportunity to re-run them. I'll be doing that as well as working on our new video playback test over the coming weeks.
I didn't see a huge impact from toggling power saving modes on battery life, although that does say more about the CPU load of our web browsing test than anything else. In general I saw spikes at up to 1.2GHz, but most of the time the Tegra 3 never reached beyond 1.1GHz and more often it operated in its lower frequency states.
The addition of the dock increased battery life by around 50%. Remember that the dock isn't perfectly power efficient, you lose some energy in the charging process and the dock itself consumes energy to power the keyboard and touchpad.
Charging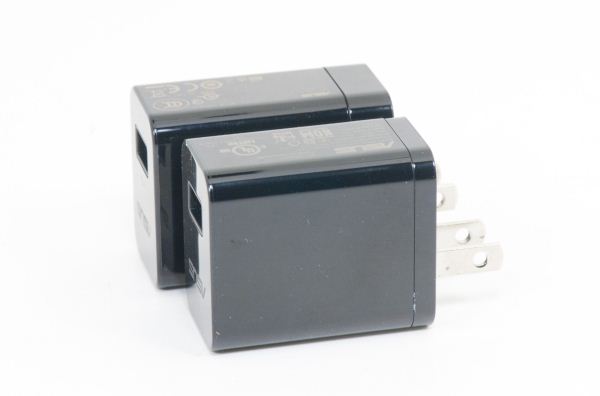 The new 18W charger (front) vs. the old 18W charger (back)
ASUS ships the Transformer Pad 300 with an 18W AC to USB wall adapter, although I noticed that the version that came with the 300 is actually a bit shorter than what I got with the Prime and original Transformer. Its power delivery capabilities remain unchanged however. By supplying 18W to the Transformer Pad, the power adapter can perform a complete charge of the 300's integrated 22Wh battery in a bit under 2.5 hours (remember charge current drops after all cells reach a certain voltage).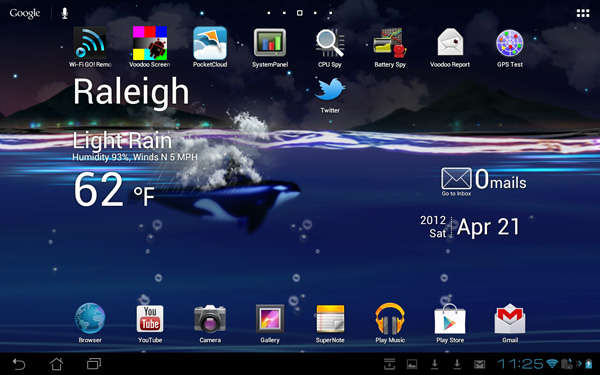 ASUS' latest Live Wallpaper, the water level indicates battery charge level