Gigabyte
Whenever a new chipset comes out, Gigabyte tend to do one of two things – either release a few boards to cover particular price points (usually models from UD3 to UD7), or release more than 10 or even 20+ products for the chipset. This latter method of attacking the market could perhaps overwhelm users into deciding which model to purchase, or that reviews could end up with so many boards to review it is hard to decipher which are the important ones. Nevertheless, Gigabyte for the 7-series launch has decided to attack the market with the latter, in the following models:
Gigabyte G1.Sniper 3
Gigabyte G1.Sniper M3
Gigabyte GA-Z77X-UD5H Wifi
Gigabyte GA-Z77X-UD5H
Gigabyte GA-Z77X-UD3H Wifi
Gigabyte GA-Z77X-UD3H
Gigabyte GA-Z77X-D3H
Gigabyte GA-Z77-D3H
Gigabyte GA-Z77-DS3H
Gigabyte GA-Z77MX-D3H
Gigabyte GA-Z77M-D3H
Gigabyte GA-H77-DS3H
Gigabyte GA-H77M-D3H
Gigabyte GA-B75M-D3H
Gigabyte GA-B75M-D3V
'D' means 'All solid capacitor design'
'U' means 'Double copper PCB design'
My guess is that this list is by no means complete, exhaustive or final (and perhaps includes models for sale in other parts of the world). No doubt we will see a UD4/UD4H, all the way up to UD7 as well. Gigabyte does have a microsite dedicated to their 7-series products, which does provide an informative list of what should be on offer.
The main features Gigabyte is going to be advertising with their 7-series launch is the almost ubiquitous placing of mSATA connectors on most of their boards, and that the UD3 and above boards come with wifi cards.
Gigabyte GA-Z77X-UD5H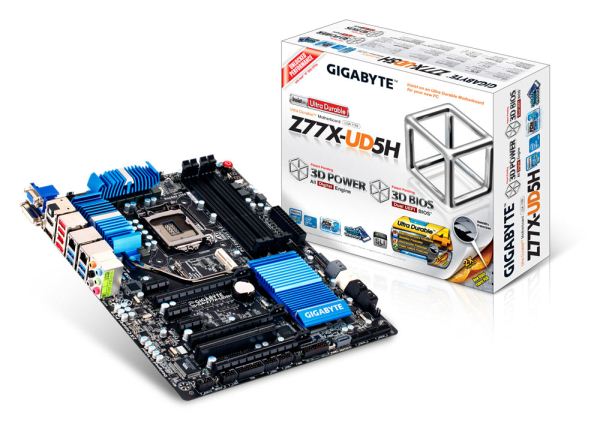 Almost at the top of Gigabyte's range at release is the GA-Z77X-UD5H. We see that the placement of the mSATA port is just below the CPU, which in the grand scheme of things should be ok as long as the user never wants to remove it (I can just imagine it being relatively stressful to take it out when a system is built and in a case). Also, all the boards in the range have both D-Sub and DVI outputs on the IO, which means on some models that they take up space for any PS/2 ports. This is despite the UD5H still sporting a PCI slot for legacy, even if it is taken up if a second dual slot GPU is used. As always, all Gigabyte models should support TPM, and in the case of the UD5, we have extra SATA ports and dual USB 3.0 headers onboard – all of which would be obscured by a full length third GPU.
G1.Sniper 3 and G1.Sniper M3
If we go back all the way to CES this year, Anand caught glimpse of the G1.Sniper series that Gigabyte had on display: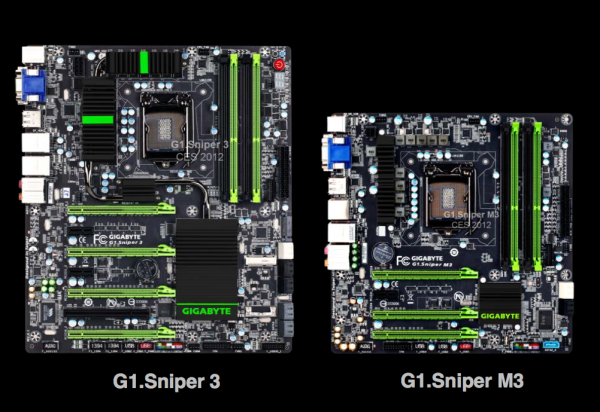 Given what we know about the Gigabyte range, we have some features to point out – if you want mSATA, it looks like you have to invest in a full size ATX style board. Unfortunately, that also means investing in a board that uses a PLX chip to give 4-way x8 performance for multi-GPU setups. Both boards seem to have specialized capacitors to deal with their audio solutions, which on the Gigabyte microsite states is the Creative Sound Core 3D – which is a step in a positive direction from normal Realtek audio solutions.