Supermicro's Latest Twin
We got a sneak peak at the Supermicro's brand new Twin 2U server: the SYS-6027TR-D71FRF. The 2U chassis has two dual Xeon E5 based servers inside that are fed by two fully redundant 1280W PSUs (at 180-230V, 1000W at 100-140V).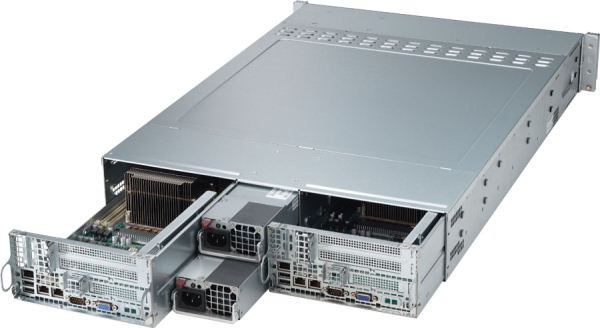 The two servers are held in place using screwless clips.

You get the density of a 1U server without needing four PSUs for redundancy and without the very power hungry 40 mm fans. Indeed, using only 2 PSUs and 80 mm fans should save quite a bit of power compared to 2 1U servers. Last time we measured, the Twin servers consumed 6% less power than the best 1U servers on the market.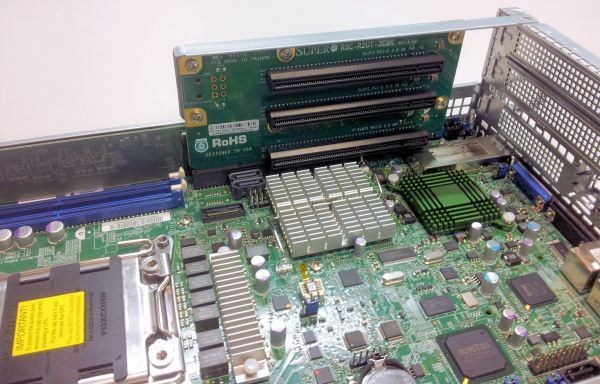 At the same time, the expansion capabilities are better: you get two full height and one half height PCIe 3.0 (!) x16 (x8 electrical) slots. The only disadvantage is that you only get 4 DIMM slots per CPU, which generally limits each server to about 128 GB of RAM (8 x 16 GB) unless you go with expensive 32 GB LR-DIMMS for a total of 256 GB. Therefore this server is probably better for HPC workloads than for memory intensive virtualization and database applications.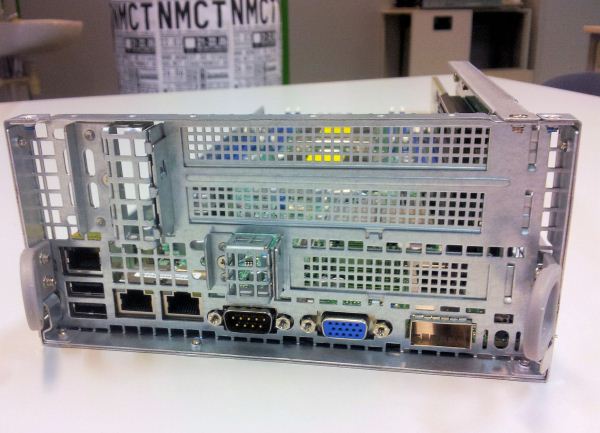 This new Twin server also features FDR InfiniBand interconnect technology, good for 56Gb/s (!) low latency network connections with an X4 cable. This should work especially well in tandem with Intel Data Direct I/O technology, where packets are directly transferred into the Last Level Cache (LLC) instead of being DMAed to the memory. This is something we'll be investigating in a later article.