Benchmark Configuration
Unfortunately, the Intel R2208GZ4GSSPP is a 2U server, which makes it hard to compare it with the 1U Opteron "Interlagos" and 1U "Westmere EP" servers we have tested in the past. We will be showing you a few power consumption numbers, but since a direct comparison isn't possible, please take them with a grain of salt.
Intel's Xeon E5 server R2208GZ4GSSPP (2U Chassis)
CPU

Intel Xeon processor E5-2690 (2.9 GHz, 8c, 20MB L3, 135W)
Intel Xeon processor E5-2660 (2.2 GHz, 8c, 20MB L3, 95W)

RAM
64 GB (8x8GB) DDR-1600 Samsung M393B1K70DH0-CK0
Motherboard
Intel Server Board S2600GZ "Grizzly Pass"
Chipset
Intel C600
BIOS version
SE5C600.86B (01/06/2012)
PSU
Intel 750W DPS-750XB A (80+ Platinum)
The Xeon E5 CPUs have four memory channels per CPU and support DDR3-1600, and thus our dual CPU configuration gets eight DIMMs for maximum bandwidth. The typical BIOS settings can be found below.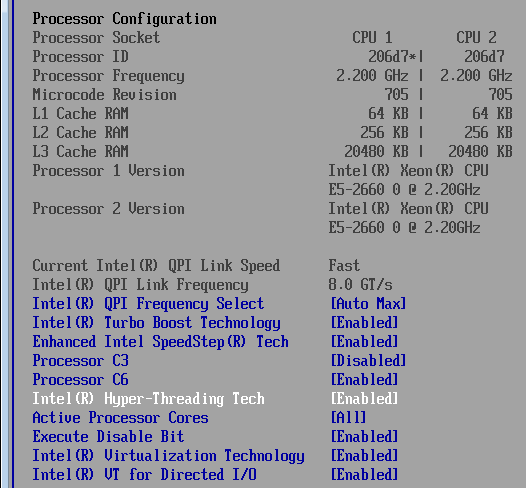 Not being show is that all prefetchers were enabled in all tests.
Supermicro A+ Opteron server 1022G-URG (1U Chassis)
CPU
Two AMD Opteron "Bulldozer" 6276 at 2.3GHz
Two AMD Opteron "Magny-Cours" 6174 at 2.2GHz
RAM
64GB (8x8GB) DDR3-1600 Samsung M393B1K70DH0-CK0
Motherboard
SuperMicro H8DGU-F
Internal Disks
2 x Intel SLC X25-E 32GB or
1 x Intel MLC SSD510 120GB
Chipset
AMD Chipset SR5670 + SP5100
BIOS version
v2.81 (10/28/2011)
PSU
SuperMicro PWS-704P-1R 750Watt
The same is true for the latest AMD Opterons: eight DDR3-1600 DIMMs for maximum bandwidth. You can find the BIOS settings of our Opteron machine here. C6 was enabled.
Asus RS700-E6/RS4 1U Server
CPU
Two Intel Xeon X5670 at 2.93GHz - 6 cores
Two Intel Xeon X5650 at 2.66GHz - 6 cores
RAM
48GB (12x4GB) Kingston DDR3-1333 FB372D3D4P13C9ED1
Motherboard
Asus Z8PS-D12-1U
Chipset
Intel 5520
BIOS version
1102 (08/25/2011)
PSU
770W Delta Electronics DPS-770AB
To speed up testing, we tested the Intel Xeon and AMD Opteron system in parallel. As we didn't have more than eight 8GB DIMMs, we used our 4GB DDR3-1333 DIMMs. The Xeon system only gets 48GB, but this isn't a disadvantage as our highest memory footprint benchmark (vApus FOS, 5 tiles) uses no more than 40GB of RAM.
Finally, we measured the difference between 12x4GB and 8x8GB of RAM and recalculated the power consumption for our power measurements (note that the differences were very small). There is no alternative as our Xeon has three memory channels and cannot be outfitted with the same amount of RAM as our Opteron system (four channels).
Common Storage System
For the virtualization tests, each server gets an Adaptec 5085 PCIe x8 card (driver aacraid v1.1-5.1[2459] b 469512) connected to six Cheetah 300GB 15000 RPM SAS disks (RAID-0) inside a Promise JBOD J300. The virtualization testing requires more storage IOPs than our standard Promise JBOD with six SAS drives can provide. To counter this, we added internal SSDs:
We installed the Oracle Swingbench VMs (vApus Mark II) on two internal X25-E SSDs (no RAID). The Oracle database is only 6GB big. We test with two tiles. On each SSD, each OLTP VM accesses its own database data. All other VMs (web, SQL Server OLAP) are stored on the Promise JBOD (see above).
With vApus FOS, Zimbra is the I/O intensive VM. We spread the Zimbra data over the two Intel X25-E SSDs (no RAID). All other VMs (web, MySQL OLAP) get their data from the Promise JBOD (see above).
We monitored disk activity and measured the phyiscal disk adapter latency (as reported by VMware vSphere) at between 0.5 and 2.5 ms.
Software Configuration
All vApus testing was done one ESXi vSphere 5--VMware ESXi 5.0.0 (b 469512 - VMkernel SMP build-348481 Jan-12-2011 x86_64) to be more specific. All vmdks use thick provisioning, independent, and persistent. The power policy is "Balanced Power" unless indicated otherwise. All other testing was done on Windows 2008 Enterprise R2 SP1. Unless noted otherwise, we used the "High Performance setting" on Windows 2008 R2 SP1.
Other Notes
Both servers were fed by a standard European 230V (16 Amps max.) powerline. The room temperature was monitored and kept at 23°C by our Airwell CRACs.
We used the Racktivity ES1008 Energy Switch PDU to measure power consumption. Using a PDU for accurate power measurements might seem pretty insane, but this is not your average PDU. Measurement circuits of most PDUs assume that the incoming AC is a perfect sine wave, but it never is. However, the Rackitivity PDU measures true RMS current and voltage at a very high sample rate: up to 20,000 measurements per second for the complete PDU.