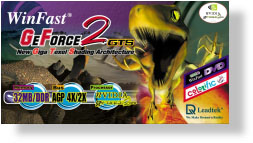 Recent weeks have proved to be action-packed for NVIDIA. First, about one month ago, NVIDIA unveiled their newest graphic's powerhouse: the GeForce 2 GTS. Days later came actual products powered by this GPU, a first for NVIDIA Now, we are seeing the video card market becoming flooded with GeForce 2 GTS based cards. Why all the action and efficient production times? The DDR GeForce 256 processor was, and still remains, powerful enough for the vast majority of 3D games and application. Why did NVIDIA create competition between their own products with the fast release of the GeForce 2 GTS? Well, it was all because of one thing in NVIDIA's eyes, competition.
NVIDIA felt that soon it could lose its position as king of the hill. Although they had quite a margin over competing products, talk of the upcoming Voodoo V5500 sent shivers running down NVIDIA's spine. Rather than banking on the fact that 3dfx would err yet again, NVIDIA decided to push ahead with their V5500 killer, the GeForce 2 GTS. This well timed business maneuver resulted in a swift blow to the majority of 3dfx's prospective market. The swift release of the GeForce 2 GTS along with the announcement from 3DFX's about a week ago saying that the Voodoo V5500 would be delayed yet again, all but ensured that NVIDIA would remain on top of the world for at least one more product cycle. This also resulted in a wave of GeForce 2 GTS based cards; many more than were ever seen in the first 2 months of the GeForce 256's release, let alone 4 weeks.
With almost every manufacturer jumping aboard, we were not surprised to see Leadtek produce a GeForce 2 GTS based card along with all of the other manufacturers. Unlike the GeForce 256 based WinFast series from Leadtek, the WinFast GeForce 2 GTS was not the first GeForce 2 GTS card to hit the market. This extra time should ensure for a solid product, as it gave Leadtek time to work out any problems that may have arisen. Let's see if this is indeed the case, as well as examine some of the features of the new Leadtek WinFast GeForce 2 GTS.
Key Features
Giga Texel Shading Architecture
32 MB high-speed DDR SGRAM memory
TV-Output option
Super size heatsink- 220% size increase
Full Support on 3D Platforms
2nd-generation GeForce GPU with Giga Texel Shading Architecture 8 texels per clock with Advanced Hypertexel pipelines
Most complete DirectX7 hardware implementation for the highest gaming quality and frame rate
High Definition Video Processor for the fastest DVD, 2D and video processing (with enhanced motion compensation)
32MB DDR memory
Super Size Heatsink (220% size compared to regular size)
WinFastDVD playback package
Optional TV output (w/ flicker filter) and DVI Interface

Bundle Software
WinFast DVD
Colorific
3Deep
True Internet Color
Cult3D

Refresh Rate Support

Resolution

Color

Max Refresh Rate (Hz)

640 x 480

256/65K/16M

60 - 240

800 x 600

256/65K/16M

60 - 240

1024 x 768

256/65K

60 - 240

1024 x 768

16M

60 - 200

1152 x 864

256/65K

60 - 200

1152 x 864

16M

60 - 170

1280 x 960

256/65K

60 - 170

1280 x 960

16M

60 - 150

1280 x 1024

256/65K

60 - 170

1280 x 1024

16M

60 - 150

1600 x 900

256/65K

60 - 150

1600 x 900

16M

60 - 120

1600 x 1200

256/65K

60 - 120

1600 x 1200

16M

60 - 100

1920 x 1080

256/65K

60 - 100

1920 x 1080

16M

60 - 85

1920 x 1200

256/65K

60 - 100

1920 x 1200

16M

60 - 85

1920 x 1440

256/65K

60 - 85

1920 x 1440

16M

60 - 75

2048 x 1536

256/65K

60 - 75

2048 x 1536

16M

60