Battlefield 3
Editor's Note: Earlier today DICE released a patch that among other things is supposed to improve Radeon HD 7000 series performance in the game. We'll update our numbers to include revised benchmarks as soon as we can.
Its popularity aside, Battlefield 3 may be the most interesting game in our benchmark suite for a single reason: it's the first AAA DX10+ game. It's been 5 years since the launch of the first DX10 GPUs, and 3 whole process node shrinks later we're finally to the point where games are using DX10's functionality as a baseline rather than an addition. Not surprisingly BF3 is one of the best looking games in our suite, but as with past Battlefield games that beauty comes with a high performance cost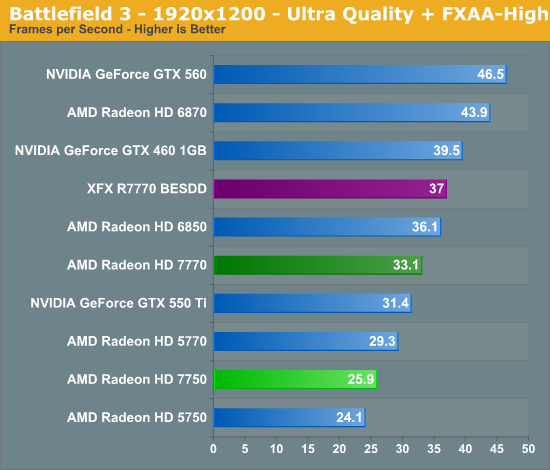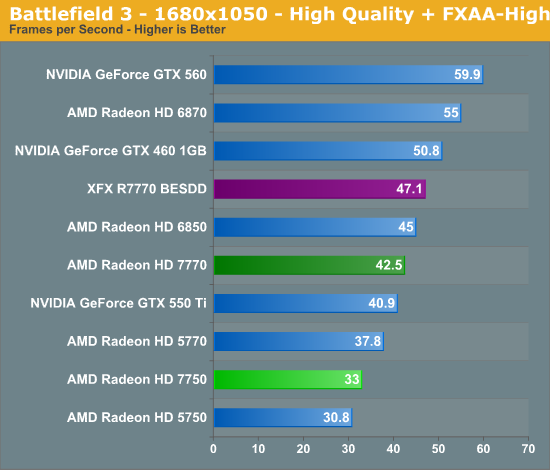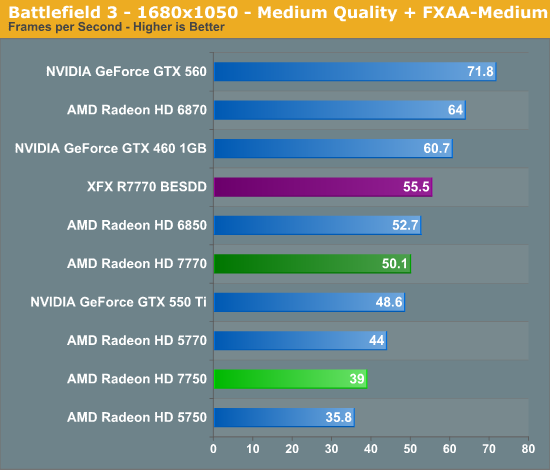 BF3 is an all-around GPU killer, which in the case of the 7700 series doesn't help matters. Keeping in mind our benchmarks typically trend high, even at 1680 with Medium settings we're not cracking 60fps with anything less than a GTX 460 1GB. In this case the 7770 should be playable, but intense firefights will definitely drop through the 30fps floor.
In any case the performance of the 7700 series is starting to show some consistency. Once again the 7770 underperforms the 6850, this time by 5%, elsewhere the 7750 noticeably trails the 5770. Nothing on the AMD side is anywhere close to the GTX 560 however.
Looking at our data, I'm a bit worried about the amount of VRAM the 7770 has. 1GB is already not quite enough for some games at 1920 with high quality settings, but BF3 is especially punishing. If we see more games like BF3, I have to wonder if 1GB will be enough for even 1680 in a year's time.