If you've read our 802.11ac primer you already know that the fifth generation of WiFi is something to be excited about. At 433Mbps of bandwidth per stream with expected 1, 2 and 3 stream configurations to launch early this year, we should see a pretty big performance increase in transfer speeds on 802.11ac equipped devices. In order to get those devices however we'll need to see 802.11ac chipsets. As our luck would have it, today Broadcom is announcing the first four 40nm 802.11ac chipsets:
Broadcom 5G WiFi 802.11ac Chipset Family
Chipset
Manufacturing Process
Interface
Spatial Streams
Max PHY Rate
BCM4360
40nm
PCIe 2.0 x1
3
1.3Gbps
BCM4352
40nm
PCIe 2.0 x1
2
866Mbps
BCM43526
40nm
USB 2.0
2
866Mbps
BCM43516
40nm
USB 2.0
1
433Mbps
The BCM4360 is the highest end offering supporting three spatial streams and PHY rates of up to 1.3Gbps. The BCM4352 drops down to 2 spatial streams (866Mbps). Both of these chipsets are native PCIe 2.0 x1 and are targeted at client systems (e.g. notebooks, add-in cards) as well as wireless access points.
The BCM43526 is a USB 2.0 version of the 4352, again supporting two spatial streams. Broadcom is expecting some of its customers to bundle 43526 based USB sticks with their 802.11ac wireless routers/APs. Finally there's the BCM43516, another USB 2.0 based design but with support for only a single spatial stream (433Mbps).
All of the 802.11ac chipsets support 80MHz channels and 2.4GHz fallback to 802.11b/g/n.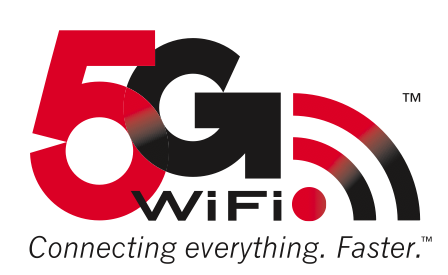 Broadcom is also launching a new brand for its 802.11ac devices: 5G WiFi. The brand and logo are available to Broadcom's customers (not competitors) with no financial requirements, although they obviously have to use one of these Broadcom 802.11ac chipsets.
Note that although smartphone and tablet vendors could use these 802.11ac controllers in their devices, they aren't the intended target. We will see SDIO/HSIC based 802.11ac controllers from Broadcom at some point the future.
You can expect to see the first 802.11ac devices based on these chipsets next week at CES.