Video Playback: Blu-ray Quality in a Tablet
One of the biggest issues with Tegra 2 based tablets and smartphones is a limitation that prevented hardware accelerated decode of any high profile H.264 video content. You could still decode the video but the additional stages of the decode process were left to run on the CPU, which in turn resulted in substantially lower battery life. NVIDIA has completely addressed the problem with the Tegra 3's video decoder, which is now capable of decoding 1080p H.264 high profile streams at up to 40Mbps.
The Honeycomb video player (Gallery app) will play .mkv files by default but if you want to throw on a .m2ts file you'll need to grab a third party player. DICE Player for Android supports Tegra 3's hardware acceleration, making it a good option if you want broader file compatibility.
Android File Transfer won't push over a file greater than 4GB so the first thing I tried was ripping a portion of A Quantum of Solace (BD) and sending over a 40Mbps High Profile 1080p MKV of it. The resulting 10 minute segment was 2.8GB in size and played beautifully on the Prime. There were no dropped frames and no hiccups, it just worked.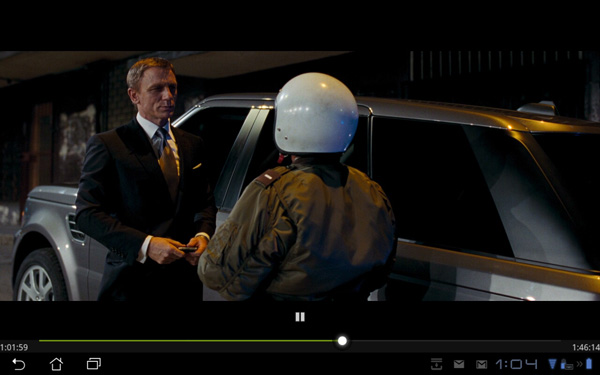 External NTFS volumes are supported and the sdcard file system supports files greater than 4GB in size, so I copied a 15GB 1080p Blu-ray rip of A Quantum of Solace from a USB stick to the Prime. I had to use DICE Player to get audio but otherwise the clip just worked. The biggest pain was copying the huge file across, but it'd be quicker and less painful than a re-encode on most systems.
To really test my luck I threw a few of our media streaming test files at the Prime. Our 720p60 test file worked perfectly, while our 1080p60 test case was mostly smooth with the exception of occasional slowdowns. I tried playing back a 1080p30 VC1 file however I couldn't get it to play back with hardware acceleration. Some of the more exotic combinations of features and file types wouldn't work, although I suppose that could be the fault of the playback software.
As far as I can tell, Tegra 3 and the Eee Pad Transformer Prime in particular are capable of playing back 1080p24 Blu-ray class video. Total NAND capacity is the only thing limiting us from just dumping a raw Blu-ray rip onto a tablet and playing that directly. Pretty much any HD rip you make yourself or find online will likely work. You may still need to invest in a good third party player to ensure things like subtitles are properly supported however.
I'm pleased with the state of video on the Prime. It's not HTPC level, but we can finally play really good quality video on an Android tablet. I suspect it'll be one more generation before we get tablets (and associated software) that will just play anything you throw at them.