Assembling the NZXT Phantom 410
Remember how I said the NZXT Phantom 410 is more style than substance? This is where things start to fall apart. While it's nowhere near the most difficult enclosure I've ever assembled, I can't help but feel like it's just a little too cramped. Maybe this design just wasn't meant to shrink down this much, or maybe NZXT could've allowed for an extra inch or two in the dimensions somewhere, but this one took a little elbow grease.
First, I'm always disappointed when motherboard standoffs don't come preinstalled from the factory in a modern case. They're a nice convenience and having to screw them in is both tedious and sometimes even a little bit frustrating (for example, having to remove the motherboard and realizing you didn't secure one or two of the standoffs as well as you thought you did). Getting the motherboard in also proved just how tight a fit things were going to be down the road, with the clearance between the top of the board and the top exhaust fan being a bit narrower than I'd've liked.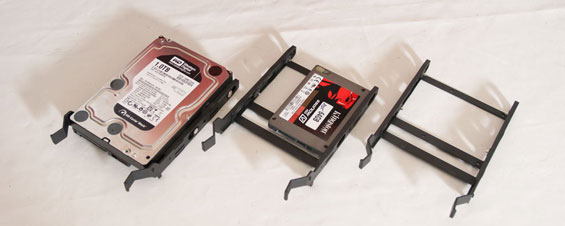 NZXT does thankfully provide for tool-less drive installation, but they do it a little oddly. While snapping in the optical drive required applying a bit of force, eventually it did go in securely. Where things are strange are the drive trays: they slide in behind the motherboard panel instead of above, meaning you have to remove the back panel to install them. The trays themselves are tool-less and snap into 3.5" drives without much struggle, and the ports on the drives do face back to keep cabling tidy, but I can't help but feel like this is a little bit backwards. Worse still, the trays are on the flimsy side and easy to push too far in, beyond where they were supposed to stop and secure. This isn't much of a problem when the girth of a 3.5" drive helps provide friction against the inside of the drive cage, but a 2.5" drive is so small and weightless that you actually have to be at least a little bit careful popping the tray into place.
I didn't have much trouble getting our NVIDIA GeForce GTX 580 test card into the Phantom 410, but it bears mentioning that the clearance between it and the pivoting internal fan mount is pretty slight; you're definitely not going to be able to mount a fan there if you have a 10.5" card, and the entire drive cage will have to come out if you plan on putting in a GTX 590 or AMD Radeon HD 6990 (or any other oversize card). Installing the power supply was also a fairly simple affair.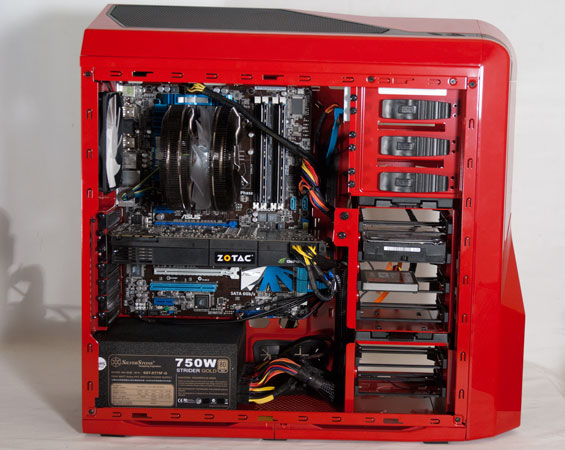 Honestly, where things went to hell was cabling. NZXT provides four additional leads for the fan controller, which is appreciated, though you'll have to cram them back behind the motherboard tray if you're not using them. That's a minor nuisance, but the real problem is that the holes in the motherboard tray specifically for cable routing are just too small and misplaced. When you take a look at the job I did wiring the Phantom 410, pay attention to the cables that would ordinarily get stashed behind the motherboard tray and aren't. Could I have routed them that way? With proper application of force and patience, probably, but it's light years behind Antec's P280 or any of Corsair's enclosures.
There are some really good ideas inside the NZXT Phantom 410, but it actually winds up just being too small to make them practical. NZXT does their best to make the Phantom 410 easy to work with within its existing dimensions, but those dimensions are a large part of the problem: this needed to be a bigger enclosure. This isn't the worst case I've ever had to assemble by a long shot, but there are much easier cases out there.