Introducing the NZXT Phantom 410
If you browse custom builds across different boutiques, you'll find NZXT's name comes up an awful lot. One of their enclosures, in particular, tends to see a lot of action: the Phantom. Its unusual angular design for some people is the right mix of style and gaudy, resembling the kind of case an Imperial Stormtrooper might choose if they were planning on learning how to at least hit the broad side of a barn in their off-duty hours. Today we take the wraps off of the Phantom's new fun size version, the Phantom 410, offering all the style without the massive footprint.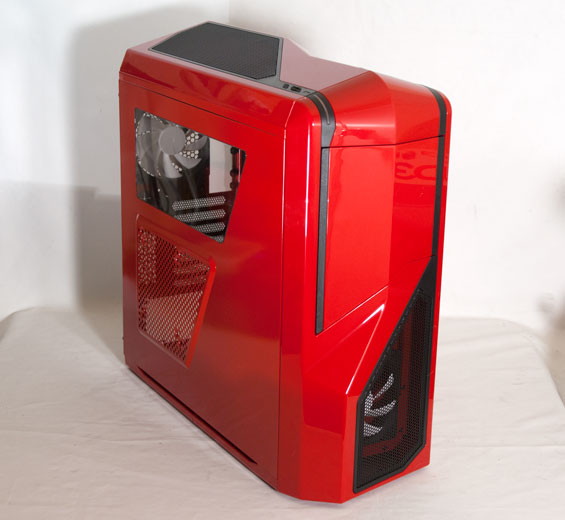 Indeed, if you remember the original Phantom (we unfortunately never got a chance to review the case on its own, but the iBuyPower Paladin XLC we reviewed employed the enclosure), you'll be at least a little bit amused by the Phantom 410. It's still not exactly a "small" case, but it's definitely more fun-sized compared to its predecessor. Fan controls have been reduced from three individual ones to a single main controller that runs the entire enclosure, while the drive bay door is latched closed (press in, then it pops out) as opposed to just swinging open. Other than that, it's pretty close to its larger predecessor.
NZXT Phantom 410 Specifications
Motherboard Form Factor
ATX, Micro ATX, Mini ITX
Drive Bays
External
3x 5.25"
Internal
6x 3.5"/2.5"
Cooling
Front
1x 120mm intake fan, 1x 120mm fan mount, 1x adjustable 120mm/140mm intake fan mount behind the drive cage
Rear
1x 120mm exhaust fan
Top
1x 140mm exhaust fan, 1x 120mm/140mm fan mount
Side
1x 120mm/140mm fan mount
Bottom
1x 120mm fan mount
Expansion Slots
7
Front I/O Port
-
Top I/O Port
Power and reset buttons, 2x USB 2.0, 2x USB 3.0, mic and headphone jacks, three-speed fan controller
Power Supply Size
ATX
Clearance
10.5" with removable drive bay, 16" without (Expansion Cards), 170mm (CPU HSF), 200mm (PSU)
Weight
20 lbs (9.1kg)
Dimensions
8.46" x 20.31" x 20.94" (215mm x 516mm x 532mm)
Price
MSRP $99
While I've gotten used to other enclosures in this market getting bigger or adding new features, NZXT plays it fairly cautiously (in some respects at least) with the Phantom 410. Internal clearance is actually at a little bit of a premium, and while the Phantom 410 happily supports a 240mm radiator, you'll lose four drive bays if you decide to go with a video card bigger than an NVIDIA GeForce GTX 580. Massive tower-style coolers may also have trouble fitting due to the low clearance from the side panel.