Virtualization Performance: Linux VMs on ESXi
We introduced our new vApus FOS (For Open Source) server workloads in our review of the Facebook "Open Compute" servers. In a nutshell, it a mix of four VMs with open source workloads: two PhpBB websites (Apache2, MySQL), one OLAP MySQL "Community server 5.1.37" database, and one VM with VMware's open source groupware Zimbra 7.1.0. Zimbra is quite a complex application as it contains the following components:
Jetty, the web application server
Postfix, an open source mail transfer agent
OpenLDAP software, user authentication
MySQL is the database
Lucene full-featured text and search engine
ClamAV, an anti-virus scanner
SpamAssassin, a mail filter
James/Sieve filtering (mail)
All VMs are based on a minimal CentOS 5.6 setup with VMware Tools installed. All our current virtualization testing is on top of the hypervisor which we know best: ESXi (5.0). CentOS 5.6 is not ideal for the Interlagos Opteron, but we designed the benchmark a few months ago. It took us weeks to get this benchmark working and repeatable (especially the latter is hard). For example it was not easy to get Zimbra fully configured and properly benchmarked due to the complex usage patterns and high I/O usage. Besides, the reality is that VMs often contain older operating systems. We hope to show some benchmarks based on Linux kernel version 3.0 or later in our next article.
We tested with five tiles (one tile = four VMs). Each tile needs seven vCPUs, so the test requires 35 vCPUs.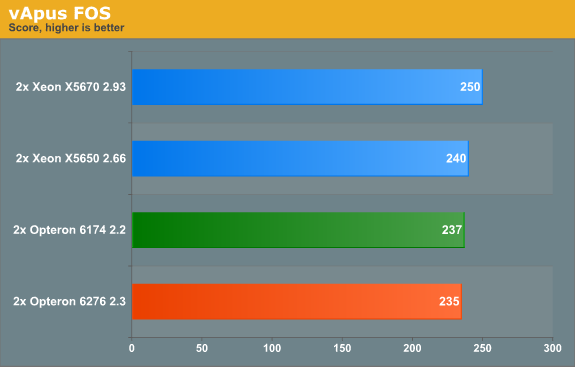 The Opteron 6276 stays close to the more expensive Xeons. That makes the Opteron server the one with the best performance per dollar. Still, we feel a bit underwhelmed as the Opteron 6276 fails to outperform the previous Opteron by a tangible margin.
The benchmark above measures throughput. Response times are even more important. Let us take a look at the table below, which gives you the average response time per VM:
vApus FOS Average Response Times (ms), lower is better!
CPU
PhpBB1
PHPBB2
MySQL OLAP
Zimbra
AMD Opteron 6276
737
587
170
567
AMD Opteron 6174
707
574
118
630
Intel Xeon X5670
645
550
63
593
Intel Xeon X5650
678
566
102
655
The Xeon X5670 wins a landslide victory in MySQL. MySQL has always scaled better with clock speed than with cores, so we expect that clock speed played a major role here. The same is true for our first VM: this VM gets only one CPU and as result runs quicker on the Xeon. In the other applications, the Opteron's higher (integer) core count starts to show. However, AMD cannot really be satisfied with the fact that the old Opteron 6174 delivers much better MySQL performance. We suspect that the high latency L2 cache and higher branch misprediction penalty (20 vs 12) is to blame. MySQL performance is characterized by a relatively high amount of branches and a lot of accesses to the L2. The Bulldozer server does manage to get the best response time on our Zimbra VM, however, so it's not a complete loss.
Performance per watt remains the most important metric for a large part of the server market. So let us check out the power consumption that we measured while we ran vApus FOS.
The power consumption numbers are surprising to say the least. The Opteron 6174 needs quite a bit less energy than the two other contenders. That is bad news for the newest Opteron. We found out later that some tinkering could improve the situation, as we will see further.