Measuring Real-World Power Consumption, Part One
The Equal Workload (EWL) version of vApus FOS is very similar to our previous vApus Mark II "Real-world Power" test. To create a real-world "equal workload" scenario, we throttle the number of users in each VM to a point where you typically get somewhere between 20% and 80% CPU load on a modern dual CPU server. The amount of requests is the same for each system, hence "equal workload".
The CPU Load on the Opteron 6276 looked like this: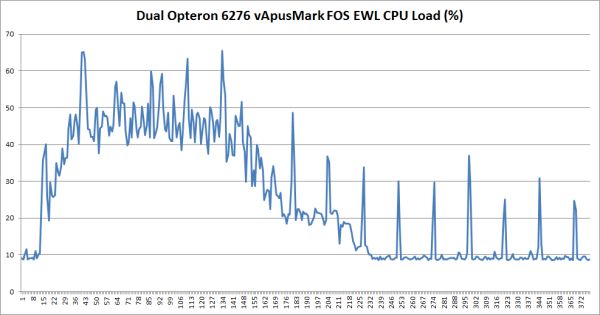 The CPU load is typically around 30-50%, with peaks up to 65%. At the end of the test, we get to a low 10%, which is ideal for the machine to boost to higher CPU clocks (Turbo) and race to idle. First we check out the response times.
vApus FOS Response times (ms)
CPU
PhpBB1
PHPBB2
MySQL OLAP
Zimbra
AMD Opteron 6276
134
47
3.6
44
AMD Opteron 6174
118
41
3.8
45
Intel Xeon X5670
76
27
2.2
28
ESXi and our Interlagos "Opteron" probably don't understand each other fully, given the newness of the architecture. Some extensive monitoring with ESXtop shows that the lower CPU load is spread among all the cores, and the result is that the Opteron 6276 never reaches its highest clock speed (3.2GHz). That helps make the response times significantly higher than on the Xeon, although they are acceptable. Again, the Interlagos Opteron fails to really beat the "Magny-cours" Opteron.
Our main focus of this benchmark is of course energy consumption.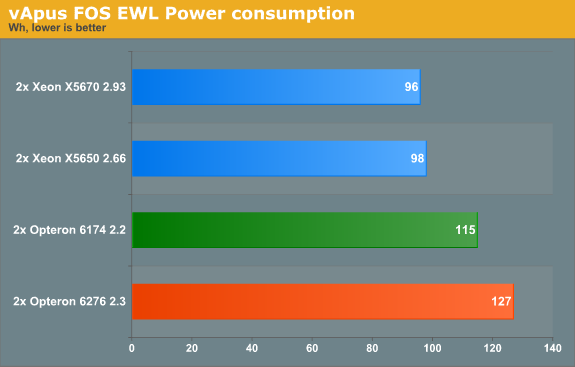 The Xeon consumes 25% less power, and the older Opteron about 10% less. The performance/Watt ratio of the newest Opteron looks rather bad when running on top of ESX. We shall delve into this deeper in the next several pages.