Rendering Performance: Cinebench
Cinebench, based on MAXON's software CINEMA 4D, is probably one of the most popular benchmarks around, and it is pretty easy to perform this benchmark on your own home machine. The benchmark supports 64 threads, more than enough for our 24- and 32-thread test servers. First we tested single-threaded performance, to evaluate the performance of each core.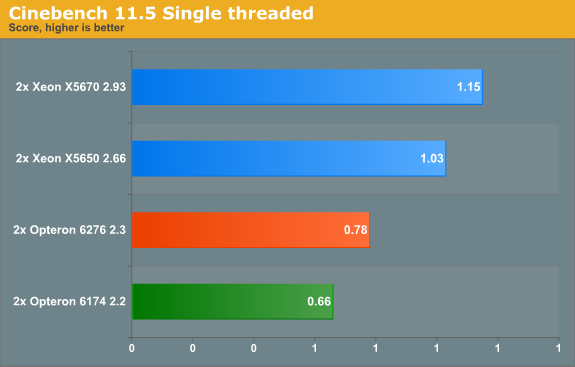 Single-threaded performance is relatively poor when you do not enable Turbo Core: with that setting the Opteron 6276 scores only 0.57. So the single-threaded FP performance is about 10% lower, probably a result of the higher FP/SSE latencies of the Interlagos FPU. However, the 6276 Opteron can boost the clock speed to 3.2GHz. This 39% clock speed boost leads to a 37% (!) performance boost. The difference with the older "Istanbul" based Opteron "Magny-cours" 61xx can only get larger once software with support for the powerful FMAC and AVX capable units is available. Also newer compilers will take the longer FP latencies into account and will probably boost performance by a few percent even without using FMAC or AVX.
Before we look at the Multi-threaded benchmark, Andreas Stiller, the legendary German C't Journalist ("Processor Whispers") sent me this comment:
"You should be aware that Cinebench 11.5 is using Intel openMP (libguide40.dll), which does not support AMD-NUMA"
So while Cinebench is a valid bench as quite a few people use the Intel OpenMP libraries, it is not representative of all render engines. In fact, Cinebench probably only represent the smaller part of the market that uses the Intel OpenMP API. On dual CPU systems, the Opteron machines run a bit slower than they should; on quad CPU systems, this lack of "AMD NUMA" awareness will have a larger impact.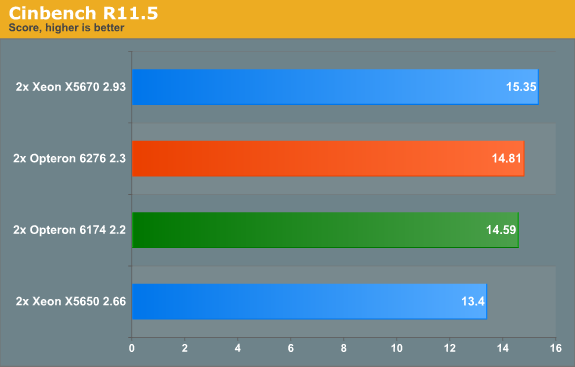 We did not expect that the latest Opteron would outperform the previous one by a large margin. Cinebench is limited by SSE processing power. The ICC 11.0 compiler was the fastest compiler of its time for SSE/FP intensive software, even for the Opterons (up to 24% faster than the competing compilers), but it has no knowledge of newer architectures. And of course, the intel compiler does favor the Xeons.
The Opteron 6200 has a total of eight dual issue (if you count only those pipes that do calculations) FPUs, while the Opteron 6100 has a total of 12 dual issue FPUs. The only advantage that the 6200 has (if you do not use the FMAC or AVX capabilities) is that it can interleave two FP threads on one module. So you get 16 FP threads that can dispatch one FP per clock versus 12 FP threads that can dispatch two FP per clock. That capability is especially handy when your threads are blocked by memory accesses. This is hardly the case in Cinebench (but it is probably the reason why Interlagos does so well in some HPC tests) and as a result, the Opteron 6276 cannot pull away from the Opteron 6174.
Anand reported that the best Core i7 (2600K, 4 cores/8 threads, 3.4GHz) achieves 6.86. So considering that a dual Opteron 6200 is cheaper than the dual Xeon, and more manageable than two workstations, such a renderfarm may make some sense.