Temperature Results
Each Corsair Hydro Series cooler is mounted to blow air from outside the case over the radiator. We had to leave the top cover off of our 600T chassis during the H100 tests due to its restrictive design; otherwise the H100 results would have been horrendously skewed. The top cover didn't affect our other tests and was left on for those. Since the H60 has a PWM fan, we disabled any BIOS fan controls to ensure the fan was spinning at 100%. All three of the H80 and H100 speed settings are tested. We'll start with our stock 3.5GHz test results and then move to the overclocked results.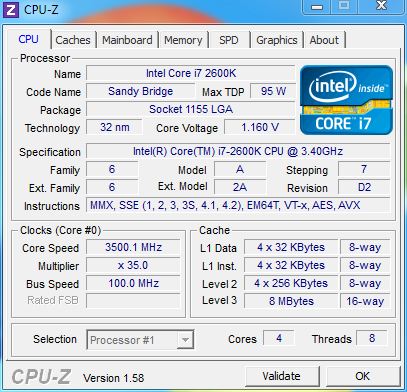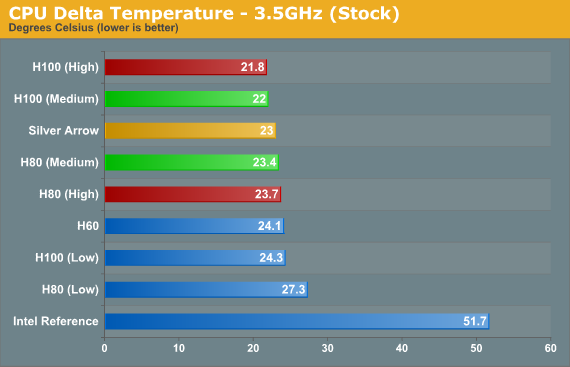 The stock speed test doesn't provide much of a challenge for any of the Hydro Series coolers, leaving very little gap between them. Not surprisingly, all of the aftermarket coolers simply crush the stock Intel cooler; however, it's also worth nothing that the Silver Arrow outperforms both the H60 and H80, and nips at the heels of the H100 set to Medium fan speed. Due to the relativity cool temperatures during this test, some of the speed profiles for the H80 and H100 never hit their maximum RPM. This keeps those coolers relatively quiet even when running on high or medium at stock speeds.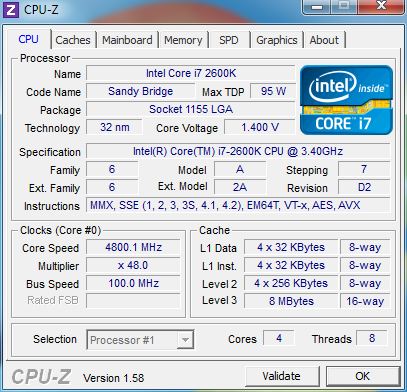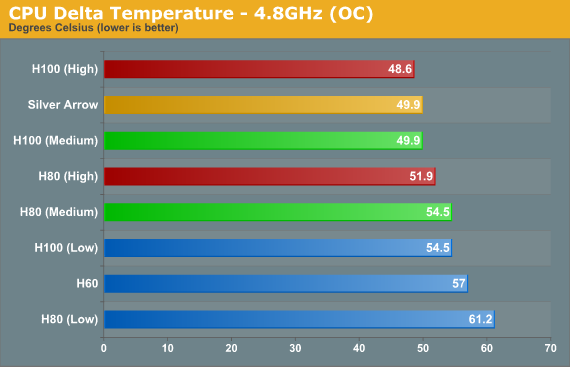 Now that we're overclocked to 4.8GHz, these coolers are finally showing a temperature difference worthy of their price difference. Also note that the stock Intel cooler didn't handle the 4.8GHz load reliably, so we don't have results for it in this chart. The H100 is the runaway leader here, sporting a comfortable 3.3C lead over the H80. The H60 falls 5.1C shy of the H80—not terrible considering its slimmer radiator and single fan design. The cooling advantage of the H100 on the high setting does come at a penalty though; it's substantially louder as you'll see next in the noise test. The potential spoiler in the midst of these results is the Silver Arrow, once again coming very close to the H100 at a lower price. It's not without compromises, which we'll cover in the conclusion.