Noise Results
Due to the built-in variable fan controller on the H80 and H100, testing the noise on these two coolers proved to be challenging. Our test system, even when overclocked to 4.8GHz, didn't generate enough heat to max out the RPM on the H100 high speed test. When plugged into a direct power source, the H100 fans were barely, but noticeably, louder than when powered by the controller on the high setting. We opted to power the fans as intended using the built-in fan controller, but it should be noted that these fans could be slightly louder if directly powered or used in a hotter system/environment. The H80 appears to hit max RPM on all tests, while the H60 is forced to 100% with it having the only PWM fan in the bunch.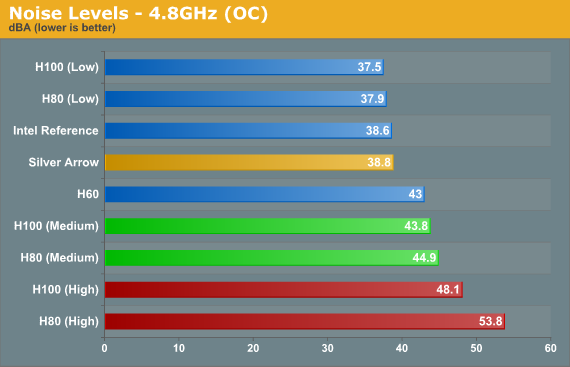 The H100 and H80 when set on low speed are neck and neck for the quietest coolers of the bunch, beating even the virtually silent Silver Arrow and Intel reference cooler. The H60 with its slower RPM fan barely edges out the H100 and H80 when they're set to medium. The H100 and H80 when set on high speed top the charts here, as we would expect. While the H80 and H100 sport the same fans, but the H100 comes in quieter. This is most likely due to our test system not being hot enough for the H100's fans to fully kick in.
Here we finally see the penalty for the excellent cooling capability of the H100 when it's running on high speed. As you can see, it's quite loud at this setting. Let's take a look at the noise graph again, but this time we'll overlay the temperature graph to get a better idea on how nose and performance are related.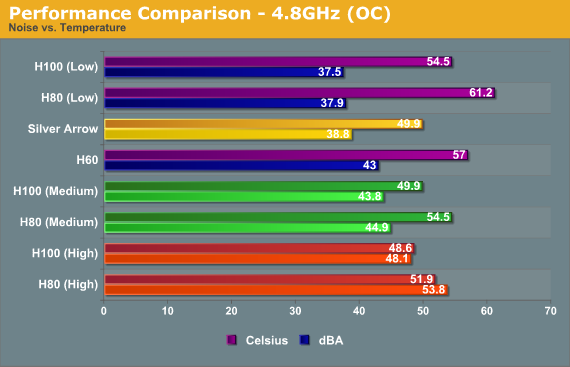 For the most part, the better the performance, the louder the cooler. Ultimately, it's up to you to decide what the perfect balance of cooling performance and noise acceptance is for your particular situation.