Introducing the Lian Li PC-TU200
More and more lately, mini-ITX boards are becoming very feature rich and users are needing fewer expansion cards in their desktop systems. Where once upon a time we'd need a wireless card, a video card, maybe an eSATA card and/or a sound card, now modern mini-ITX boards can cover just about all of these bases short of the GPU. TV tuner cards aren't even what they used to be with vendor lock-in by cable companies. All of that means that in many cases (no pun intended), all the end user is really going to need is the single PCI Express x16 the board provides.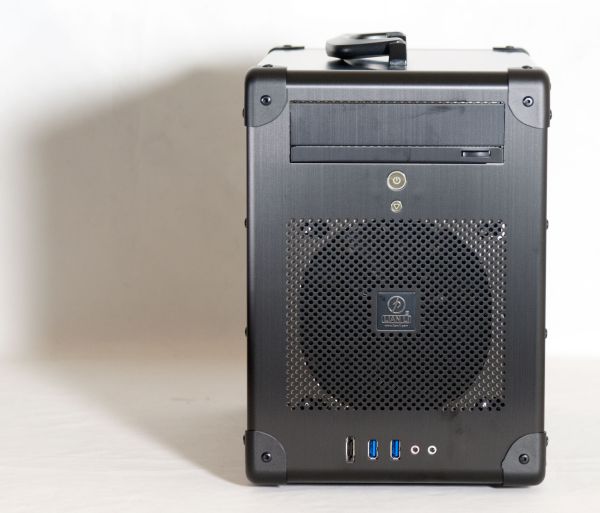 Addressing this segment of users, Lian Li sent us their PC-TU200 enclosure, a mini-ITX case that offers two expansion slots just for those double-wide video cards that have become de rigeur. The TU200 includes a carrying handle at the top that makes its purpose abundantly clear: producing a case perfect for LAN warriors.
When we were first contacted by Lian Li's PR team, we were posed a question: what do we want to see? Our coverage of full- and mid-towers so far has been pretty good, but smaller enclosures have oftentimes gone by the wayside. So while we do have a couple of larger cases from Lian Li on the bench waiting for review, the TU200 is both one of their newer releases and also one of their most compelling. Cursory examination of the enclosure suggests that for both thermals and performance, it should be a big winner similar to (one of my personal favorites) SilverStone's Temjin TJ-08E, using a similar single-fan wind tunnel design.
Lian Li PC-TU200 Specifications
Motherboard Form Factor
Mini-ITX, Mini-DTX
Drive Bays
External
1x 5.25"
Internal
4x 3.5" (3x 3.5" if the top 2.5" is occupied) and 2x 2.5"
Cooling
Front
1x 140mm intake fan
Rear
-
Top
-
Side
-
Bottom
-
Expansion Slots
4
Front I/O Port
eSATA, 2x USB 3.0, mic and headphone jacks
Top I/O Port
-
Power Supply Size
ATX
Clearance
11.5" (Expansion Cards), 80mm (CPU HSF), 140-160mm (PSU)
Weight
6.9 lbs. (3.15 kg)
Dimensions
13.35" x 8.7" x 11.42" (360mm x 210mm x 320mm)
Price
$179
There's really no getting around it: the TU200 is tiny. At just a touch under seven pounds, this enclosure is substantially lighter than my cat (who isn't stunningly overweight for an indoor cat if you can believe it), and frankly smaller to boot. Between the diminutive dimensions and the surprisingly rich internal design, one has to wonder if there isn't some kind of strange witchcraft at work to get all of these parts to fit into this tiny enclosure. As it turns out, a little bit may be involved.