Assembling the Fractal Design Arc Midi
While the Fractal Design Arc Midi does feature a very smart internal design, there are a couple of small conveniences that are missing, the first of which being built in mounting studs for the motherboard. This is a simple thing, but can prove to be a minor nuisance should you ever replace the motherboard: if you don't put the studs in securely the first time, they're liable to join the motherboard when you try to remove it.
Still, getting the motherboard in was easy (as it often is), though routing the AUX 12V cable has been and almost always will be a royal pain. And while it looks like the enclosure is capable of supporting a 240mm radiator, clearance above the motherboard is pretty tight as it is, so I wouldn't recommend it.

None of the drive bays or sleds are tool-less either. This is one area where Corsair has a slight lead, as their plastic drive sleds are actually pretty effective at keeping 3.5" drives in place. At the same time, though, the more traditional drive sleds do come complete with silicon grommets for 3.5" drives, and each sled has mounting holes for 2.5" drives directly in the center of the sled. Getting the hard drive, SSD, and optical drive in was easy enough, it just required a bit of elbow grease and the use of a screwdriver.
Video card clearance even in the native configuration of the top drive cage was also perfectly fine; our GeForce GTX 580 had plenty of breathing room between it and the cage. Getting the power supply in was a breeze too, although it's worth noting that if you use a PSU longer than 170mm you run the risk of covering up the bottom intake fan bay. Most users won't care but it's something to keep in mind.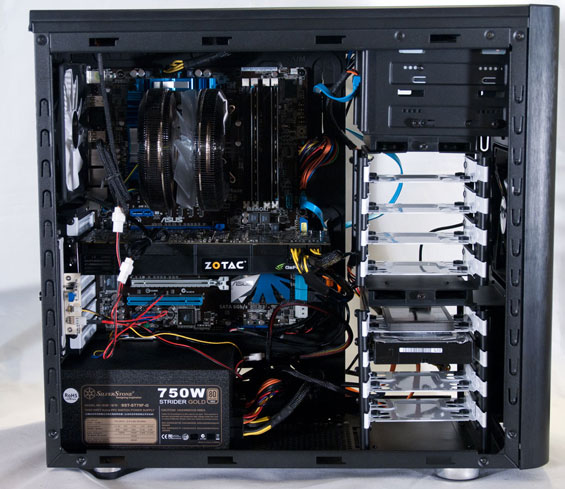 Getting everything wired up was actually fairly breezy for the most part; the case's interior feels smaller than Corsair's cases which makes things a little more cramped, but it was still easy enough to work with. Where things got cagey was the installation of the expansion slot-based fan controller. My advice here is simple: if your motherboard has decent fan control and enough connectors to support the Arc Midi, just use it instead. The wiring for the fan controller really messes up what would otherwise have been a fairly clean interior. The fan controller has a breakout cable that splits into a molex and three three-pin fan plugs, and I'm not sure there's any good place to put it that isn't going to have you running fan cables all the heck over the system. It's certainly impossible to route those cables behind the motherboard tray, where Corsair wisely stashes theirs in the enclosures that include fan controllers, but you'll need long enough fan cables and it's still a bit of a pain.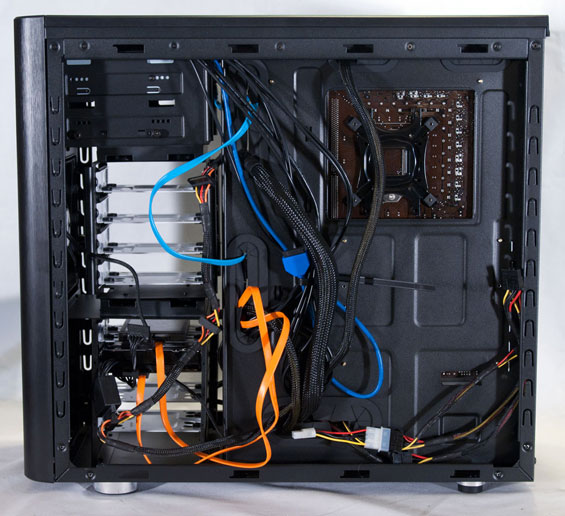 Yet to be fair, Fractal Design does provide a tremendous amount of space behind the motherboard tray. In many other builds you'll often find yourself having to lay the case down on its side, then applying a bit of pressure and force to slide the panel back on. That doesn't happen with the Arc Midi: be as sloppy as you want to back there, nobody's going to notice and it's not going to seriously affect your ability to get the case shut.
Under the circumstances I'm liable to regard the fan controller as a "bonus" more than anything else. Without it mucking up the cabling, the interior of the Arc Midi is actually fairly well thought out and organized, easy enough to put together (although ever so slightly more difficult than the Corsair cases we've reviewed). I'm extremely pleased with the space for two 140mm intake fans, and the top one actually does get fairly closely in line with the CPU fan. Given how 5.25" drive bays are becoming progressively less and less relevant, I'd take the sacrifice as a net win.