Windows/Boot Camp Experience
Thunderbolt is designed to be transparent to the OS. The Thunderbolt controller IC on each end of the chain muxes/demuxes PCIe and DisplayPort automatically, presenting the OS with just PCIe and/or DisplayPort signals depending on the hardware configuration. Intel had a slide from IDF that may explain it a bit more clearly: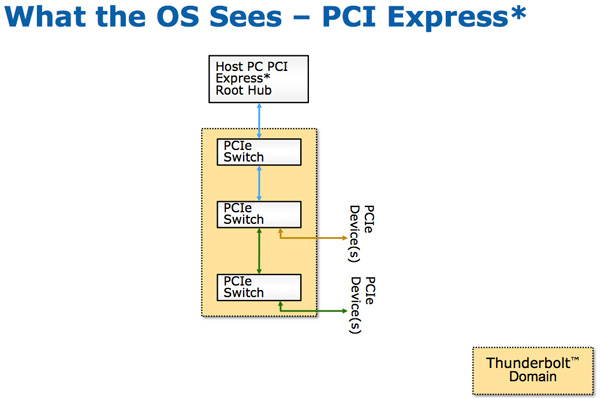 Although everything in yellow is between Thunderbolt controllers, the OS just sees a bunch of PCIe switches and devices and uses native drivers for all of them. As a result, Boot Camp works just fine with the Thunderbolt Display. If you have Apple's Boot Camp drivers installed all of the new hardware inside the Thunderbolt Display should be automatically detected (it was in my case). The major exception is the Promise Pegasus which still lacks Windows driver support, something we pointed out in our original review.