New Multitouch Gestures
When used with the Eee Pad Dock you used to get a blue mouse cursor that you could use in place of your finger, controlled by the Dock's trackpad. With the 3.2 update the cursor is gone and replaced with a larger circle. Alongside the pointer change is support for pinch/stretch to zoom in the browser.
The other big change here is you can now treat the trackpad like the multitouch display. Nearly all gestures you'd perform on the display now work on the trackpad. The big addition here is pinch to zoom support via the trackpad. In the screenshot above I'm zooming in on the AnandTech homepage using the trackpad alone. The experience is unfortunately not as smooth as it is on the touchscreen with most gestures resulting in a fairly choppy response from the UI. Two finger swipe between home screens and double tap to zoom are of course supported. You can also tap and hold on the trackpad then flick up/down to scroll, just like you would on the screen itself.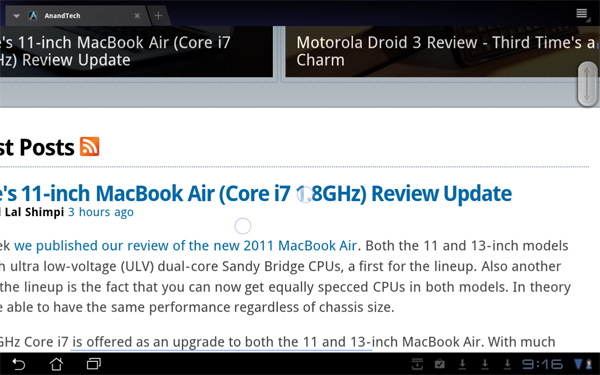 Final Words
It's a small update, but it's good to see forward momentum from Google with its tablet platform. It's also good to see ASUS, a newcomer to the Android space, receive such positive treatment by Google. While the Eee Pad wasn't first to get the 3.2 update, it wasn't too far behind Motorola's Xoom.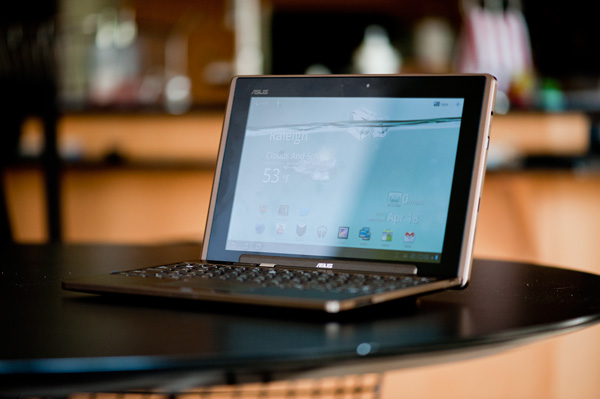 Now the question becomes how long will it take after the launch of Ice Cream Sandwich to see it on these Tegra 2 tablets.