Assembling the SilverStone Temjin TJ08-E
While generally I'm a true rebel, defiantly throwing instruction manuals to the wind before diving whole hog into an assembly, SilverStone's enclosures are seldom immediately obvious, and at first glance they seem like oversized puzzle boxes. Thankfully once you understand how installation is intended to go, these puzzle boxes seem to want to be solved like big black Lament Configurations, except instead of being rewarded with Cenobites and everlasting torment (pain and pleasure intertwined, etc.) you just get a sweet case with good cooling performance.
As I mentioned on the previous page, you'll want to remove the side and top panels, but I found the removable motherboard tray, while a nice feature, wasn't necessary for our Mini-ITX testing board. The motherboard would prove to be the easiest and unfortunately the only really easy part of the installation, a casualty of how densely packed the internals of the TJ08-E can become.
Virtually nothing about the SilverStone Temjin TJ08-E is tool-less, so have a screwdriver handy, and preferably a power one. Installing the SSD meant removing two screws to take the top drive cage off, another two to remove the bottom one, and then the SSD mounts to the bottom of the enclosure. I was concerned about cabling being difficult with the SSD, but the bottom cage actually has a cutout that sits flush against the back of the SSD, allowing the ports to be easily accessed. Installing a hard drive in the top cage is fairly old school, requiring you to screw it in on both sides: nothing tool-less here. Installing the optical drive means unscrewing the drive bay shield and popping it out, and while drives can be slid in through the front of the case, you'll still need that top panel off to cable them.
Installing expansion cards is unfortunately also more involved than we'd like. Because the back of the enclosure is almost perfectly flat, an extrusion is needed to mount the cards. For the sake of looks, that extrusion is covered by a small ventilated piece attached with two screws, and that piece has to be removed before you can mount anything. I'm not necessarily sure there's a much easier way to go about this short of making the entire case a little longer and using a more traditional mounting system.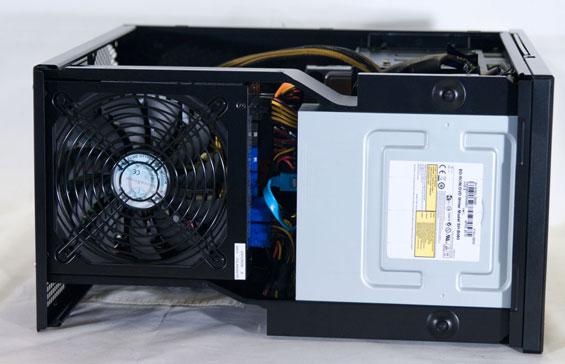 Finally, we come to the worst part: installing the power supply and routing cables. This is probably where the biggest sacrifice had to be made to fit everything into this enclosure. The power supply has to be "dropped" in from the top, and it's preferable to install it upside-down so the PSU's intake doesn't steal air from the GPU fan. Power supply clearance is at a premium, too: you'll need a 160mm PSU, period, end of discussion, and honestly you may want to see if you can find a fairly short optical drive as well. Our BD-ROM is about 185mm long and while there's enough room to cable everything, it's miles from ideal.
I also strongly suggest builders use modular power supplies wherever possible and here it might actually be a requirement. There's clearance behind the tray for routing cables, but unfortunately routing everything was just a little bit too fraught, and so our end testing build winds up feeling more cluttered than I'd like and I'm sure more than SilverStone would prefer.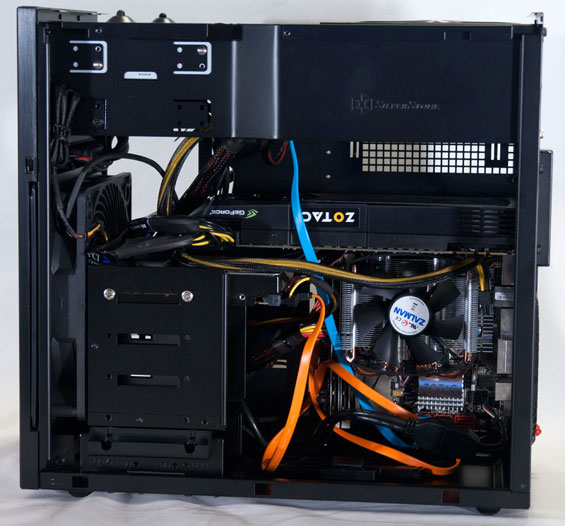 Honestly for this build it seems like the best choice for end users may very well be to just use a single HDD and a single SSD, and get rid of the top drive cage entirely. Likewise, the Samsung BD-ROM we use for testing is a popular one and there may be smaller drives; if you can find one that might be a smart route to take too.