Introducing the SilverStone Temjin TJ08-E
While vendors have been all too happy to send us larger enclosures (and we've been all too happy to receive them), our coverage of Mini-ITX and Micro-ATX cases has been a little lacking. That's why we're pleased today to present SilverStone's new Temjin TJ08-E. SilverStone's Temjin line has been a popular one, and with the TJ08-E mini tower they're confident they have a winner on their hands. It has the kind of clean exterior design we've been clamoring for more of, but can it perform?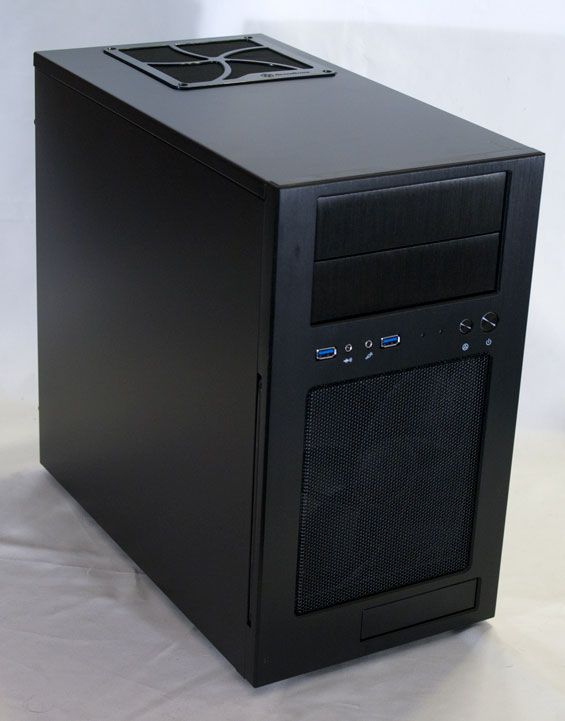 I had a chance to take a look at the TJ08-E back at CES and fell in love with it almost immediately. While I wouldn't say I'm biased towards SilverStone, I'm definitely very fond of them. When most other vendors are reiterating and refining traditional ATX case designs, the mad scientists they call engineers seem to be constantly experimenting and tweaking, making some radical changes and some less so. The results are generally enclosures that are a bit more difficult to work with than more standardized designs, but are never dull, almost always eye-catching, and sometimes that mad science pays off.
As a mini tower the TJ08-E still feels a little bit bigger than most, though it's still not as big as Antec's P180 Mini. In some ways it's a reminder that Micro-ATX isn't that micro, but SilverStone has crammed an awful lot of expandability into this enclosure.
SilverStone Temjin TJ08-E Specifications
Motherboard Form Factor
Micro-ATX, Mini-ITX
Drive Bays
External
2x 5.25", 1x 3.5" (can also store a 3.5" drive internally)
Internal
4x 3.5", 1x 2.5"
Cooling
Front
1x 180mm fan
Rear
1x 120mm fan mount
Top
-
Side
-
Bottom
-
Expansion Slots
4
Front I/O Port
2x USB 3.0, headphone and mic jacks
Top I/O Port
PSU vent
Power Supply Size
ATX
Clearance
13.25" (Expansion Cards), 150mm (CPU HSF), 160mm (PSU)
Weight
11.68 lbs.
Dimensions
15.16" x 8.27" x 14.72"
Price
$99
If you think about it, that's an awful lot of expansion space for an otherwise reasonably small mini tower. On paper at least, all I'd have to do is change out the motherboard in my video editing workstation and I could fit the entire machine, complete with all the hard drives, into the TJ08-E. As you'll see, though, something had to give to get everything inside the TJ08-E.