Windows 7 Battery Life
We've proven time and time again that workloads with lots of idle time see better battery life under OS X than Windows. It's not surprising to see lower numbers for the Air under Windows, but for boot camp users this data is very useful.
I turned to our standard Internet Battery Life test from our PC notebook reviews to test the new MBAs: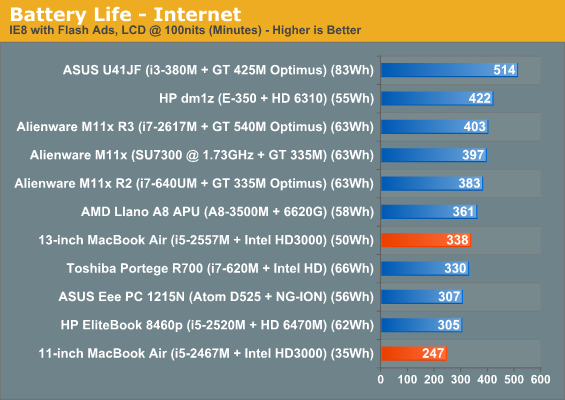 The result is reasonable but nothing spectacular. For the most part the results track with battery capacity. At only 50Wh the 13-inch MBA has a hard time competing with the bigger notebooks with larger batteries. And at 35Wh the 11-inch MacBook Air doesn't stand a chance.
In absolute numbers both systems deliver over 4 hours of web browsing on a single charge, with the 13 lasting over 5.6 hours. The 13-inch Air lasts 40% longer than the 11 thanks to its larger battery.