AirDrop is a feature which is supposed to simplify file sharing. Located on the left hand side of the Finder window, AirDrop allows you to send files wirelessly between two Macs running Lion. AirDrop's killer feature is that it uses a peer-to-peer WiFi connection between the computers so the computers don't have to be on the same network, or on a network at all (ed: this is also faster since WiFi is a shared medium; router retransmissions halve effective bandwidth). AirDrop doesn't require any configuration either, it should just work.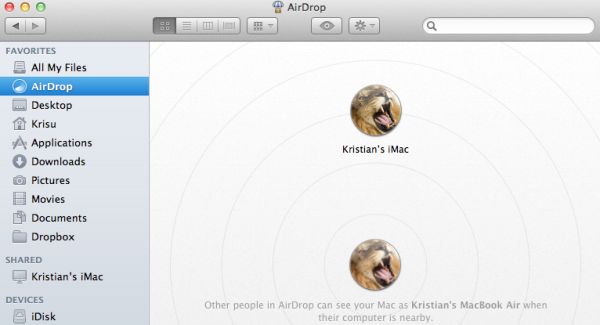 Using AirDrop is extremely easy. You must simply have the AirDrop window open and be within range, and your Mac will be discoverable by other Macs. Once your Mac spots another Mac, you can drag a file on top of the other Mac's icon in AirDrop window and it will ask for your confirmation to send it. Click send and the receiver will be given an option to either save and open, decline or just save it. Files downloaded through AirDrop will be saved into your downloads folder.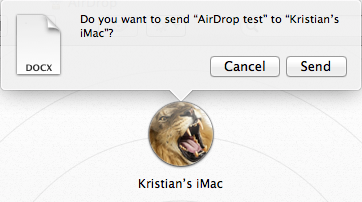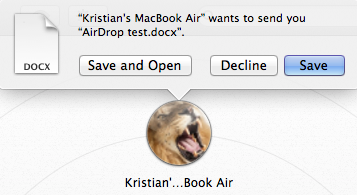 AirDrop transfers are encrypted using TLS and AirDrop also creates a firewall between the sender and the receiver, so using AirDrop should be safe. You will only be visible to other Macs when the AirDrop window is open, there is no need to worry about getting random file transfer propositions when using your Mac in public. You can also verify the sender's identity through his Apple ID.
AirDrop is a super convenient way to send files when you're physically near the recipient. There are still better options for moving tons of files between unmanned computers, and you'll need to rely on 3rd party solutions for sending files across long distances but AirDrop does offer an advantage in this specific case.