Application Performance, Round One: PCMark 7
If the battery life was a pleasant change of pace, general application unfortunately remains a weak spot for AMD. Remember that Llano uses a tweaked K10.5 architecture for the CPU portion of the core, and while L2 cache per core is doubled relative to the previous generation quad-core Phenom parts, clock speeds and IPC (instructions per clock) still appear much lower than what Intel offers. I had hoped to see Turbo Core come into play here, which makes the comparison with Toshiba's A660D a good starting point. That notebook has a Phenom II X4 P920 (quad-core 1.6GHz) with HD 5650M graphics, so the Llano A8-3500M has very similar specs.
Before we get to the graphs, let me make a quick note that not all laptops have been tested in all applications/games. Most of the systems have been shipped back to the manufacturer, so our newer benchmarks are going to have omissions (e.g. PCMark 7). In the gaming charts later in the review, we'll have even more omissions, and many of the slower GPUs/IGPs will only be tested at our "low" settings.
With that out of the way, let's start our application performance comparison with PCMark7, our only all-inclusive benchmark for laptops right now. We've run all of the benchmarks suites in the hopes of providing a better look at overall performance; however, outside of the "Computation" suite all of the tests have a storage element. That means any system with an SSD (like the quad-core SNB unit) will boast a massive advantage over the competition. The Computation suite also has an interesting footnote in that it supports Intel's Quick Sync for video encoding, which again gives SNB systems a massive performance advantage. You can read more about the specific suites in PCMark 7 in their whitepaper. We'll also have two results for Llano going forward: one for using the fGPU (6620G) and a second for using the dGPU (6630M).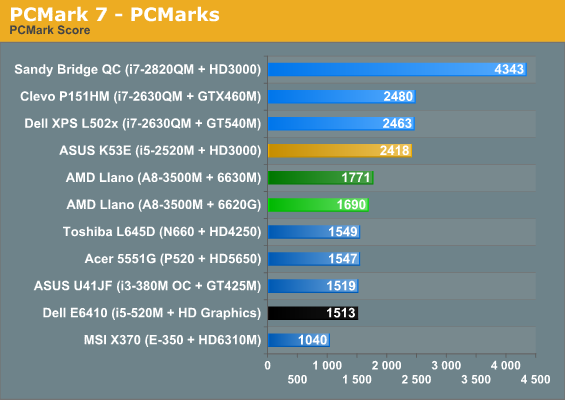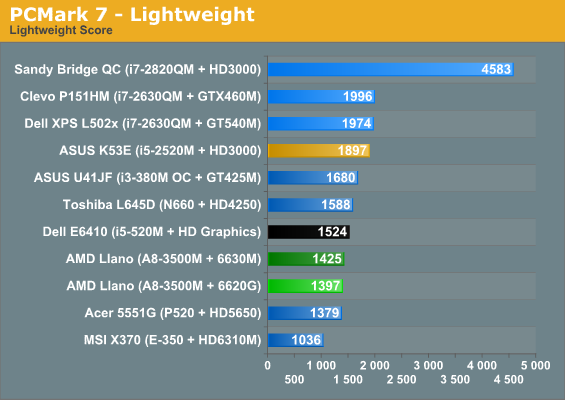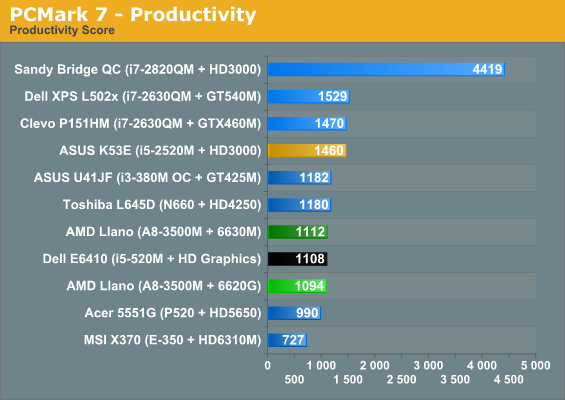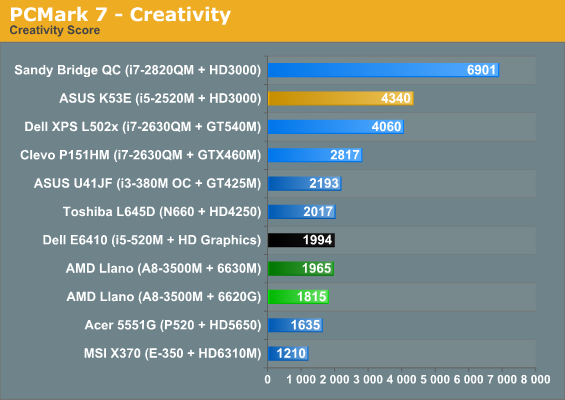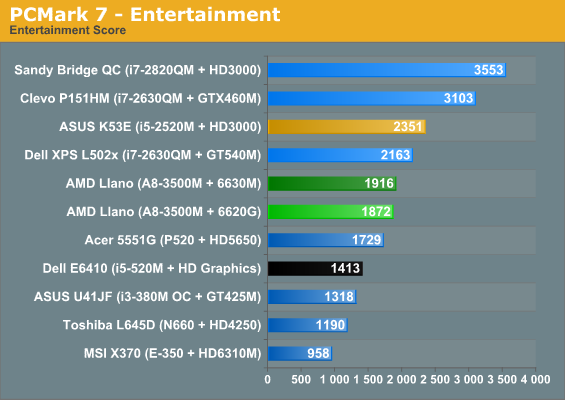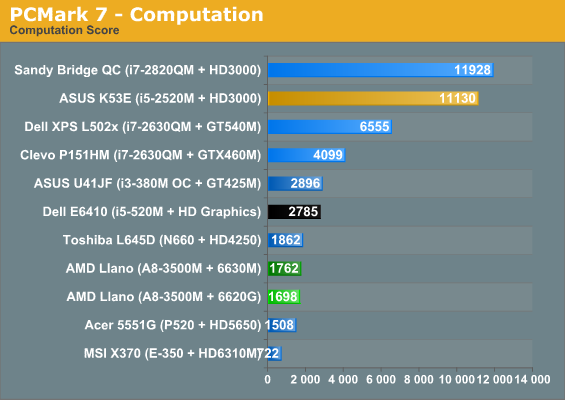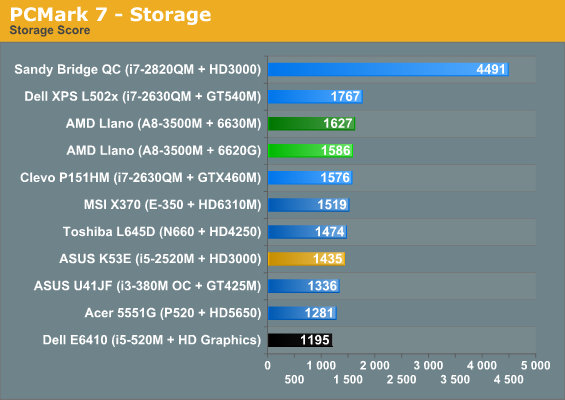 And here's our first hint that Llano may not be the homerun so many were hoping to see from AMD. All of the SNB laptops are still a healthy step up from Llano in overall PCMarks—the K53E leads by 43%, and systems with quad-core SNB are faster still. Llano might appear to at least surpass the previous generation Arrandale i5-520M in Dell's E6410, but the storage subsystem in that laptop is a particularly slow 160GB HDD and that skews the results. Then again, the overclocked Arrandale i3-380M in the ASUS U41JF falls short of Llano, so AMD is at the very least competitive with Arrandale.
Since we're not on a level playing field as far as storage, we won't comment too much more here, but I do have SSD-based testing complete for four of the notebooks, and once I've swapped in an SSD for Llano we'll have a follow-up article. Let's move on to application testing round two, where we'll look at some tests where we eliminate the storage bottleneck.