Where Does This Leave Atom?
When Haswell hits in 2013, Intel will also update the Atom line to introduce the recently announced Silvermont architecture. As I speculated publicly before, based on Intel's hint to me five years ago that Atom would remain in-order for five years, I'm expecting Silvermont to be Intel's first Out-of-Order Atom.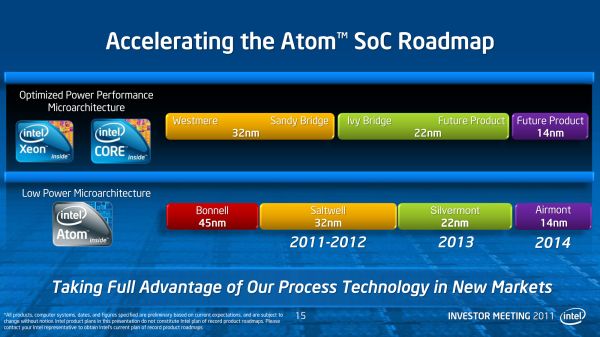 When Atom was introduced, its microprocessor architecture was unlike anything we'd seen from Intel in years. It looked more like a modern take on the Pentium rather than a P6/Conroe derivative. That was nearly five years ago, so what do we expect Silvermont to look like? I'd say it might look a lot like a modern, ultra low power take on Conroe. Perhaps a limited Out-of-Order execution core, only a 3-wide front end and a number of other limitations to keep its power in check.
In the sub-10W range Intel is going to use Atom specifically for fanless designs - the next generation of netbooks as well as tablets. Cedar Trail is Intel's 32nm Atom platform which we've talked about already, which will be used in netbooks such as ASUS' newly announced EeePC X101: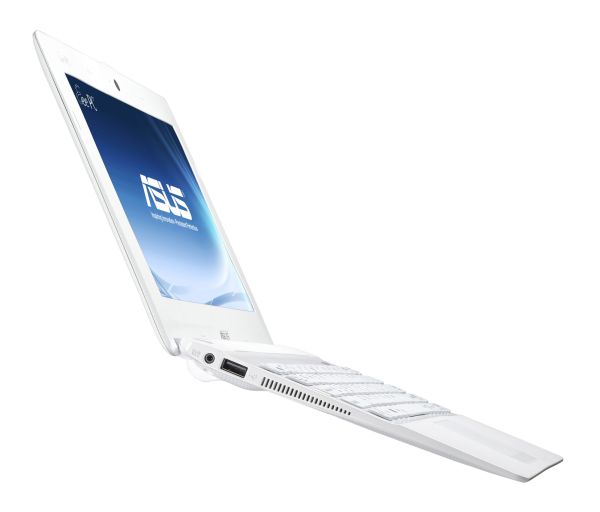 Medfield is the ultra mobile version of Atom, destined for handsets and tablets, and at the show we should finally see a Honeycomb (Android 3.0) tablet running the SoC. Unfortunately with NVIDIA Tegra 2 based tablets moving to Android 3.1 already, and Medfield designs not due out until later this year I'm wondering if that may be too little too late.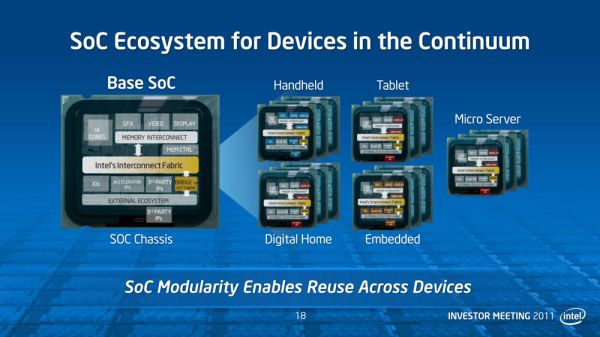 Expect more coverage on Intel's announcements at the show as we come by them.