Intel SFF HTPC
Our primary consideration for any HTPC is noise: the quieter, the better. HTPC duties are not particularly taxing and do not require powerful systems. Even AMD's Zacate platform with its E-350 APU is up to the task of 1080p playback, and I can't think of a single mainstream desktop-class CPU released by Intel or AMD in the last few years that can't handle decoding Blu-ray. However, it's a good idea to go with a "more than adequate" CPU for an HTPC—a more powerful, 65W TDP CPU at 10% load will dissipate less heat than a less powerful, 45W TDP CPU at 80% load. This influences our choice of CPU, as you'll see below. We're also going with a more "full-featured" build this time, including an SSD+HDD combination and a Blu-ray drive.
Note: The differences in case, PSU, and other components affect the total price.
If you compare with the AMD build, look at just the CPU, motherboard, and RAM.
We want low power (and quiet computing), so we selected a Core i3-2100T Sandy Bridge CPU instead of an older, cheaper Celeron or Pentium Dual Core chip. The i3-2100T is a 35W TDP CPU, so this chip dissipates very little heat even at load, and HD content playback by itself will not push this CPU anywhere near load; this is really a killer HTPC CPU.
Because of the low power requirements of this system, you can get away with the external power brick that comes with the Antec case. Like the external power brick of a laptop, this makes no noise. Besides having a silent power supply (adapter), I like this Antec case because I think it looks good and it's very small—slightly larger than a shoebox at just under 13" x 8.7" x 3.8" (LxWxH). With the Core i3-2100T CPU, you won't even need to enable the included 80mm TriCool fan—or at worst, you can run it on the lowest, very quiet setting for a bit of airflow. If your home is networked and you have another system to serve up media files to your HTPC—or you simply stream and/or watch discs—you can get away with using just an SSD, leaving the CPU's heatsink fan as the only noise source (along with the DVD/BRD if you're watching a disc). This is a very quiet system.
The Antec ISK 300-65 case can house two 2.5" laptop hard drives and one slim optical drive. If you need a Blu-ray player, the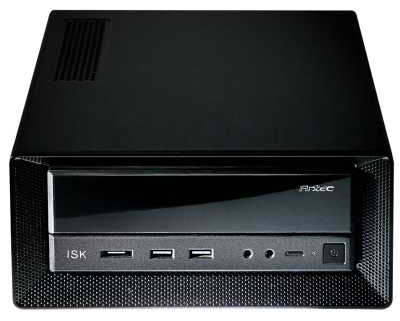 external drive recommended here is substantially cheaper than any internal slim Blu-ray player. If you don't need a Blu-ray player, any slim DVD burner will suffice (those are typically $25-40). Since there's room for two 2.5" drives, we decided to go the route of a small SSD for the OS and apps with a large capacity HDD for mass storage of video content. Some might prefer two large HDDs instead; what makes the most sense depends on your specific needs, but we've recommended a balance between system snappiness and capacity. The 40GB SSD is sufficient for an install of Windows 7 Home Premium and all the media applications you'll need, but you'll likely want your documents, photos, and videos folders stored elsewhere if you keep content local. The 1TB Western Digital Scorpio Blue 2.5" HDD is the only 1TB 2.5" HDD readily available in retail channels, and its performance is fine for a storage drive. Of course, if you don't need 1TB of storage for your HTPC, there are more options from more manufacturers at lower capacities.
The ASUS motherboard is the same board we mentioned as a potential upgrade on the budget build. While the board has an HDMI port (in addition to VGA and DVI ports), it does not have an Optical S/PDIF out jack. If that's something your HTPC requires, you'll need to spring for an ASUS P8H67-I Deluxe motherboard (which also has integrated WiFi).
One upgrade to consider for an Intel-based HTPC is the Core i5-2400S quad-core processor. This CPU is a beast for a 65W TDP CPU and total overkill for an HTPC; however, it's worth contemplating if you might want to do more than just watch HD media with your HTPC, like edit or encode video and audio files. It has the same base 2.5GHz clock as the i3-2100T, but it has twice as many cores and can Turbo to 3.3GHz—although we should also note the lack of Hyper-Threading. We don't have any specific benchmarks of the i5-2400S or the i3-2100T in CPU Bench, but the Core i5-2400S scores 6098 on PassMark vs. 3325 for the Core i3-2100T. It does use more juice than the Core i3-2100T, so you won't be able to use the external power brick that comes with the recommended Antec case. If you want to make the CPU upgrade, look at the case and PSU in the AMD HTPC build below.
AMD HTPC
Simply put, AMD does not offer any CPU that is as ideally suited to HTPC use as Intel's Core i3-2100T. As mentioned on the budget SFF page, the energy efficient AMD Athlon II CPUs are getting scarce at retail channels, and those are really the only viable contenders to the i3-2100T in the HTPC market—at least in terms of desktop-class CPUs. AMD's Zacate platform (discussed in our last guide) is far less powerful than an i3-2100T system, but keep in mind that it is sufficient for most HTPC tasks. The line between the lowest power solutions like AMD's Zacate and Intel's Atom/NVIDIA's ION platforms and lower-power desktop solutions becomes very blurry, and which is "best" really depends on what sort of content you plan on viewing. For esoteric content or very high bitrates, you'll want a faster CPU and very likely a discrete GPU, but for typical 1080p H.264 the systems we're recommending will work fine.
Anyway, some of you might have a spare AM3 CPU sitting around, which would be a good fit for an HTPC. As we did with the budget AMD SFF system, we're going with the solid value of an Athlon II X2 250. One notable difference between this higher-end AMD-based ASUS mini-ITX board compared to the higher-end Intel-based ASUS mini-ITX board recommended is that the AMD solution also includes a Coaxial S/PDIF, if that's relevant to your needs. Also, beware that this ASUS mini-ITX board uses laptop SO-DIMMs instead of regular desktop DIMMs.
Note: The differences in case, PSU, and other components affect the total price.
If you compare with the Intel build, look at just the CPU, motherboard, and RAM.
As this AMD CPU consumes more power and generates more heat than the Core i3-2100T system, it needs a more capable PSU. It also benefits from a case with better airflow. The Lian Li PC-Q07 and Seasonic X Series SS-400FL 400W satisfy those needs well. The Lian Li is oriented vertically rather than horizontally, and measures 8.2" x 7.6" x 11" (LxWxH). The Seasonic PSU is fanless and is 80+ Gold rated, so it makes no noise, but it does cost a lot. This system will never draw more than about 25% of the rated output, so the CPU HSF will be fine for cooling the remaining components, even in a small fanless case. If you'd rather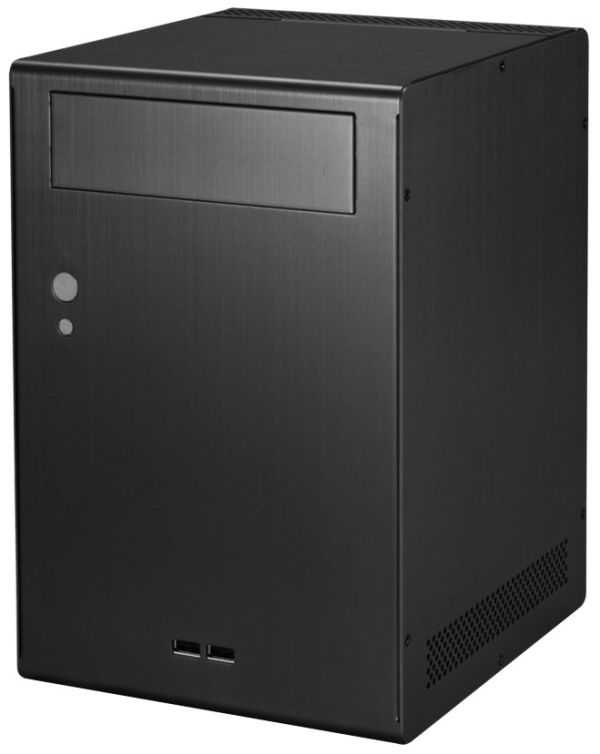 save a Benjamin than have a silent PSU, we recommend the Antec EarthWatts EA-380D, a great budget PSU.
The Lian Li PC-Q07 is a well-ventilated, fanless case. It can house a full-size 3.5" mechanical HDD as well as a 2.5" SSD, so this time we're recommending a different SandForce-based SSD and a 2TB Samsung HDD. In my experience, the 3.5" Samsung low-power drives run slightly cooler than their Western Digital, Hitachi, and Seagate competitors. The PC-Q07 also has room for a standard optical drive, so we're putting the Blu-ray player in the case for this configuration.
Recommended HTPC
As stated above, the Intel Core i3-2100T is an almost perfect HTPC CPU. Perhaps the only drawback is its cost—at $135, it's much more expensive compared to the AMD alternative. However, silence is golden for HTPCs, so the lower heat output (and higher performance) is worth it if your budget permits. We've used two completely different configurations, based on the power requirements of the various components. If you keep everything else the same and just look at the CPU + motherboard + RAM, the Intel setup ends up costing $24 more than the AMD configuration—though it would be a larger gap if you opt for a less expensive (and less feature-loaded) AMD motherboard.
As mentioned above, the Core i3-2100T system can fit in the Lian Li PC-Q07 case, so if you want room for a full-size optical drive and a full-size 3.5" mechanical HDD, I recommend going that route. An additional caveat with SFF HTPCs is that most mini-ITX boards (including those recommended here) do not have PCI expansion slots. This is relevant because most TV tuner cards use the PCI or PCIe 1x interface. If you want a digital tuner, the Hauppauge WinTV-HVR-850 works over USB 2.0 and integrates very well with Windows 7 Home Premium's media center. If you prefer an alternative OS, though, you'll want to look elsewhere.