Battery Life
Given the lack of dedicated graphics, really the two heaviest hitters are going to be the 45-watt TDP on the processor and the 15.6", 1080p screen. We've already talked about the former and we'll get into more detail on the latter on the next page, but for now let's see how much of a toll they take on the CyberPower Xplorer X6-9100's admittedly mediocre six-cell, 48Whr battery. (CyberPower is currently looking into making an 8-cell battery available.)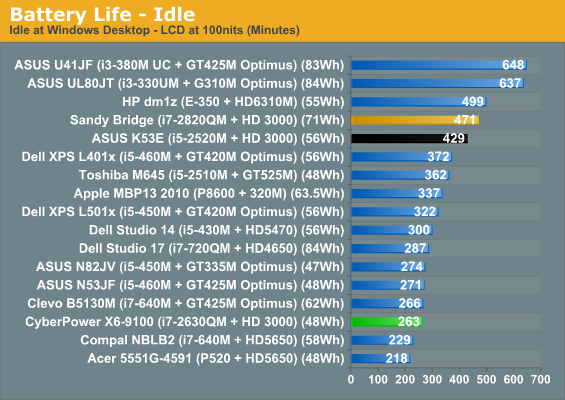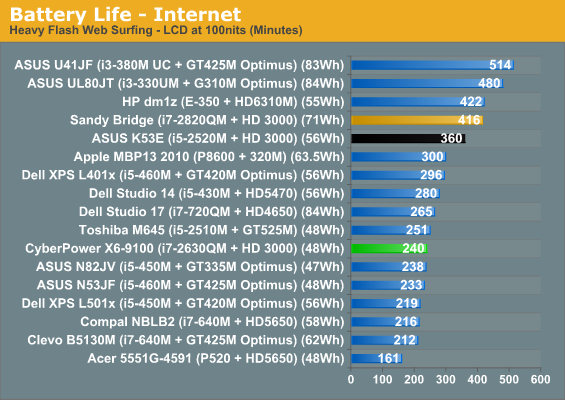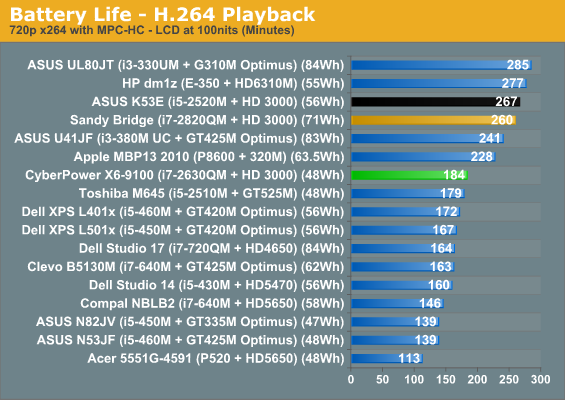 Jarred was excited about the potential for quad-core Sandy Bridge to save power on the battery, and that potential bears fruit again here. We tested the Xplorer X6-9100 at about the same time as the Toshiba M645, and despite the 10W higher TDP and larger screen on the X6-9100, it more or less ties the Toshiba when it comes to useful running time. The X6-9100 is a little on the big side, but if you need to run it off the mains you shouldn't have any issues. Still, we would appreciate manufacturers standardizing on bigger than 48Whr batteries, especially on 15.6" and larger notebooks.
Noise and Heat
Since the X6-9100 doesn't have a dedicated GPU to cool, the fan shouldn't have to work as hard and thermals can stay reasonable. As a result, the X6-9100's insides ought to stay frosty even under load.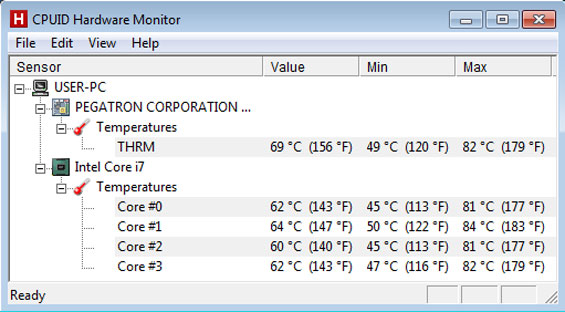 Uh oh. The OEM seems to have erred on the side of silence; the i7's idle temperatures are reasonable for a notebook and the load temperatures aren't horrible, but they aren't great either. Things get worse when you take a look at the temperatures radiating from the chassis.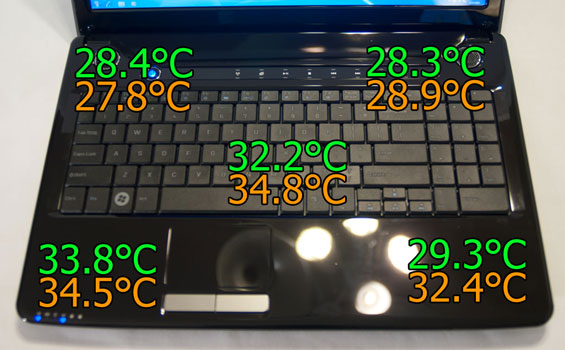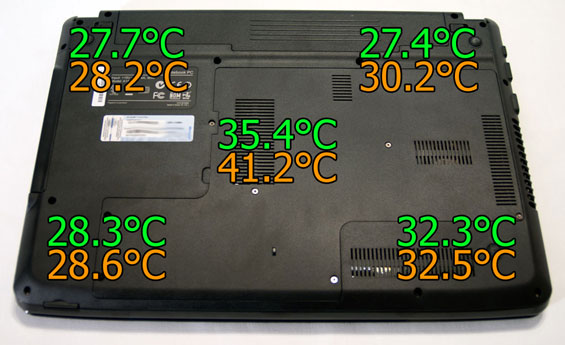 These are far from the worst temperatures we've seen, but the traditional notebook hotspot (the bottom center) gets particularly toasty under load. An unfortunate side effect of the glossy shell also makes the palm rests less than ideal when putting the notebook to work, as they're liable to generate enough heat to make your palms sweat and stick to the surface.
The corollary is that the X6-9100 runs quiet, especially for normal workloads (as opposed to heavy multi-threaded work), but we'd prefer a bit more noise at load with lower temperatures.