Mobile Sandy Bridge: Why You Don't Need a Desktop
As usual, we'll start with our application results. Sandy Bridge is fast on the desktop, particularly if you're an enthusiast interested in overclocking; shift over to the mobile world and the quad-core versions are downright revolutionary. The only fly in the ointment here is that with the use of a discrete GPU and no switchable graphics, users lose access to Intel's Quick Sync technology. I've been using that to encode videos for the family, and the result is several times faster than even my overclocked i7-965 system. Then again, I usually just start the encode/upload task and walk away; besides, the video editing process is far more time intensive than the encoding/uploading part, but I digress.
Here's how the Eurocom Racer stacks up to the competition, and it's going to look a lot like the other SNB i7-2630QM and i7-2720QM notebooks, albeit slightly faster than the former. The Eurocom results are in green, MSI's GT680R is in Red, and the Clevo P170HM is in black.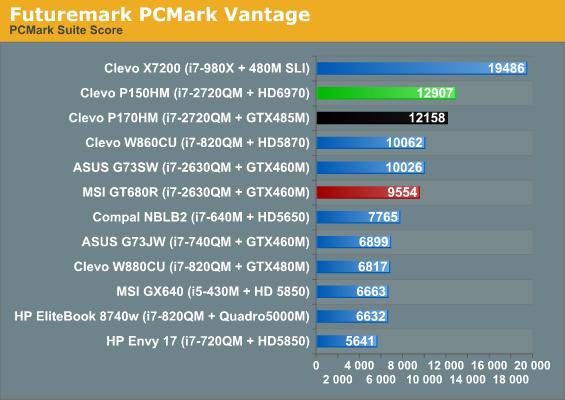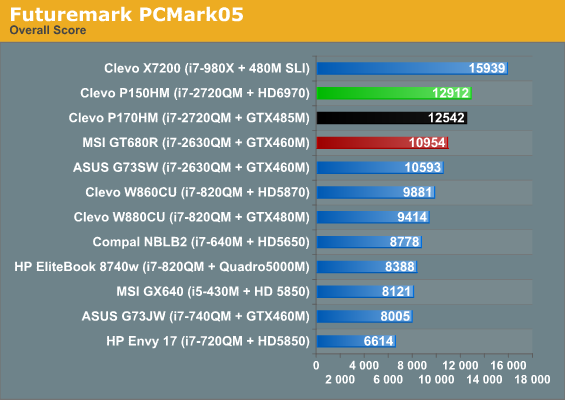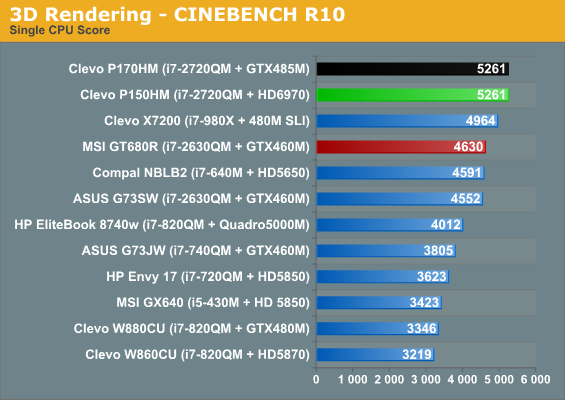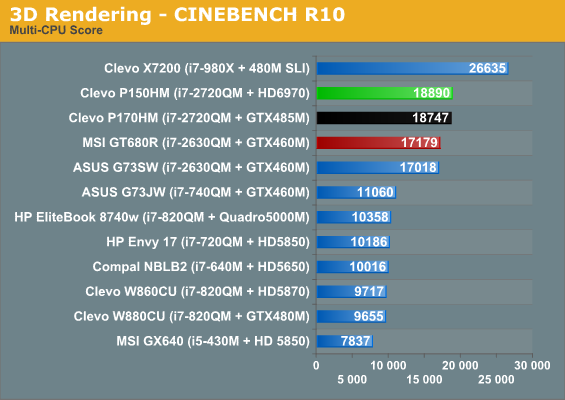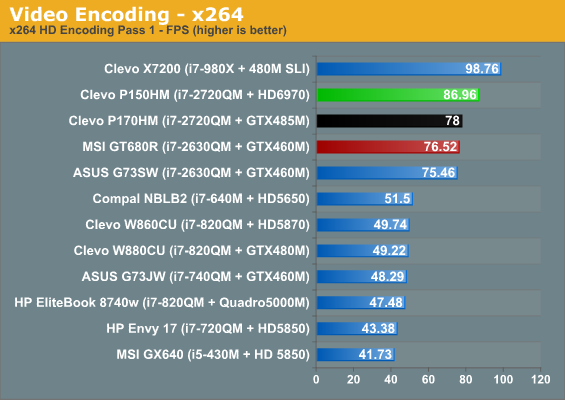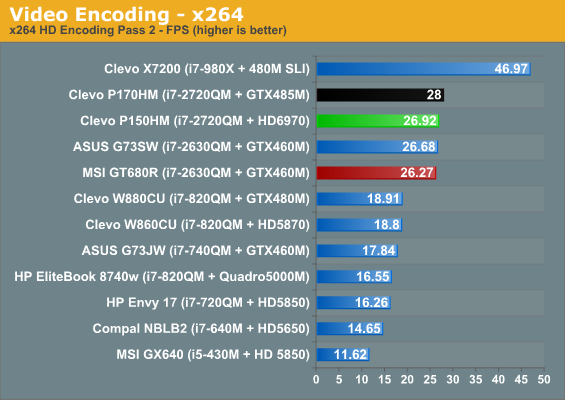 Even without an SSD, Sandy Bridge manages to pull out some impressive numbers. Interestingly, the P150HM, aka Racer, surpasses the larger P170HM in PCMark Vantage and PCMark05. How does it manage that without an SSD when the P170HM system includes a C300? Simple: it has a hybrid hard drive, the Seagate Momentus XT. Since we run PCMark (and all of our tests) more than once, the Momentus XT is able to optimize storage and put the frequently used apps into flash memory. An SSD will still be faster overall, but hybrid storage solutions can certainly close the gap and strike a nice balance of price, capacity, and performance. Now if we could just get a hybrid with more than 4GB of flash, I'd be happy.
Most of the remaining application benchmarks have the Racer and P170HM running neck and neck, though the first pass of x264 encoding shows another large margin of victory. It's not clear if that's another instance of the Momentus XT helping out, or if the 2720QM's Turbo modes were just more successful in this instance, but the more intensive second pass puts things back where we'd expect. It does look to be more of the XT rather than Turbo Boost, as while the reported score is from the first of four consecutive runs (i.e. when Turbo is at its best), the worst results for x264 encoding are still 83.0 and 26.07. Let's move on to 3DMark for a quick preview of graphics performance before we get to the actual gaming results.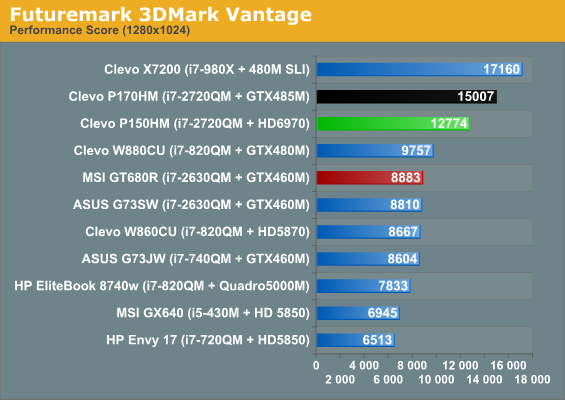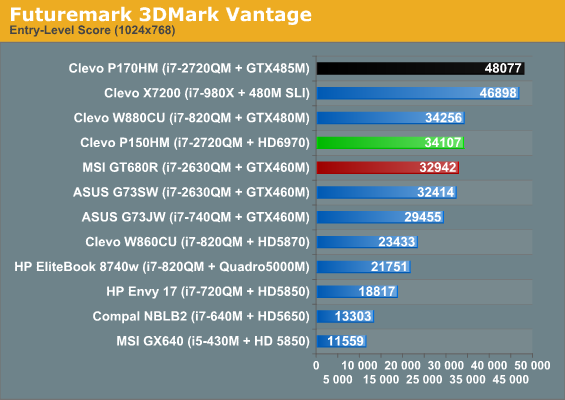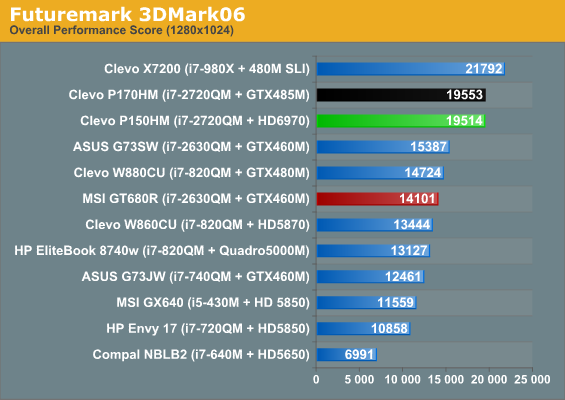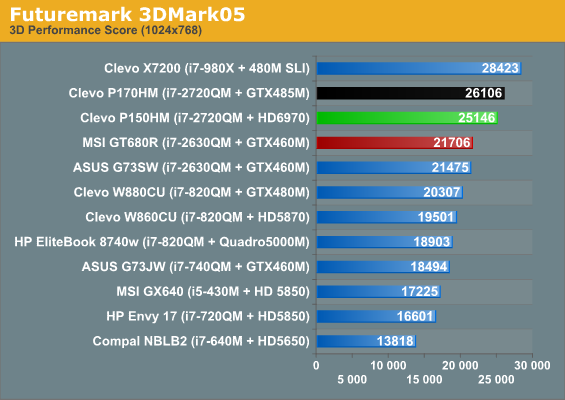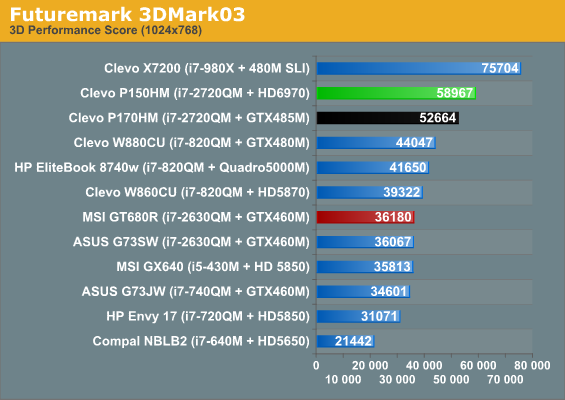 And this, folks, is why we don't rely too heavily on 3DMark results. 3DMark almost raises more questions than answers, with the margin of victory for the GTX 485M ranging from 41% in Entry-Level Vantage to a tie in 3DMark06, and even a 12% loss in 3DMark03. We could say that gaming requirements are also variable, so just because one title happens to run well with NVIDIA doesn't mean every title will go the same way, and that would be true. We can also throw out Entry Vantage and 3DMark03 as meaningless tests for this level of GPU; the Vantage Performance preset shows a much more reasonable 17% lead for the 485M.
On the other hand, one thing should be abundantly clear: given the apparently similar pricing, the 6970M is set to pummel the GTX 460M in most workloads. Outside of Entry Vantage and 3DMark03, the 6970M leads the fastest 460M system by at least 16% (3DMark05) and as much as 44% (Vantage Performance). But rather than guessing as to which version of 3DMark is the most meaningful for gamers, let's just turn to some actual games.