Gaming Performance: HD 6970M Nipping at the Heels of GTX 485M
If you're looking for a mobile workstation—you know, like the Racer only with the Quadro FX 5000M in place of the consumer oriented HD 6970M or GTX 485M—then gaming performance is largely meaningless. You can refer to the HP EliteBook 8740w results as a rough estimate of where such a GPU lands in the gaming hierarchy, but without Sandy Bridge it might be somewhat slower in a few titles. For those looking to buy the Racer as a gaming notebook, this page is for you. It's also for anyone wondering how AMD's latest and greatest mobile GPU compares to NVIDIA's power monster GTX 485M. After the 485M leapfrogged the previous generation mobile hardware, we were a little concerned that AMD might not be able to keep pace; our concerns it appears are unwarranted.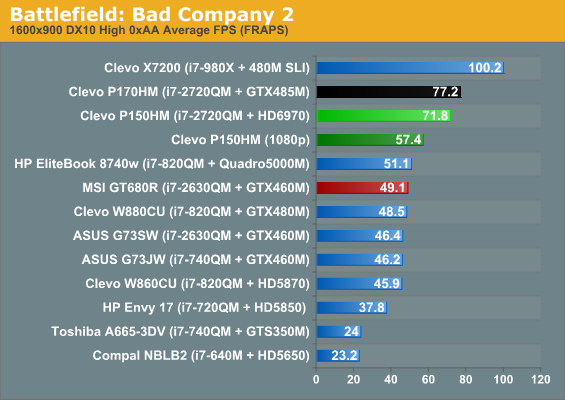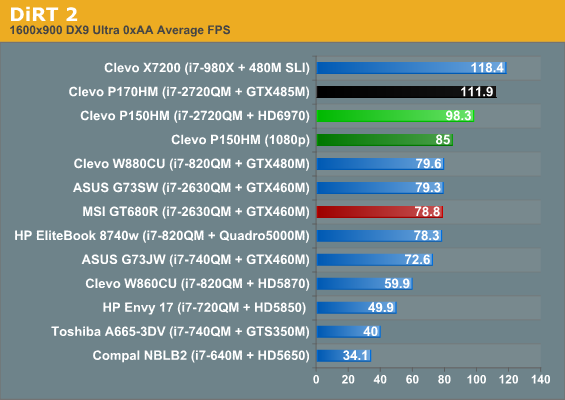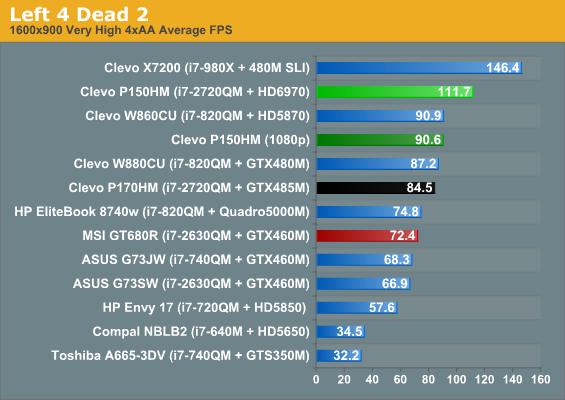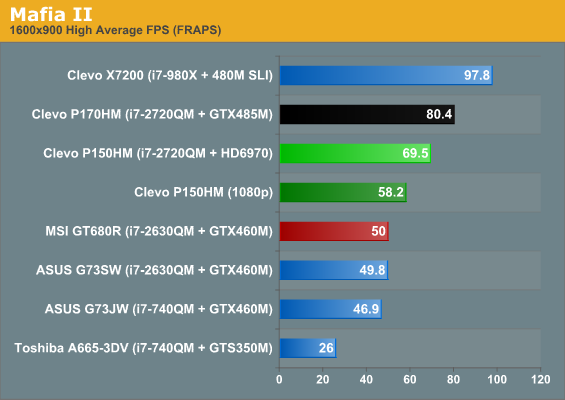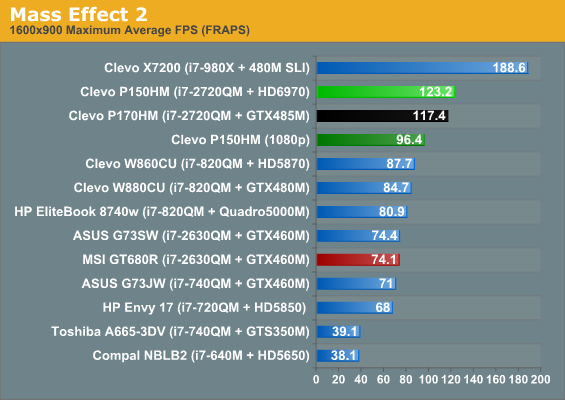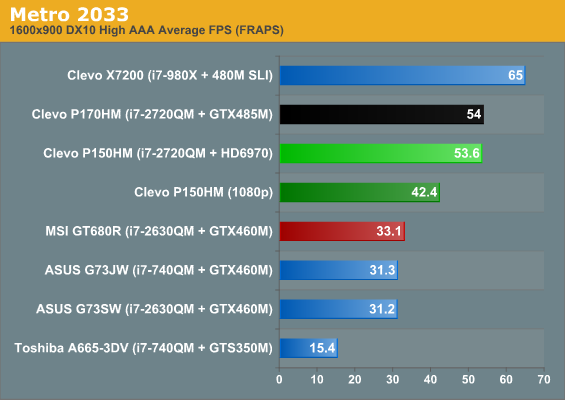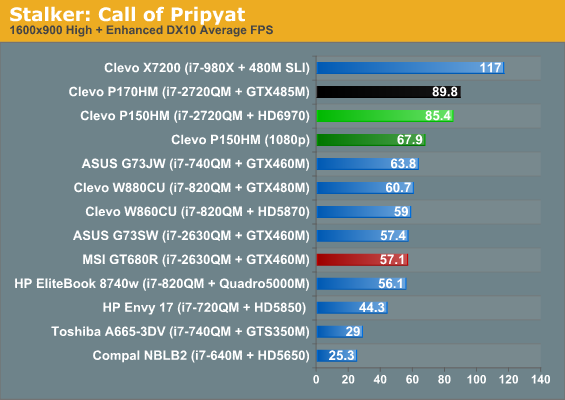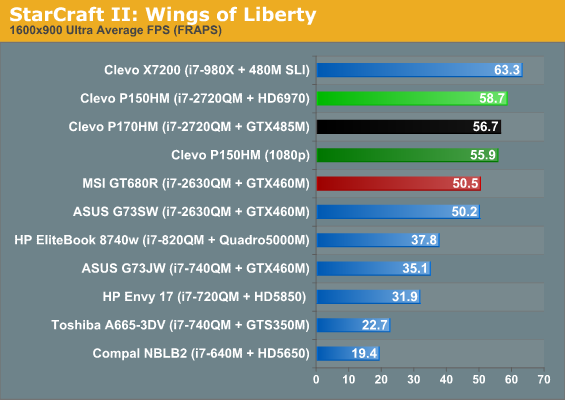 At our high detail settings (which typically means DX9/DX10 and no anti-aliasing, although we do enable 4xAA in L4D2), the Racer/6970M places third in most titles behind the 480M SLI and 485M. Perhaps more telling is that it boasts a performance increase of 16 to 75% over the GTX 460M, all for a minor increase in price. The lower end of that range is because our 900p High settings don't put quite as much strain on the GPU, as we'll see once we kick things up to Ultra quality. In fact, even at 1080p versus 900p, the 6970M is 8 to 30% faster than the 460M, and it's up to 40% faster than the 5870M.
Looking at the head-to-head against the 485M makes things a bit more interesting. AMD leads by as much as 32% in L4D2, with a 4% lead in SC2 and a 5% lead in ME2. NVIDIA turns the tables in the remaining five games, with leads of 8% in BFBC2, 14% in DiRT 2, 16% in Mafia II, 1% in Metro 2033, and 5% in STALKER. It looks like NVIDIA's 485M is in general the faster GPU, but the popular Source Engine games can really skew the results. Of course, most of these titles are hitting 60+ FPS at our High settings, so let's set phasers for maximum power and fire a full spread of photon torpedoes.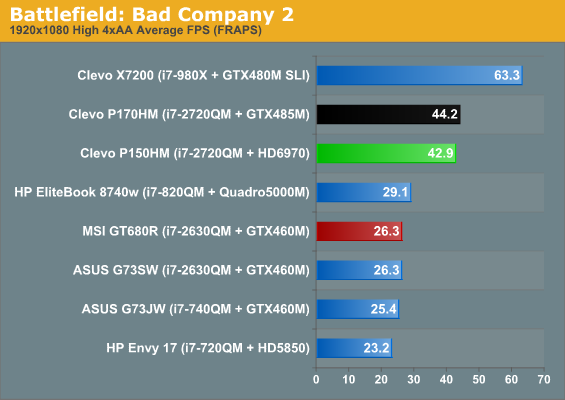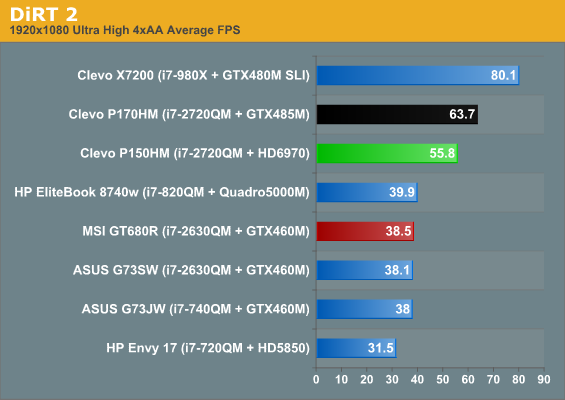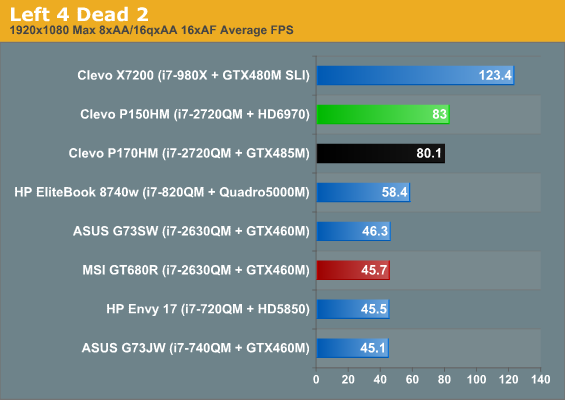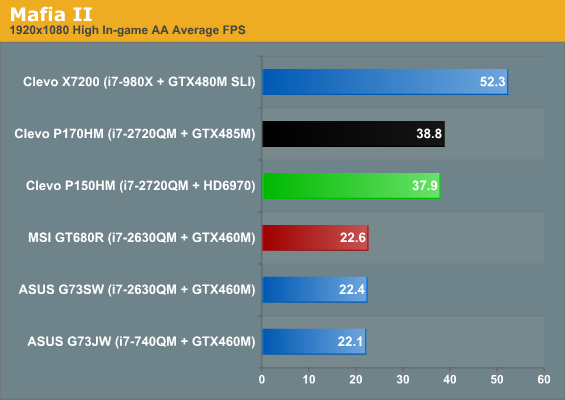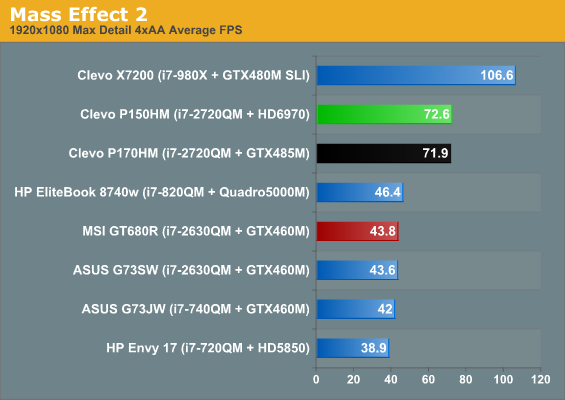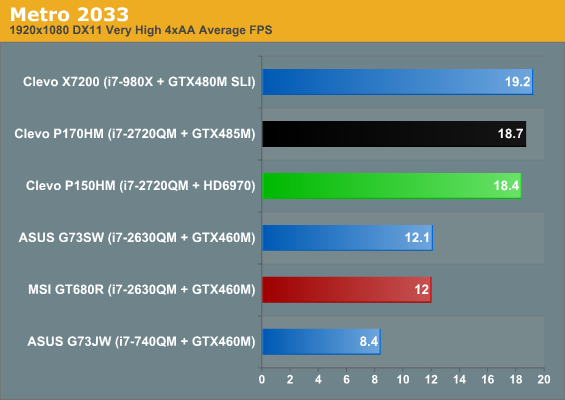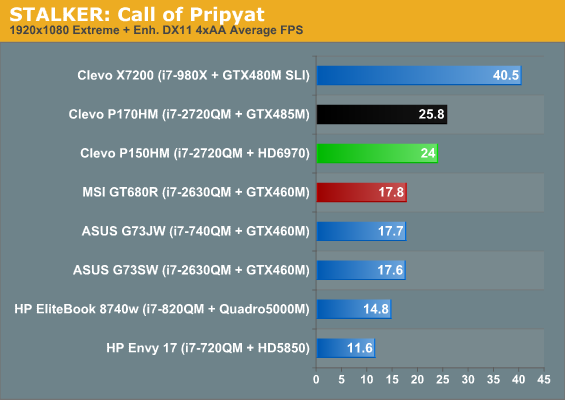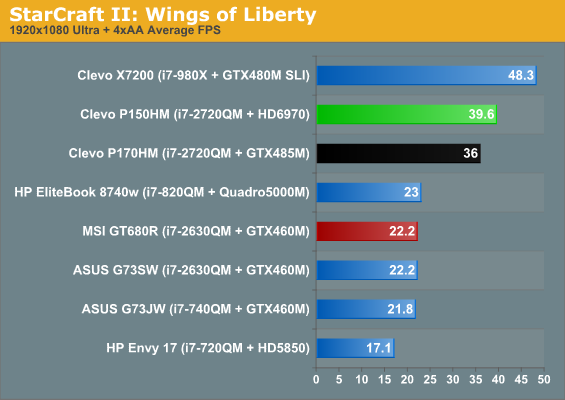 Crank the settings up and watch the frame rates drop. Where most of the games were pulling around 60FPS or higher on the 6970M and 485M, at our Ultra settings only two titles are above 60FPS with the 6970M (three for the 485M), and two more fall below 30FPS. Now granted, 4xAA with Very High/Extreme settings in Metro and STALKER is more than most users would expect out of a notebook; turn off AA in STALKER and the frame rate doubles on the 6970M. Still, many desktops are able to handle this sort of resolution/settings combination on midrange ($200) hardware, so when an $1800+ notebook with the fastest GPU you can currently get falls short it's a bit disappointing.
Comparing the 6970M and 485M once more, we find NVIDIA with a slight lead in five of the eight games, but if we call anything less than a 5% difference a tie there are really only three games where there's even a moderate difference. NVIDIA is ahead by 8% in STALKER and 14% in DiRT 2; AMD leads by 10% in StarCraft II. Everything else is splitting hairs. The 6970M puts the hurt on the 460M once again, with performance now 35% to 82% higher than the MSI GT680R.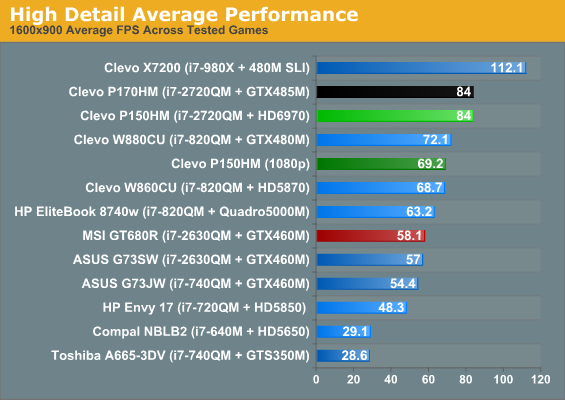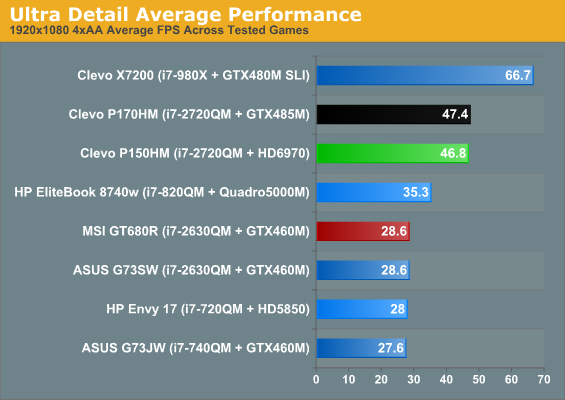 As a final look at gaming performance, we averaged all the scores across the tested games, at both our High and our Ultra detail settings. Notebooks where we don't have scores for all eight games are shown in light blue, so take those figures with a grain of salt. We do have full results for the 460M, 485M, and 6970M, though, so we'll focus on those areas.
First, it's interesting to note that the 485M and 6970M end up tied once we average our test suite frame rates. At High, the very good performance of AMD in L4D2 obscures the fact that NVIDIA usually leads, but at Ultra things are so close that calling it a draw seems reasonable. If you place more value on, say, STALKER you might go the NVIDIA route; StarCraft II addicts might prefer AMD. Ultimately, we'll give NVIDIA the slight edge in subjective performance (and we still need to look at power and battery life), but cost definitely looks to be in AMD's favor. As for the 460M, depending on which notebook you want to compare to and what detail settings, AMD ends up 45 to 54% faster at High detail (and still 19% faster running 1080p High), and the margin grows to 63 to 70% faster at Ultra detail.