On Day 0 of this year's Mobile World Congress Samsung and NVIDIA announced that the new Galaxy Tab 10.1 will come to market with NVIDIA's Tegra 2 (T20) SoC. At the same time, the two quietly announced they would be working on a new superphone together also based on Tegra 2. At Samsung's press conference however all we saw was the Galaxy Tab 10.1 and the Galaxy S II, the latter using Samsung's own Exynos SoC.
So what happened to the NVIDIA based smartphone and why would Samsung bother with using Tegra if it already had an Exynos based smartphone? To understand why we need to look at the Galaxy S. At its MWC press conference Samsung mentioned that it sold 10 million Galaxy S phones in 2010. The Galaxy S II should sell at least as much, if not more, once it's officially introduced.
Exynos however is a brand new SoC, with a brand new GPU for Samsung. Meeting demand for the Galaxy S II in all markets across the world with an SoC that Samsung has never shipped is risky at best. If you saw our benchmarks yesterday you'll note that NVIDIA's Tegra 2 is a near equivalent in terms of CPU performance and notably better in GPU and Flash performance. In other words, Tegra 2 isn't a bad alternative.
Meet the GT-I9103: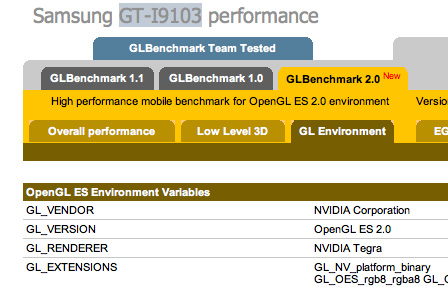 The GT-I9100 is the normal Exynos based Galaxy S II, the I9103 is the Tegra 2 edition. As one of our readers (thanks sarge78), Samsung lists its own dual-core Application Processor in the Galaxy S II as not being used in all regions. It's too early to tell if that means that we'll get Tegra 2 or Exynos depending on physical region.
I suspect Samsung didn't want to confuse users by announcing both a Tegra 2 and an Exynos based superphone at MWC. An unknown user managed to benchmark the GT-I903 at MWC and submitted the data to the GLBenchmark database. The GT-I9103's performance looks comparable to the Atrix 4G, meaning it's going to deliver the same experience we've seen in our Optimus 2X and Atrix 4G articles.