Sandy Bridge Graphics: Extended Compatibility and Performance Results
It's been quite a while since we last looked at gaming compatibility and performance on a large group of titles, so we figured the timing was ripe with the Sandy Bridge launch. We went through and selected fourteen additional games from the past several years; the intention is to see if SNB can run the games properly, as well as what sort of performance it can provide.
For comparison, we selected four other notebooks that we had on hand, which we've already highlighted on the previous page. Dell's Latitude E6410 represents the old guard Intel HD Graphics, and the Toshiba A660D (forced onto the integrated HD 4250 GPU) is AMD's soon-to-be-replaced IGP. Both are slower than SNB by a large amount, as we've already established. On the higher performance side of the equation, we've again got the Acer 5551G with a Turion II P520 (2.3GHz dual-core) processor and HD 5650 GPU, and for NVIDIA we have the ASUS N53JF with i5-460M and GT 425M. We tested Low and Medium detail performance, again skipping the Dell and Toshiba systems for Medium.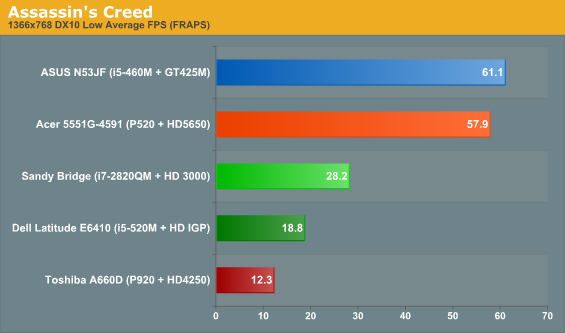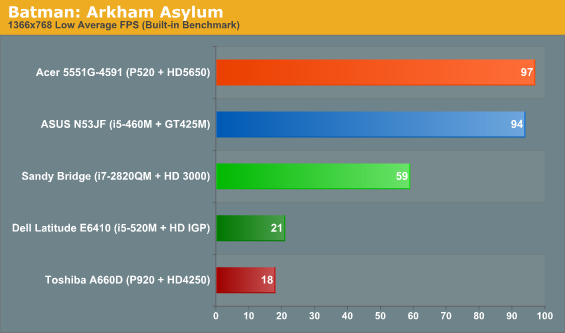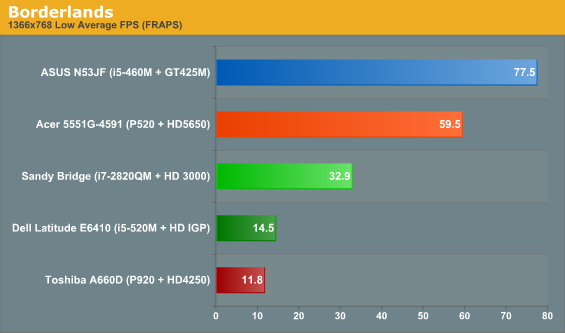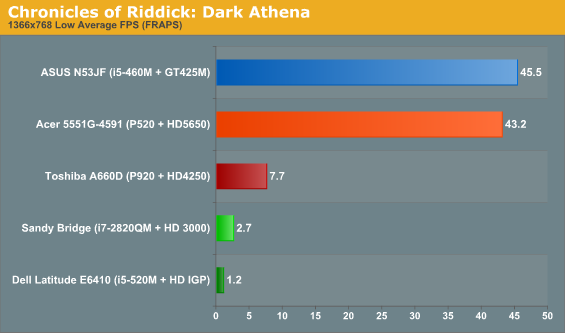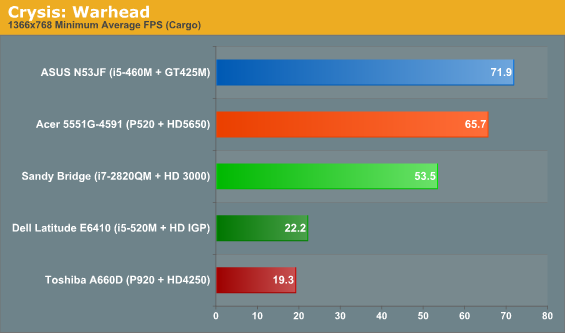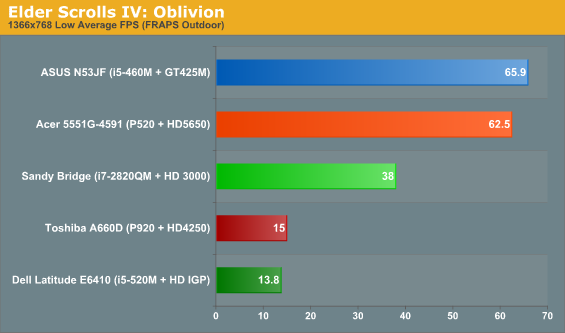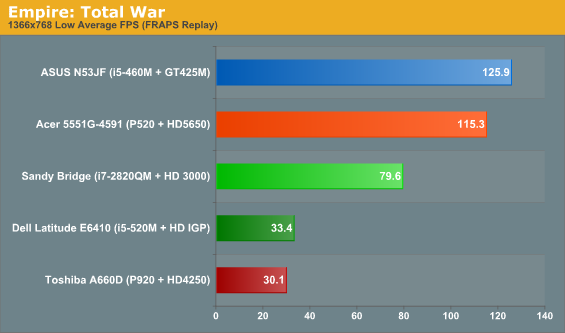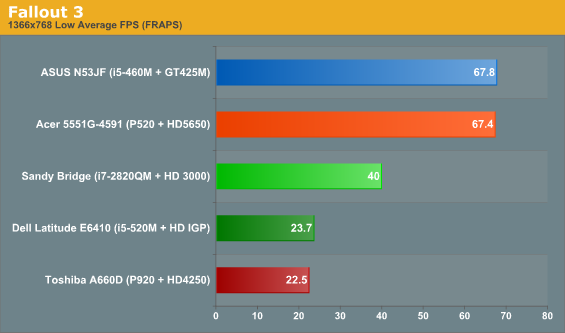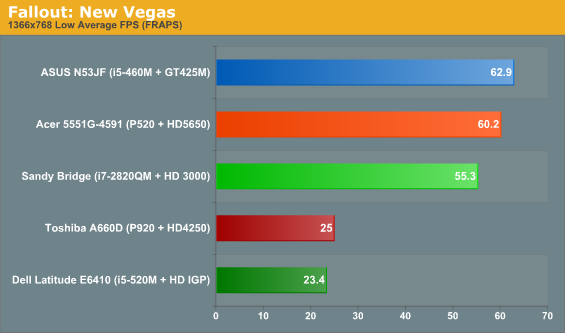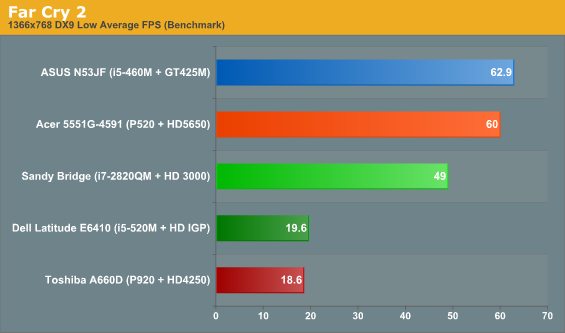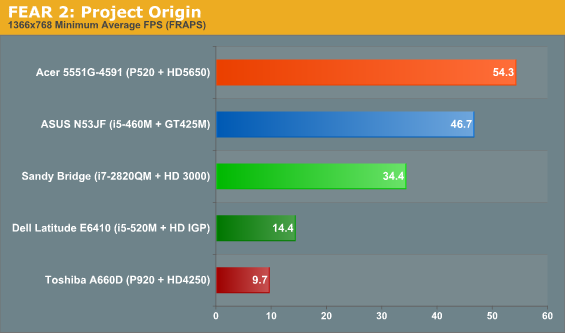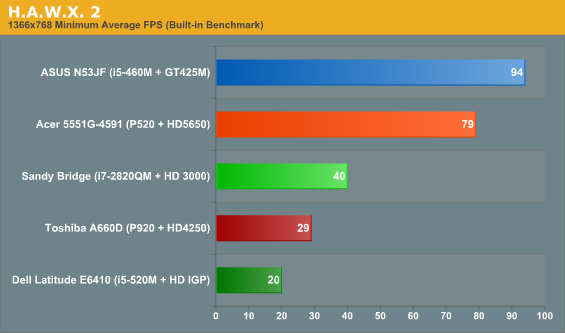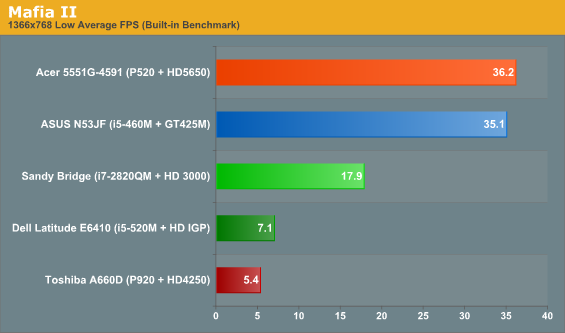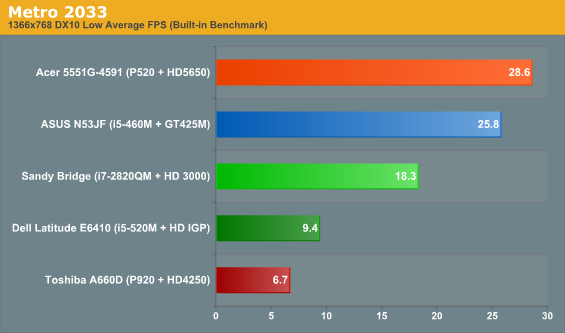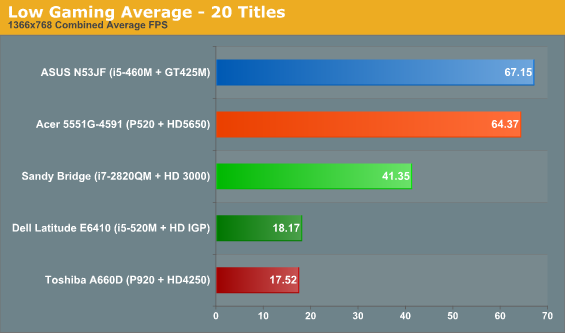 Adding 14 additional titles to the mix exposes a few more areas where Intel's HD Graphics 3000 chip needs some fine tuning, but again all titles managed to at least run (with a bit of elbow grease). The problem areas run the range of blacklisted titles to minor rendering flaws (sometimes major flaws on older Intel graphics), with one title running but doing so poorly that it may as well have failed the test.
Going into details, first up is the now-infamous Fallout 3, which required a hacked D3D9.dll file to even run (just put the file in the game's directory—thanks to the creators at OldBlivion). The hacked DLL identifies Intel graphics as a GeForce 7900 GS; without the DLL, the game crashes to the desktop with an error message as soon as you try to enter the actual game world. (Also note that the newer Fallout: New Vegas has no such problems, so Ubisoft was kind enough to stop blacklisting Intel's IGPs it appears.) There are almost certainly other titles where the Intel IGP is blacklisted, and more than a few games warned of an unknown GPU and potential rendering problems (HAWX 2, Mass Effect 2 and Metro 2033, for instance), but only FO3 required a hack to actually run.
Besides the above, there were some other issues. Assassin's Creed and HAWX 2 had occasionally flickering polygons, and Mafia II had some rendering issues with shadows; both are minor glitches that don't render the games unplayable, but in the case of Mafia II performance is too low to be manageable. Finally, the one title from our list that has clear problems with Intel's current drivers is Chronicles of Riddick: Dark Athena. It's interesting to note that this is the sole OpenGL title in our suite, and it checks in at a dismal <3FPS. The older Intel HD Graphics on Arrandale has the same issues as HD 3000, with the additional problem of seriously broken rendering in HAWX 2.
Outside of the above problems, performance is typically high enough to handle minimum to medium detail levels. Average frame rates on Sandy Bridge across the 20 test titles ends up at 41FPS. That works out to a 128% improvement over the previous Intel HD Graphics, and a 136% lead over AMD's HD 4250. The HD 5650 with a slower CPU still leads by over 55%, and GT 425M likewise maintains a comfortable lead of 62%; that said, you can certainly make the case that mainstream gaming is easily achievable with Sandy Bridge. Finally, it's worth noting that while AMD's HD 4250 actually ends up slightly slower than the old Intel HD Graphics on average, we didn't encounter a single noticeable rendering error with that GPU in our test suite.
There are three exceptions to "playability" in our list, counting Dark Athena: both Mafia II and Metro 2033 fail to get above 30FPS, regardless of setting—though Mafia II comes close at 29FPS when set to 800x600. These two titles are a familiar refrain, and it's worth noting that many discrete mobile GPUs also fail to reach playable performance; in fact, Dark Athena also tends to be a bit too much for anything lower than an HD 5650/GT 420M. They're the modern equivalent of Crysis, except you can't even turn down setting enough (without hacking configuration files) to make them run acceptably.