Gaming Performance
There's simply no better gaming CPU on the market today than Sandy Bridge. The Core i5 2500K and 2600K top the charts regardless of game. If you're building a new gaming box, you'll want a SNB in it.
Our Fallout 3 test is a quick FRAPS runthrough near the beginning of the game. We're running with a GeForce GTX 280 at 1680 x 1050 and medium quality defaults. There's no AA/AF enabled.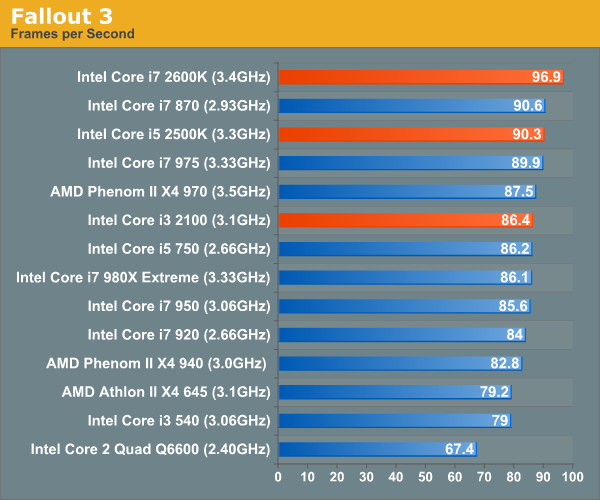 In testing Left 4 Dead we use a custom recorded timedemo. We run on a GeForce GTX 280 at 1680 x 1050 with all quality options set to high. No AA/AF enabled.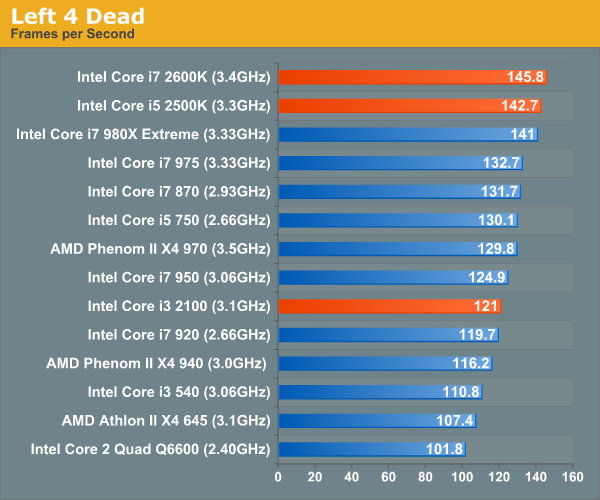 Far Cry 2 ships with several built in benchmarks. For this test we use the Playback (Action) demo at 1680 x 1050 in DX9 mode on a GTX 280. The game is set to medium defaults with performance options set to high.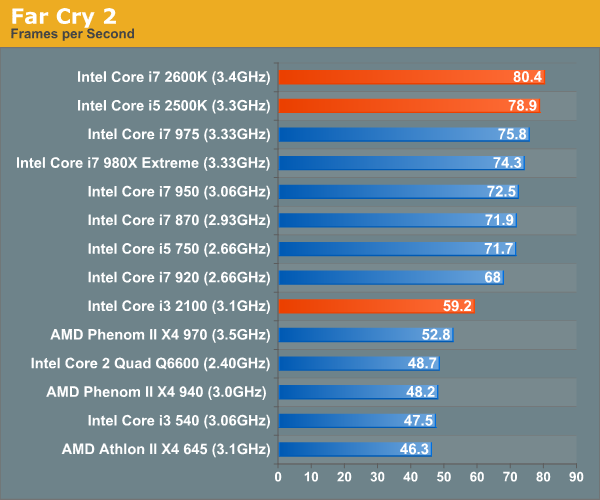 Crysis Warhead also ships with a number of built in benchmarks. Running on a GTX 280 at 1680 x 1050 we run the ambush timedemo with mainstream quality settings. Physics is set to enthusiast however to further stress the CPU.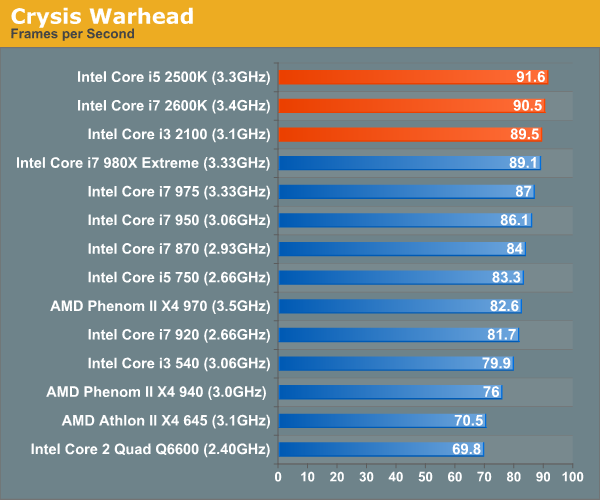 Our Dragon Age: Origins benchmark begins with a shift to the Radeon HD 5870. From this point on these games are run under our Bench refresh testbed under Windows 7 x64. Our benchmark here is the same thing we ran in our integrated graphics tests - a quick FRAPS walkthrough inside a castle. The game is run at 1680 x 1050 at high quality and texture options.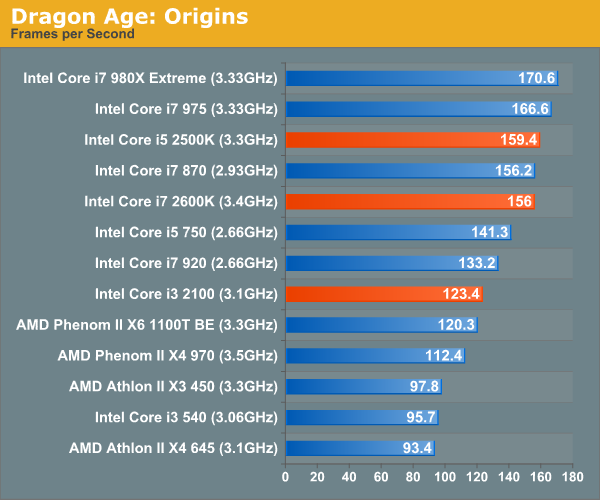 We're running Dawn of War II's internal benchmark at high quality defaults. Our GPU of choice is a Radeon HD 5870 running at 1680 x 1050.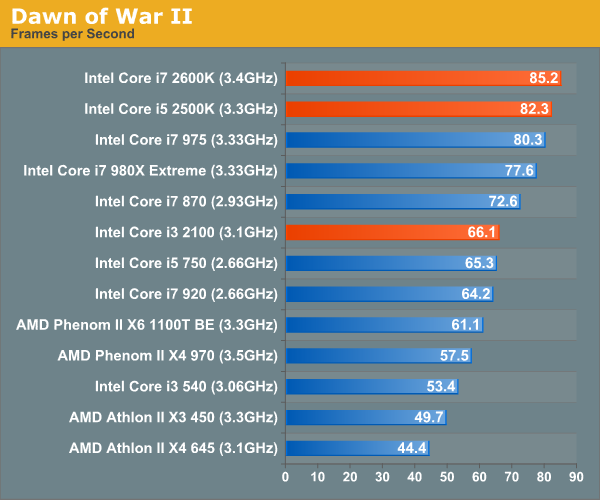 Our World of Warcraft benchmark is a manual FRAPS runthrough of a lightly populated server with no other player controlled characters around. The frame rates here are higher than you'd see in a real world scenario, but the relative comparison between CPUs is accurate.
We run on a Radeon HD 5870 at 1680 x 1050. We're using WoW's high quality defaults but with weather intensity turned down all the way.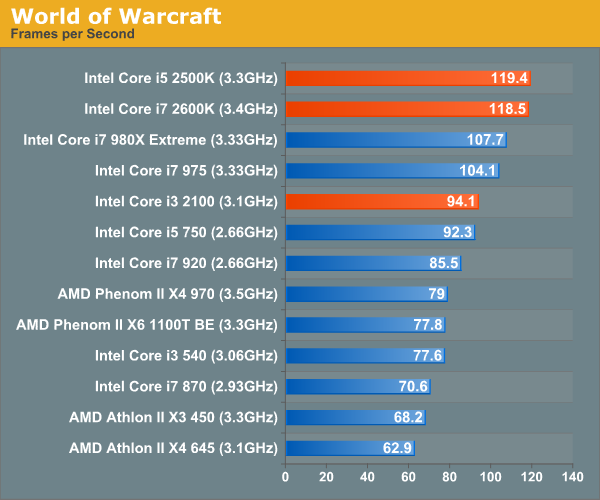 For Starcraft II we're using our heavy CPU test. This is a playback of a 3v3 match where all players gather in the middle of the map for one large, unit-heavy battle. While GPU plays a role here, we're mostly CPU bound. The Radeon HD 5870 is running at 1024 x 768 at medium quality settings to make this an even more pure CPU benchmark.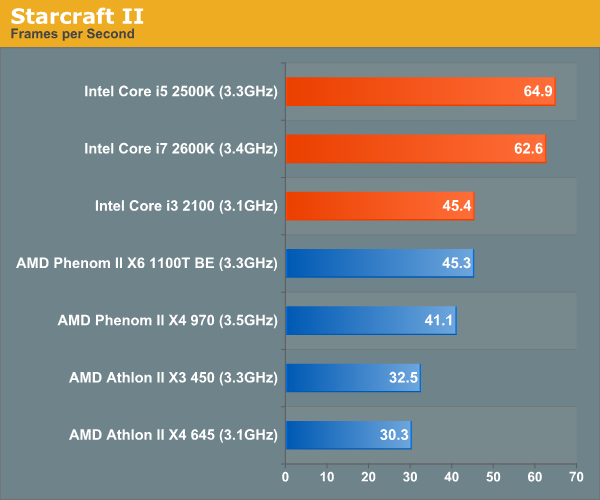 This is Civ V's built in Late GameView benchmark, the newest addition to our gaming test suite. The benchmark outputs three scores: a full render score, a no-shadow render score and a no-render score. We present the first and the last, acting as a GPU and CPU benchmark respectively.
We're running at 1680 x 1050 with all quality settings set to high. For this test we're using a brand new testbed with 8GB of memory and a GeForce GTX 580.