ASUS N53JF: Performs as Expected
Performance is pretty much right where you'd expect, given the hardware. It has the same GT 425M GPU as the Clevo B5130M and the i5-460M CPU is fractionally faster than the i5-450M in the XPS 15, so performance typically falls in between the two. Battery life is somewhat hampered by ASUS' continued use of 48Wh batteries in their N-series, something we've complained about in the past. The U-series' 84Wh batteries don't feel much heavier than the 48Wh, and size is close enough that a slight reworking of the N53JF could have accommodated the larger battery. However, ASUS does do a reasonable job at power management, so even with a smaller battery than the competition it remains competitive. Here are the application results, followed by gaming and battery life.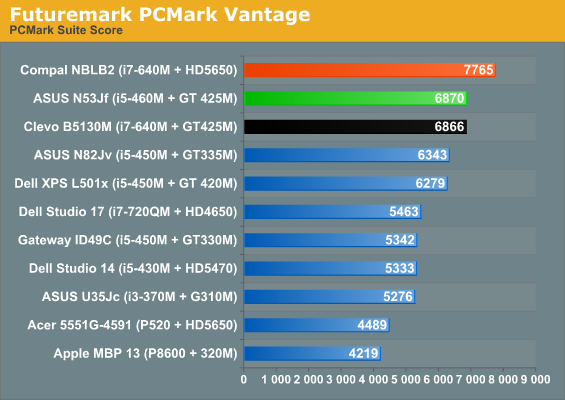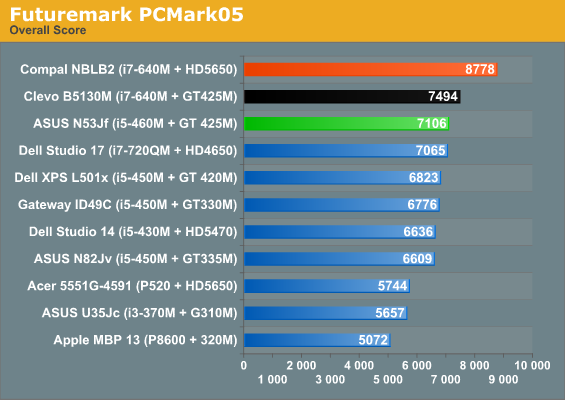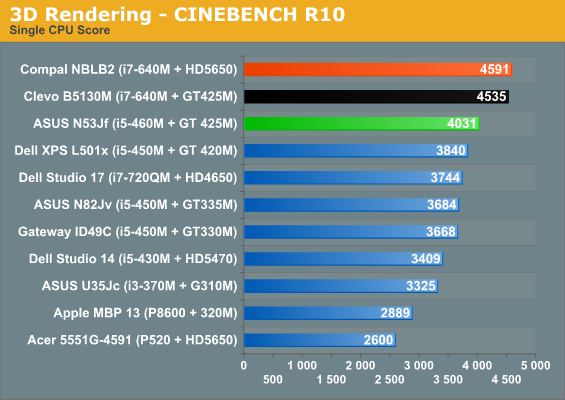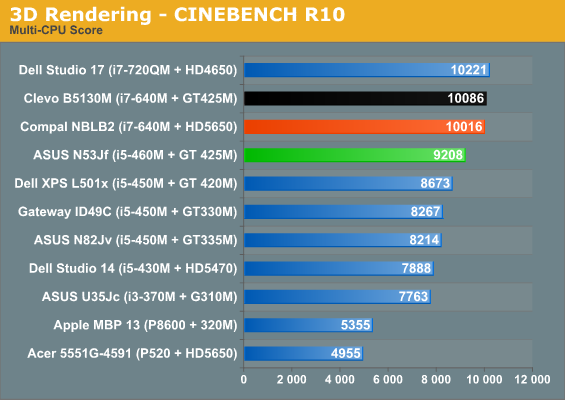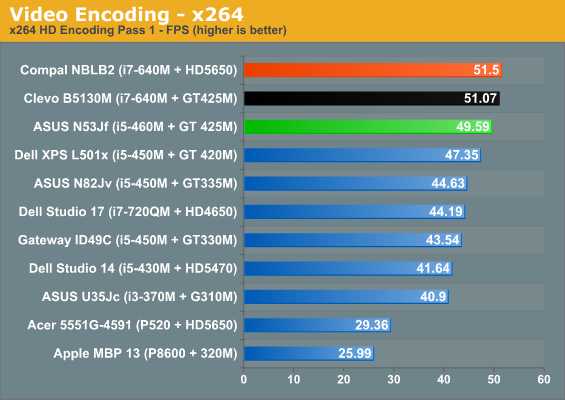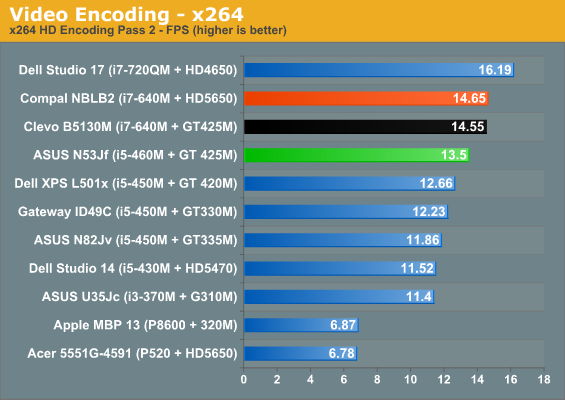 Starting with these general performance metrics, the N53JF is usually about 5% faster (sometimes as much as 10%) than the XPS 15, which goes with the CPU upgrade, with perhaps a few extra performance optimizations by ASUS. The Clevo and Compal laptops both have a faster i7-640M CPU so they come out ahead, but other differences come into play. In PCMark, the Clevo and ASUS laptops are nearly equal, but the Compal comes out 13% faster in Vantage and 23% faster in PCMark05—perhaps thanks to the HD 5650 discrete GPU. Once we hit the pure CPU tests of 3D rendering and video encoding, the charts fall into line and the i7 CPU outpaces the i5-460M by 8-10%.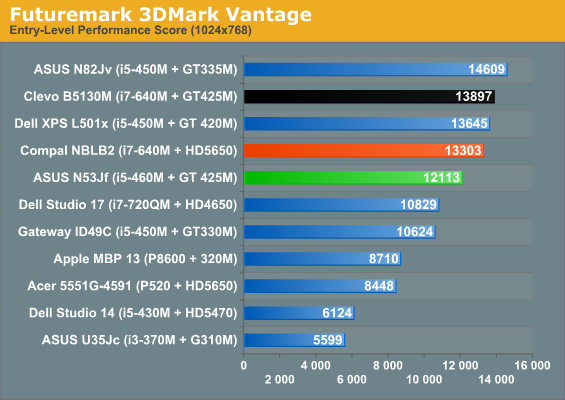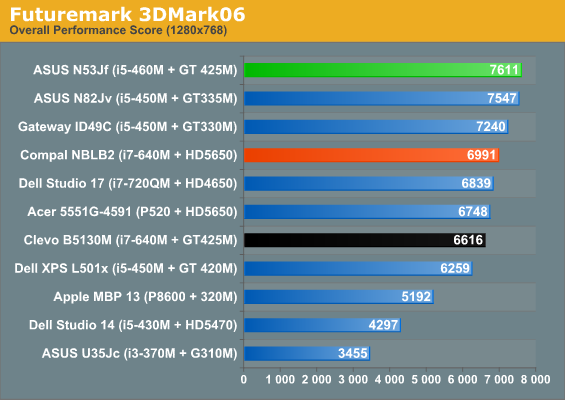 3DMark numbers aren't a major focus for us, for good reason. Here we see the N53JF leading by up to 22% in 3DMark06, but then it trails by up to 15% in Vantage. Yeah, go figure. The Performance score in Vantage is 3559 for the curious. The 3DMark03/05 numbers aren't any better (no graphs on those): 16612 in 03 and 13397 in 05 put it slightly ahead of the Clevo and Dell laptops, but the HD 5650 is 3% faster in 05 and 30% faster in 03. The reason for the large lead in 03 is that Optimus appears to be a bottleneck on ultra-high frame rates; the PCIe bus gets saturated, so when you start to try and push more than ~150FPS (i.e. in the Wings of Fury benchmark) you hit a hardware frame rate bottleneck. Given the level of hardware and the frame rates where this manifests, however, it's nothing we're concerned about—it should only show up in older titles that really don't stress the GPU much.