Introducing the SilverStone GD04
My media center PC was far from old and decrepit, but I wound up with an opportunity to both rebuild it into something faster and cut a profit this month and went for it. Choosing a case for the new build was a difficult decision; the old CoolerMaster Elite 360 case I used still ranks among my favorites for budget machines, but the lack of any kind of vibration-dampening optical drive mounting resulted in my blu-ray/HD-DVD drive progressively producing more and more noise. I decided to go for something sexier, something more suited to being an HTPC case, and after doing a fair bit of research I picked up the SilverStone GD04.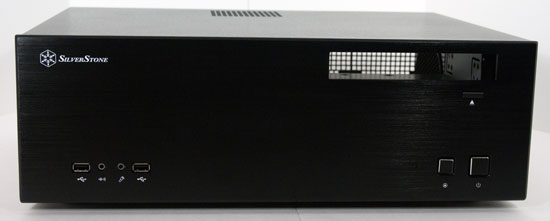 The GD04 is remarkably attractive if you're into that minimalist look (I am); there's a sister GD05 model that has a full 5.25" drive bay instead of just an opening for the optical drive tray, but rather than have unsightly electrical tape covering up the activity LED on the drive I opted to bury it in the case with the GD04. Otherwise the two models are functionally identical, so a lot of what's said in this review will likely apply to the GD05. This case has also been around for a couple years but doesn't seem to have been refreshed by SilverStone; if it ain't broke, don't fix it, right?
SilverStone GD04 Specifications
Motherboard Form Factor
Micro ATX, Mini ITX
Drive Bays
External
1x 5.25" (partially covered by bezel)
Internal
2x 3.5" or 2.5"
Cooling
Front
-
Rear
-
Top
-
Side
1x 120mm intake (left), 2x 120mm intake (right)
Bottom
-
Expansion Slots
5 (4 main, 1 accessory)
Front I/O Port
2x USB 2.0, 1x Headphone, 1x Mic
Power Supply Size
Standard ATX
Weight
12.21 lbs.
Dimensions
5.91" x 17.32" x 12.72"