Power Consumption
The 30-inch category of displays have always been power hungry, and the U3011 is no exception. Laws of physics still apply here, and when it comes down to it, there's just a lot of area to fill with photons. The U3011 specifications note that power use of 250 watts is maximum, 110 is typical, and standby is around 1 watt.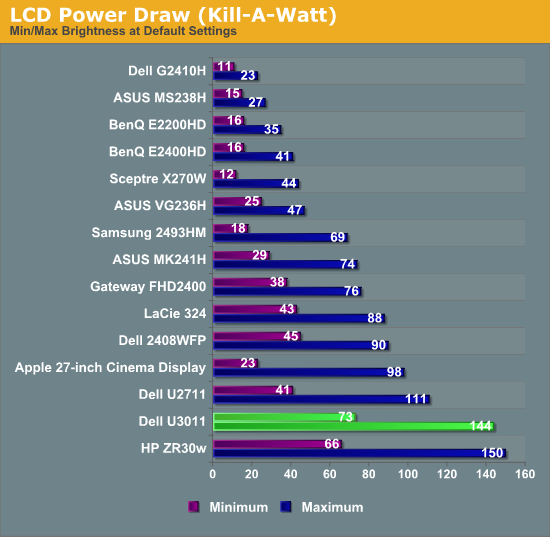 At maximum brightness, the U3011 draws 144 watts. At minimum, 73. That's just slightly below the ZR30w, but not really enough to make it notably better or worse.
We don't measure it directly, but subjectively the U3011 feels surprisingly cool. There isn't a ton of heat which seems to come out the top grilles, nor a ton of heat coming out the front (unlike my BenQ FP241w monitor array which seems to noticeably warm my face).
Conclusions and Final Thoughts
The U3011 is an all around good performer, though I find myself wishing that contrast and Delta-E were just a bit better so it was an unequivocal winner in all the right areas. That said, it does have a number of advantages over the HP ZR30w, namely an OSD, a wealth of input options, and audio pass through. Where the HP ZR30w bests the U3011 is with its excellent display arm which feels subjectively sturdier and beefier, and its slightly better color performance and input latency. Heck, maybe there's something to be said for not having that display controller SoC.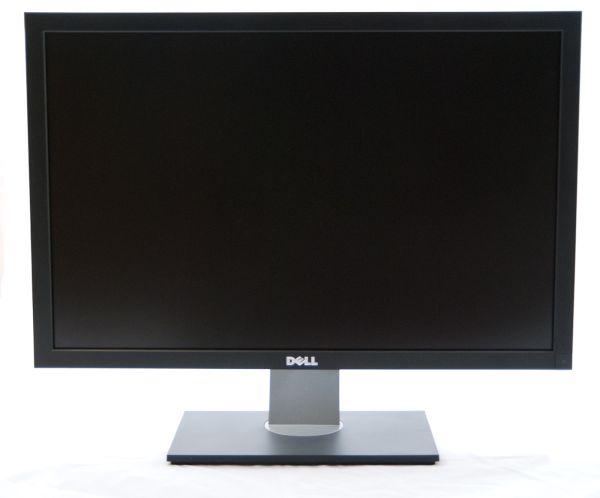 If accessory inputs like an extra DVI and HDMI port are what matters (not to mention the option of having 5.1 audio out), the U3011 is the better choice. As an all around desktop display, the ZR30w edges out in my mind purely because of the slightly better display performance and build quality - it feels solid and just seems to have a much beefier display arm. It's a tossup that ultimately comes down to what features are really most important, and price. Right now, even price is a tossup, as the two are priced within $10 of each other on Amazon. Personally, having HDMI with audio pass through and all the scaling options makes the U3011 the better pick, but again that's just my take. Now the question is: who will be first to market with a 120 Hz 30-incher?