Input Lag Testing
Processing and display lag is a very important thing for gamers, and it's most often nebulously reported if at all. We've discussed this in previous display reviews, but what matters most is how the display acts in real world testing. I've been doing previous tests by comparing LCDs with first a 17" Princeton CRT, then a Sony G520 20" CRT. So far the results have been a bit interesting, with the CRTs edging a pretty consistent - if small - lead over LCDs.
I measured the Dell U3011 the same way we've done it for a number of displays now, by snapping many photos of the same wings of fury 3DMark 2003 demo mirrored on the CRT and LCD. Average a ton of results from those images, and we get a feel for what input latency works out to.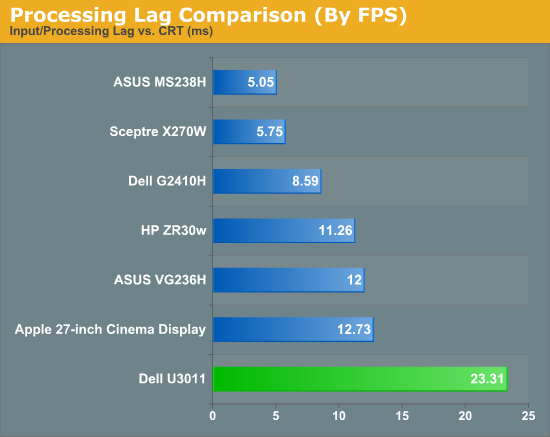 I ran this test twice as well because the results somewhat surprised me - 23 ms is a pretty substantial amount of input lag. This was being driven over DVI-D from a NVIDIA GTX 470, as a reminder. I played a lot of games on the U3011 (well, as many as I could in-between smarphones, CES, and other work), and never noticed input feeling laggy or just plain off. Over HDMI I tested Halo Reach from an Xbox 360, on the PC lots of BFBC2 and DOD:S. It's a personal taste thing, honestly I still can't subjectively feel the input lag, even if it is there.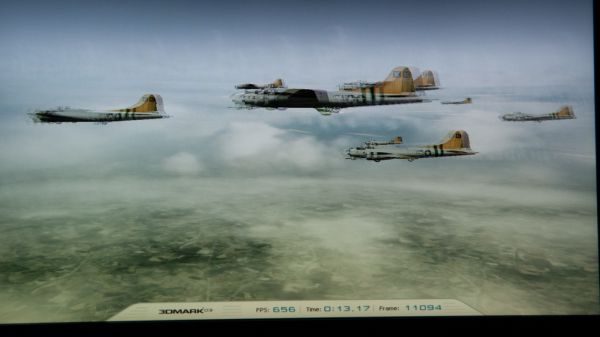 Like i'm used to seeing, there's one frame of lag which shows up when taking photos of the U3011. The ZR30w lacks a scaler and OSD, and has around half the input lag. Maybe there's something to be said for HP's choice there.