The $550 DreamColor IPS Upgrade
And here we get to the tough part. HP touts the DreamColor matte IPS panel option in their EliteBook 8740w with good reason: it's an IPS panel in a market where anything other than a TN is exceedingly rare. The problem is that it does command a premium, and a massive one: $550 ($570 with the webcam). Dell doesn't charge anywhere near as much for their screen upgrades, so we really want to know if we're going to get what we pay for with the DreamColor.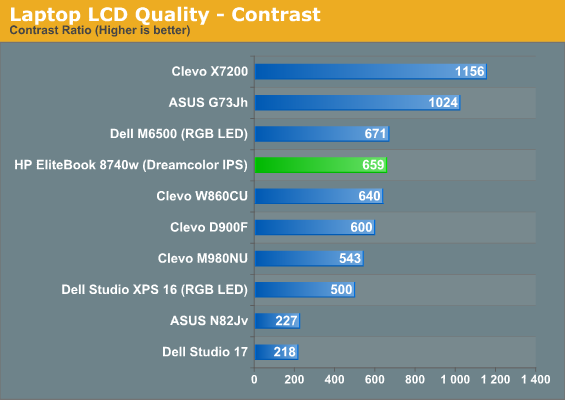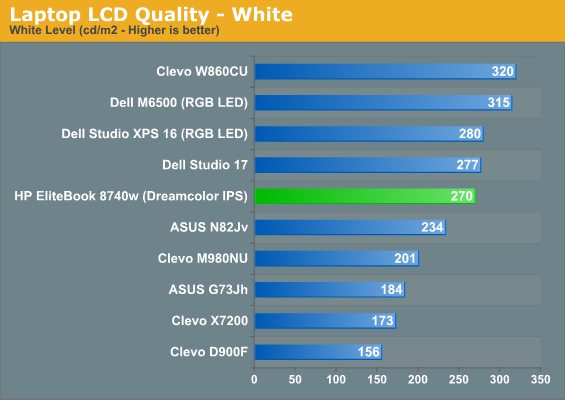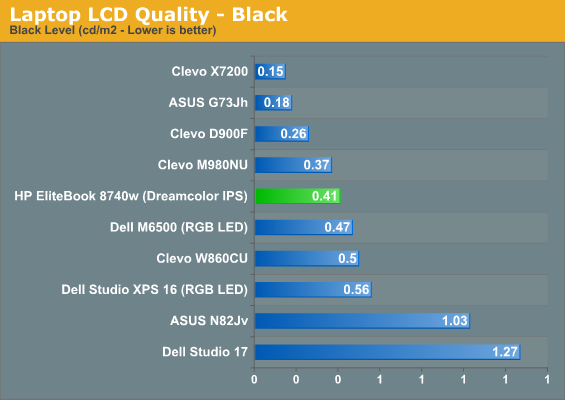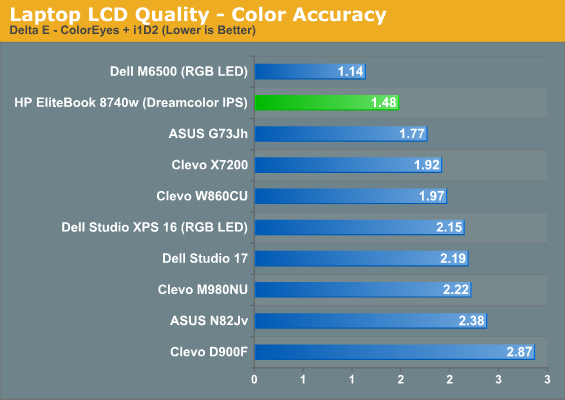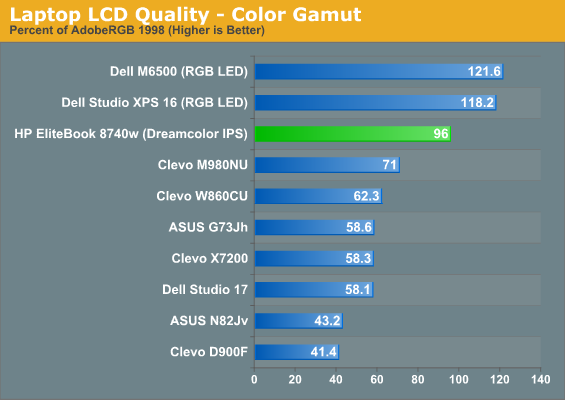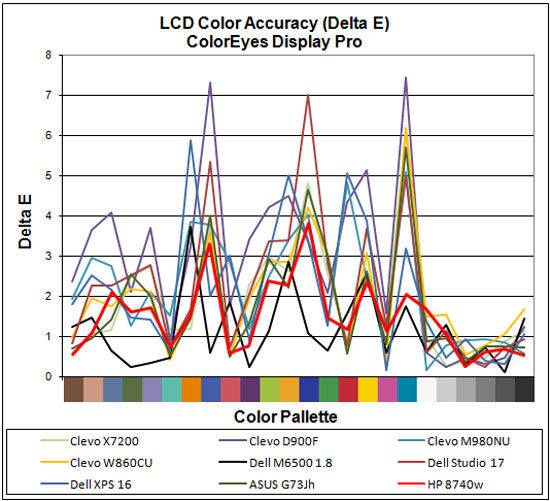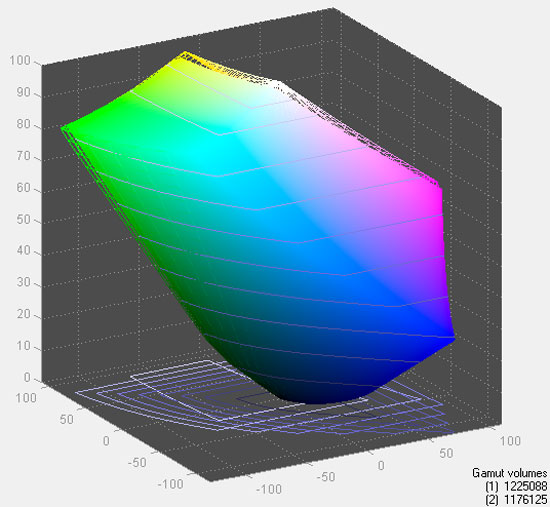 You asked for an IPS panel, and you got one. The DreamColor produces incredibly accurate color that basically covers the AdobeRGB 1998 color space. Contrast is excellent and of course you get fantastic viewing angles as well. Black and white levels are both quite nice. Overall it's a great-looking panel.
That said, it still has trouble surpassing the Dell notebooks, particularly the Precision M6500, which boasts both superior color gamut and color accuracy by our measure. It gets worse, too: that upgrade to the M6500 is about $200 cheaper...but then it's not IPS. Realistically, few people will need the higher Dell Gamut, but you're still looking at almost twice the upgrade cost to get IPS in place of TN, and we'd say the M6500 RGB LED panel is already priced quite high. $600 can get you a pretty awesome 24" desktop LCD, but a 17" laptop panel with similar characteristics still costs more.
Subjectively it must be said that while the DreamColor panel on the EliteBook 8740w is very attractive and miles away from what we're used to seeing, even after calibration colors can feel oversaturated. 100% Adobe RGB gamut is good for those that need it, but for everyone else working in sRGB color space, that's the penalty. Yes, we're used to seeing dismal, washed out color when testing notebooks, but the 8740w's colors are still too bright at times—and it must be said, the 120% gamut of the M6500 is even worse in this respect. Though our measurements don't totally bear this out, there's definitely some black crush going on as well. I use a calibrated Dell 2709WFP on my desktop, a screen most agree has some issues with oversaturation, and it seems positively mild compared to how bright the colors on the 8740w's DreamColor can be.
Make no mistake, this is a fantastic panel; however, it may not be the game-changer we were looking for, especially not when the Precision M6500 is hanging around. $300 will go from standard LCD to high color gamut WUXGA, but you're still stuck with TN panels; the additional $250 will add the viewing angles that IPS provides. As mentioned in our recent look at an old ThinkPad T42, a good laptop display can be nigh on impossible to find, and HP provides one. It just so happens that the display costs as much as (or more than) a larger 24" LCD that could sit on your office desk.