Desktop IGP Comparison: Faster than Clarkdale
I split the graphics comparison into two sections: desktop and mobile. For the desktop section I compared the E-350 to the latest Clarkdale chips, AMD's own 890GX and a discrete Radeon HD 5450 graphics card. While the Radeon HD 5450 has the same number of shader processors as the E-350 (80), they run faster and it has a dedicated 1.6GHz memory bus to feed it. The E-350 has to share memory bandwidth between the two Bobcat cores and the 80 SPs, severely limiting its performance potential.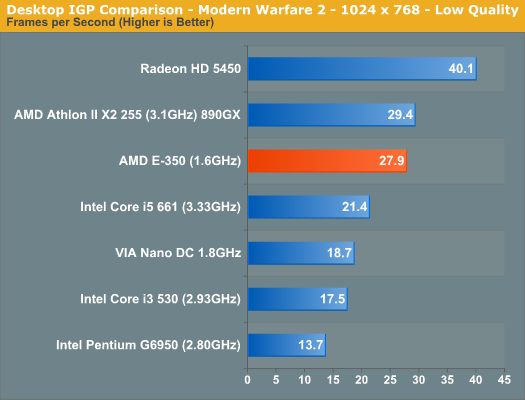 The E-350 does extremely well compared to its desktop brethren. In our Modern Warfare 2 and BioShock tests its easily faster than the Core i3/i5 and in the case of BioShock 2 it's even faster than AMD's 890GX. Dragon Age Origins is another story however as the benchmark is primarily CPU limited, giving the desktop parts a huge advantage. In GPU bound scenarios, it's clear that our initial Zacate benchmarking was accurate: the E-350's Radeon HD 6310 is quicker than Intel's HD Graphics.
Compared to the Radeon HD 5450 the 6310 offers between 66 - 69% of its performance in our GPU bound tests. The performance reduction is entirely due to the 6310's limited memory bandwidth being shared with the dual Bobcat cores on-die.