Can You Be Productive With the 11-inch?
The new Airs are slow, they are great for writing and browsing the web (sort of like fast iPads) but they are noticeably slower than the Pro lineup everywhere else. To get a good feel for what could be done with these machines I put them through my normal review publication workflow. In particular, I focused on my Photoshop experience on both of these systems.
I edited 43 photos for this article, and of course I split the editing time across both the 11-inch and 13-inch MacBook Air.
Each photo was a 12MP RAW, imported into Photoshop, cropped, color/contrast balanced, and saved twice as a compressed JPG (once at 1900 pixels wide and once again at 600 pixels wide). I brought 10 photos into Photoshop at a time, trying to be mindful of the memory constraints each of these systems presented.
I started on the 11-inch.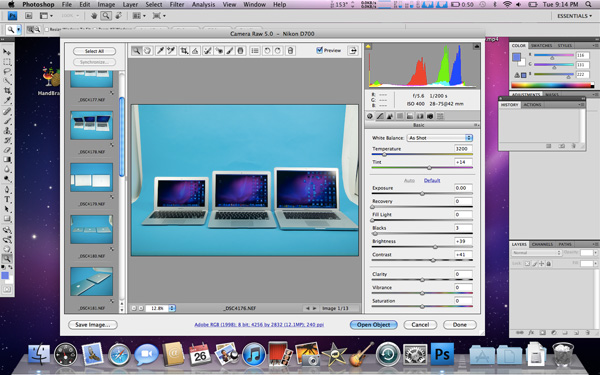 The import process was noticeably slower than what I was used to. It took seconds for each photo to appear in Photoshop once I'd told it to process the RAW files. Over the course of 10 photos imported at once, that amounted to a reasonable amount of down time.
The SSD kept things moving however. Performance was consistent between editing one photo to the next.
The slow CPU impacted everything. Basic tasks like opening and saving the images took longer than I was used to. Even bringing up Spotlight to launch Chrome felt slower than I'd like.
The screen size and resolution never made me feel cramped, although it was difficult to see detail in the high res photos without zooming in.
While it's possible to do work like photo editing on the 11-inch MacBook Air, it's not very pleasant. If you've got no other computer around you can do it, but if you've got access to anything faster you'll be a lot more productive.
I realized this when I switched to the 13-inch machine. The 33% higher clocked CPU makes a big difference. Everything pops up quicker, the editing process takes a lot less time and the screen is just a good enough size/resolution where you don't have to do a ton of zooming to prepare web presentable photos.
I edited half the photos on the 11-inch and the other half on the 13-inch. The half I did on the 13-inch took about half the time as the group I did on the 11. If you need a machine for content creation/editing, the 11-inch won't cut it.
As a pure writing device however, the 11-inch is great. The SSD ensures that performance is consistent and applications launch quickly. If all you do is write, browse the web, write emails and talk on IM - the 11 gets the job done. Ask more of it for long periods of time and I think you'll be disappointed.
The 13 isn't a productivity workhorse, but it's possible to get heavier work done on it if you need to.