Processing and Input Latency
Processing and display lag are very important for gamers, and it's most often nebulously reported if at all. We've discussed this in previous display reviews, but what matters most is how the display acts in real world testing. I've been doing previous tests by comparing LCDs with first a 17" CRT.
To measure input and processing lag we're sending the same frame data to both the LCD tested and a 17" CRT in parallel (using our GeForce GT 120). Using our camera set to a high shutter speed we grab shots of 3DMark 03's Wings of Fury benchmark which conveniently displays frame rate and frame count.
We compare the two to determine input lag, assuming the CRT over VGA exhibits minimal lag: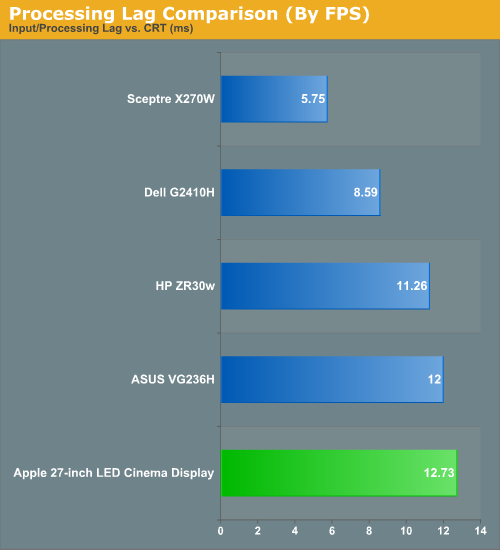 The 27's input lag is nothing to write home about. It's not slow enough to cause any problems gaming in my experience but it's not fast enough to set any records either. Ghosting was also typical of other displays, I captured one frame of ghosting: