Power Consumption
With the U2711 Dell opted for a CCFL backlight to deliver a wider color gamut. Apple moved to LED to reduce the size of the display's chassis and cut power consumption. Even while charging a MacBook Pro and running at full brightness the 27-inch LED Cinema Display never got more than warm. Part of this is due to the vent in the back of the display:
The display is also just generally power efficient: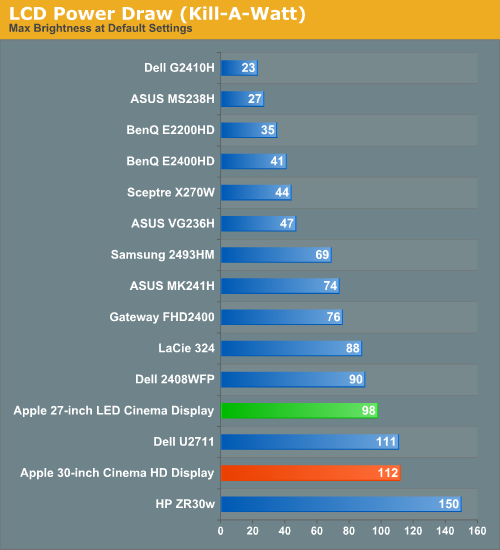 The 27-inch LED Cinema Display tops out at 98W at full brightness, only saving about 14W compared to my old 30. The power efficiency is greatly improved however. At 98W you get a brighter display than almost anything on the list. Note that this is peak power consumption without a notebook attached to the MagSafe port. I plugged a 2010 15-inch MacBook Pro that was nearly dead and measured a max power draw of 166W at the wall for the display + charging the notebook.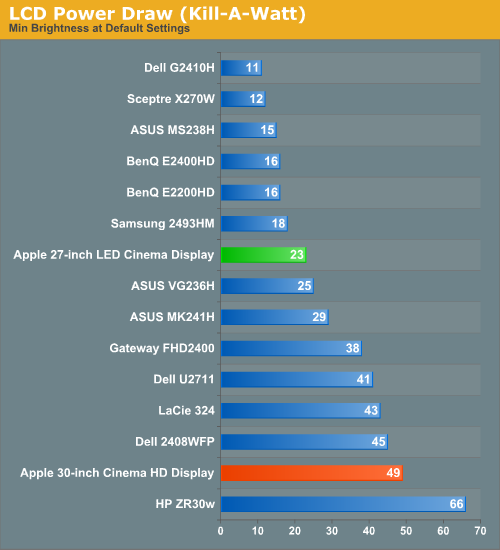 At the lowest brightness setting the new Cinema Display sips power, 23W to be exact. You can even go up to 50% brightness (~100 nits) and never pull more than 40W at the wall.