HP Mini 5102 Battery Life
As mentioned earlier, we've got two batteries: the standard 4-cell 29Wh and the upgraded 6-cell 66Wh. We've run tests with both batteries, and we also tested a two use scenarios with the smaller battery and the Crystal HD chip. (We didn't want to run all the tests with the Crystal HD and the larger battery, as that would require another day or two of waiting for the battery to run down.)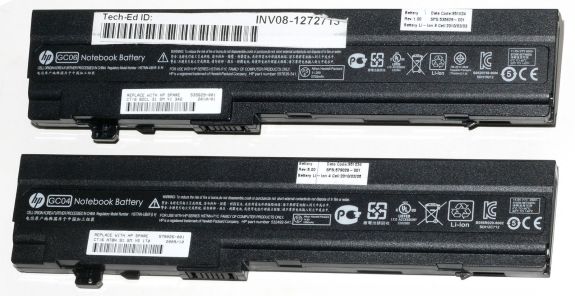 The smaller battery sits flush with the chassis while the 6-cell battery is a bit thicker and will raise the rear of the 5102 about a quarter inch. It will also add a couple ounces to the weight, but the 5102 is still very portable. Here are the battery life results.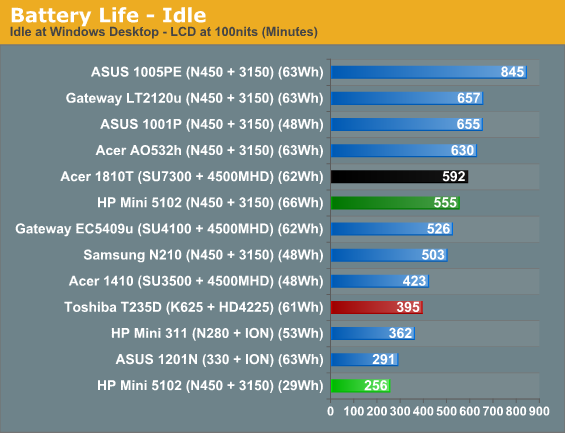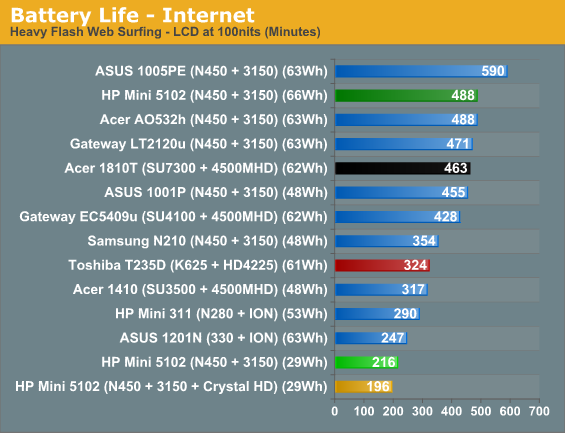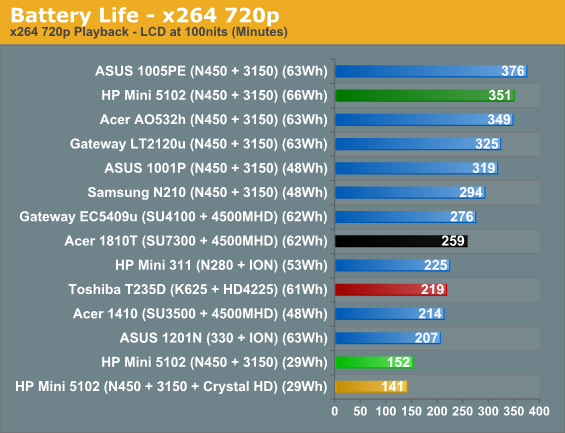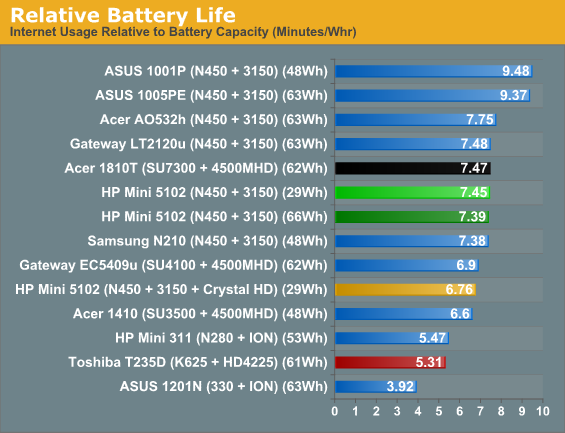 Battery life is on the lower end of the Atom spectrum. With the 29Wh battery, the 5102 manages just over two hours of video playback, but that goes up to nearly six hours with the 66Wh battery. We ran a couple quick sanity checks with the Crystal HD decoder installed and found that while CPU use dropped, battery life doesn't improve thanks to the chip using more power. Battery life dropped 7-9% in the two tests with the BCM70012 installed. Idle battery life tops out at 4.25 hours with the smaller battery, and improves to 9.25 hours with the 66Wh battery.
Put into perspective, though, even the larger battery life figures are nothing special. ASUS manages to get nearly as much battery life with the 1001P and a 48Wh battery—better actually at idle. ASUS has traditionally done a good job at optimizing power draw on their netbooks, and there's a big gap between the 1001P/1005PE and the rest of the N450 netbooks. The 5102 places just ahead of the Samsung N210 but slightly behind the other offerings.