netbook
As we wrap up with ASUS' IFA announcements for today, we shift from the tablet and smartphone sectors over to laptops. Launched back in May, Kabini is AMD's alternative to Intel's Atom; Temash is the lower power variant, with basically the same hardware but reduced clock speeds. Since May, we haven't heard too much about Temash; there are a few laptops out using the SoC/APU, like the HP TouchSmart 11, Acer V5-122P, and Samsung ATIV Book 9 Lite. The HP and Acer use the 8W A4-1250 while the Samsung uses the 8W A6-1450 (and packs a 128GB SSD). ASUS is adding another Temash laptop to the mix with their upcoming X102BA ultraportable, a 10.1" touchscreen AMD netbook. What's more, they'll be the first (that I've...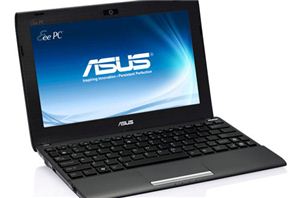 We've known about Cedar Trail for quite a while now, the next iteration of Intel's Atom processor line. As far as the CPU is concerned, not a lot has...
12
by Jarred Walton on 3/22/2012
A few weeks ago, Intel updated their Atom platform with the launch of Cedar Trail, the successor to Pine Trail. While CPU performance isn't likely to have changed much—we're...
10
by Jarred Walton on 1/9/2012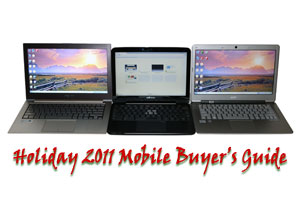 We say it every year, but the trends continue so we'll keep repeating it: laptops and mobile devices are becoming increasingly popular, often at the cost of desktop sales...
88
by Jarred Walton on 12/2/2011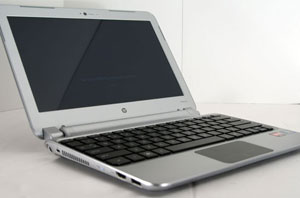 HP's been on board AMD's ultraportable bandwagon since the chipmaker first shipped the underwhelming Congo platform, and HP continued to produce reasonably compelling not-quite-netbooks with the Athlon/Turion II Neo-equipped...
108
by Dustin Sklavos on 2/21/2011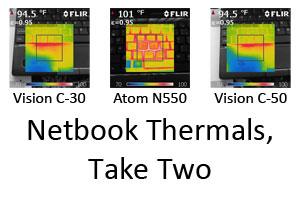 Last week we met with AMD at CES to see some of their latest and greatest offerings. We already reported on the meetings in our earlier article, but in...
154
by Jarred Walton on 1/14/2011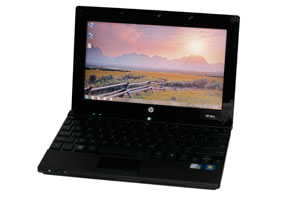 Netbooks are all so similar in terms of performance that it's difficult to get excited about reviewing "yet another netbook". Aesthetics and build quality may change, but outside of...
59
by Jarred Walton on 12/17/2010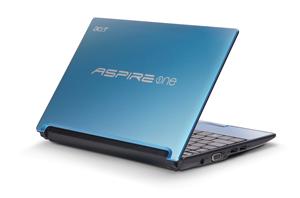 Acer is announcing an updated range of netbooks, including their first to use the dual-core Intel Atom N550 processor, the Acer Aspire One AOD255. The same model will also...
5
by Balraj Sandhu on 10/4/2010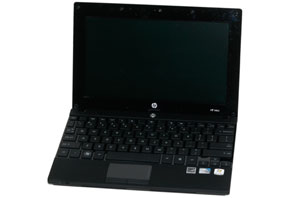 We've seen more than our fair share of Pine Trail netbooks since their launch late last year. Performance has never been spectacular, but battery life and portability have been...
24
by Jarred Walton on 9/22/2010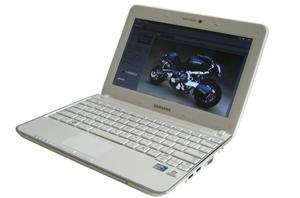 Pine Trail netbooks are pretty much all the same: they give you a 10.1" 1024x600 display and pitifully slow CPU and GPU performance, but that's balanaced by good battery...
24
by Dustin Sklavos on 7/28/2010
Gateway is launching their latest netbook today. The LT32 is a little larger than the competition with an 11.6" display, but it promises improved performance from an AMD Athlon...
6
by Balraj Sandhu on 7/7/2010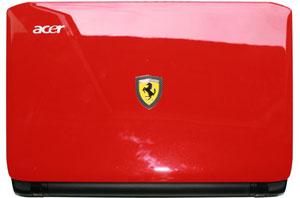 Acer's latest Ferrari-branded laptop looks to compete in the crowded CULV ultraportable market. Packing an X2 L310 processor and HD 3200 graphics, on paper at least the Ferrari One...
40
by Vivek Gowri on 6/8/2010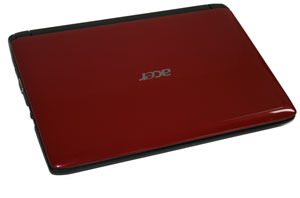 You're not seeing double: what we have for review today are the Acer and Gateway netbook "twins". At their core, these are virtually identical 10.1" Pine Trail netbooks, with...
17
by Vivek Gowri on 4/28/2010