The Storage Setup
Some of our readers commented that we should give more insight into the storage configuration of vApus Mark II. We'll gladly provide more information.
All servers are equipped with an LSI SAS3442E-R PCIe 8x SAS Controller connected via a 12 gbit/s external SAS cable to the Promise j300S. The Promise J300s is equipped with nine 15000RPM 300GB Seagate Cheetah (SAS) drives. These drives contain all the VMs (and thus also the 135GB OLAP databases). VMDKs are configured with thick provisioning, independent, and persistent.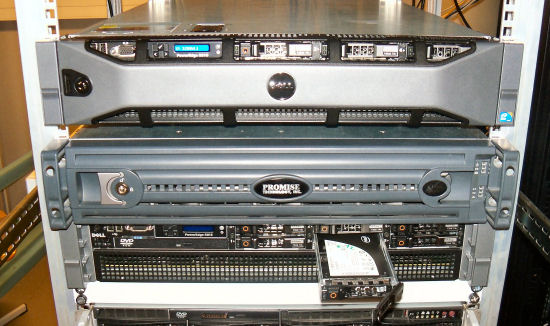 The OLTP Oracle databases however are located on four internal 2.5 inch bays, which contain Intel X25-E SLC 64GB drives. You can see one sticking out of our Dell R815 above.