Server number 3: the Quanta QSCC-4R or SGI Altix UV 10
| | |
| --- | --- |
| CPU | Four Xeon X7560 at 2.26GHz |
| RAM | 16 x 4GB Samsung 1333MHz CH9 |
| Motherboard | QCI QSSC-S4R 31S4RMB0000 |
| Chipset | Intel 7500 |
| BIOS version | QSSC-S4R.QCI.01.00.0026.04052010655 |
| PSU | 4 x Delta DPS-850FB A S3F E62433-004 850W |
The 50kg 4U beast of Quanta that we reviewed a month ago is the representative of the quad Xeon 7500 platform. The interesting thing about this server is that the hardware is identical to the SGI Altix UV10. SGI confirms that the motherboard inside is designed by QSSC and Intel here. The pretty pictures here at SGI indeed show us an identical server.
Maximum expandability and scalability is the focus of this server: 10 PCIe slots, quad gigabit Ethernet onboard, and 64 DIMM slots. The disadvantage of the enormous amount of DIMM slots is the use of eight separate memory boards.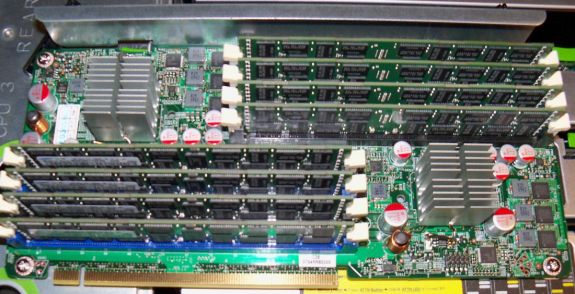 Click to enlarge
Each easily accessible memory board has two memory buffers. All these buffers require power, as shown by the heatsinks on top of them. The PSUs use a 2+2 configuration, but that is not necessarily a disadvantage. The PSU management logic is smart enough to make sure that the redundant PSUs do not waste any power at all: "Cold Redundancy".

The QSCC-4R server uses 130W TDP processors, but it is probably the best, albeit most expensive, choice for this server. The lower power 105W TDP Xeon E7540 only has six cores, less L3 cache (18MB), and runs at 2GHz. So it is definitely questionable whether the performance/watt of the E7540 is better compared to the Xeon X7560 which has 33% more cores and runs at a 10% higher clock.