GPS Issues
Every smartphone has its sets of issues. The iPhone 4 has its antenna problem, the Palm Pre has performance issues, the BlackBerry Torch needs a bit more oomph in the software department, and every Android phone has its own set of strengths/weaknesses. The Epic 4G is no different. In addition to the absolutely horrible battery life, the Epic has a pretty serious GPS issue.
The GPS antenna is not very sensitive and usually has trouble locking onto GPS satellites. This manifests itself in two ways: the phone will take an inordinate amount of time to determine your actual location, and/or it won't pinpoint your location very accurately.
Sometimes the Epic 4G will lock on perfectly and quickly, but usually it takes several minutes longer than the Nexus One to figure out where you are. Occasionally I even got a 'location not available' error while using Google Maps.
Accuracy is also a problem. I don't think I ever saw horizontal error drop below 30m on the Epic 4G compared to ~3m on the Neuxs One and ~5m on the iPhone 4.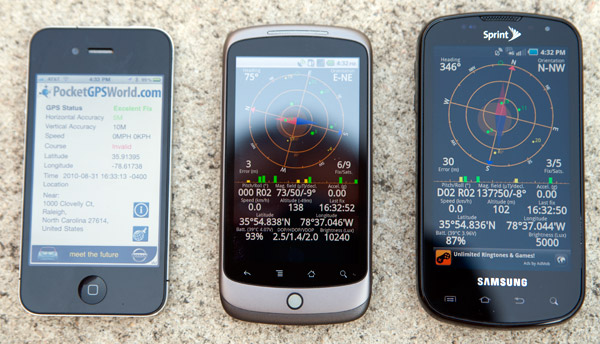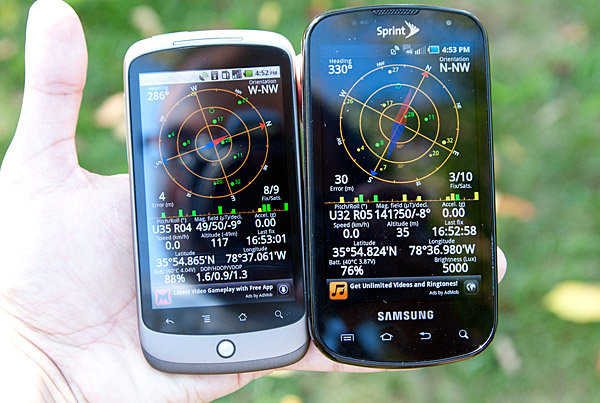 Google Nexus One, 4m error (left) vs. Samsung Epic 4G 30m error (right)
The Epic 4G would usually tell me that my physical location was somewhere down the street while the Nexus One would pin me down at my house. In fact, I got more accurate location tracking when I was connected to a WiFi network.
It's unclear whether this is purely a software problem or a fundamental antenna design issue ala the iPhone 4. One thing is for sure, if you plan on using GPS location a lot you should avoid the Epic 4G.